---
Key points:
Monday is a busy day at Magnolia Avenue United Methodist Church in Knoxville, because that's when much of its community outreach occurs.
Magnolia is being brought back to life with a focus on its ministries, such as a weekly medical clinic and providing supplies and meals to people in need.
Pastor Tim Jackson, who once led a multi-campus megachurch in Alabama, was chosen by church officials to make the revival happen.
---
When Paul Jones drove to Magnolia Avenue United Methodist Church for the first time, he was scared to get out of his car.
"I drove to the front door and then left," said Jones, now worship leader for Magnolia. "It took me two or three times to actually put the key in the lock. I was shaking."
East Knoxville has issues with gun violence. A local high school has suffered a spate of shootings in the past year or so.
"I was wrong," Jones said. "There's great people over there. They're struggling, they're hurting, and all we need to do is reach out."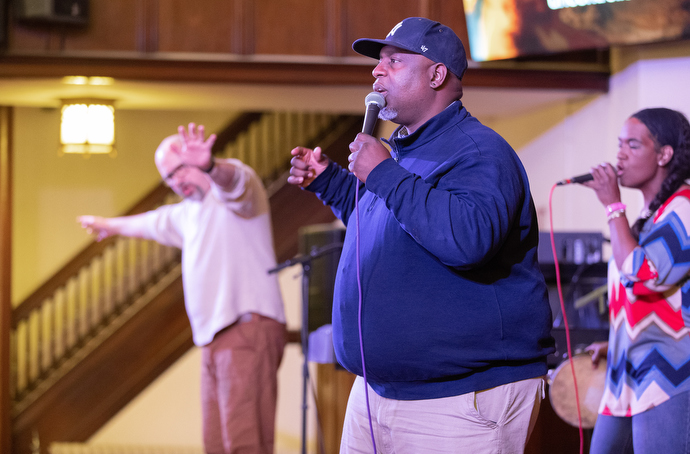 Magnolia sits across from the Regency Inn on East Magnolia Avenue. Both have seen better days, with the Regency often teeming with activity in the parking lot. Online comments about the motel complain about bedbugs, roaches and walls with holes.
Wilma Sutton lives at the Regency and is a regular at Magnolia for the free meals served there. Her colorfully patterned jacket and good spirits belie her current fortunes.
"We were hunting for a house until my son had a stroke," she said. "We had to put him in a rest home, and that's where his (disability) check went."
Sutton's son, a fork truck driver, had a heart attack five years ago and also has diabetes. Wilma Sutton has only her Social Security check to live on, despite working 47 years for an outsourcing corporation.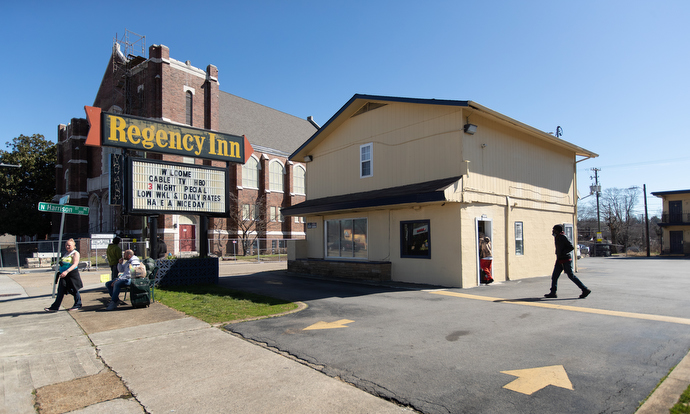 Pastor Tim Jackson strode into Magnolia about eight months ago with the mission of resurrecting the church, which had shut down for nearly a year after the building was condemned.
"The flat roof was rotted, leaking, destroyed," Jackson said. "I mean, it was junk."
Also, the building didn't have heat or air conditioning. Its large pipe organ sort of operates, if the musician can work around the keys that don't.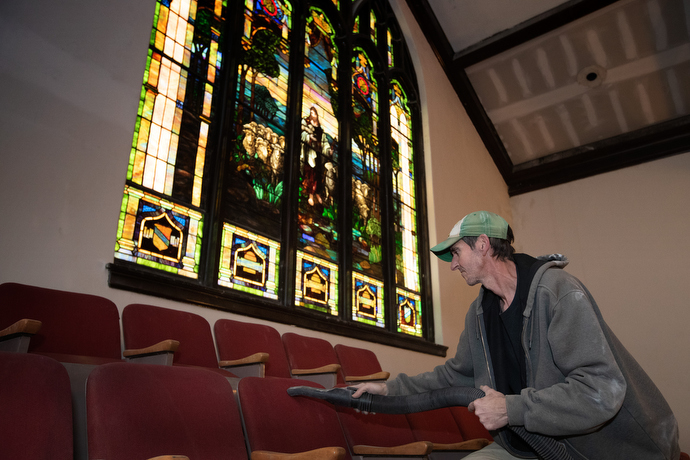 There was a temptation to shut it down, sell the real estate and use the money for something else, said Rusty Taylor, director of congregational development for the Holston Conference.
"Do we just leave? Do we just say, 'We give up?'" Taylor said. "I think annual conferences are going to have to make a decision that there are strategic places where we can't leave. Because it will be a long time before we get enough people with the resources to keep this going through their offerings."
Why Magnolia Avenue United Methodist closed
Magnolia Avenue United Methodist Church in Knoxville, Tenn., was declared by the city to be "unfit for human habitation," and was closed for nine months. It reopened in November 2021 and is undergoing extensive repairs.
One of the first things Pastor Tim Jackson did after accepting the challenge of reopening Magnolia Avenue United Methodist Church was research its history to find out what went wrong.
The story he found is a common one...
Before the pandemic, about 30 people attended worship at Magnolia each week.
Bulldozing the church would have cost about $750,000, said retired Bishop Dindy Taylor, who is married to Rusty Taylor.
"How about if we put that $750,000 into trying to restore it, rather than tear it down?" she added.
Rusty Taylor helped recruit Jackson, who has a Baptist background but is studying online at United Methodist Asbury Theological Seminary.
"Rusty … felt there was a tremendous ministry opportunity here," Jackson said. "When they asked me initially last March (of 2021), I said, 'No.'"
Ann Robins, a district superintendent in the Holston Conference, called to ask again later the same day, he said.
She argued that Jackson's background made him the perfect fit for Magnolia. He had experience building relationships with homeless people and blue-collar workers, and has been successful everywhere he's been the pastor. For a time, he was student ministry director at the prominent Dauphin Way United Methodist Church in Mobile, Alabama.
"There was no (Magnolia) church at that point, (but someone with my background is) what it would need to get it going again," Jackson said. "I said, 'OK,' and they gave me two churches like this."
Nearby Vestal United Methodist Church, which is in similar straits as Magnolia, also became Jackson's responsibility. Now, he is planning that congregation's future. Bishop Taylor said Jackson is the man for both jobs.
"I think people are interested in hands-on ministry," she said.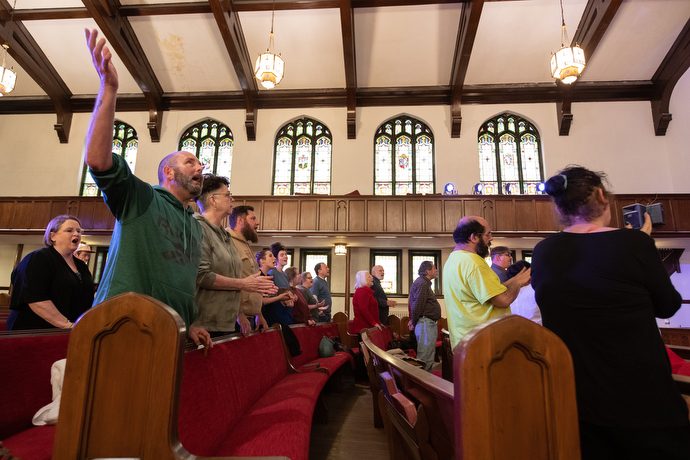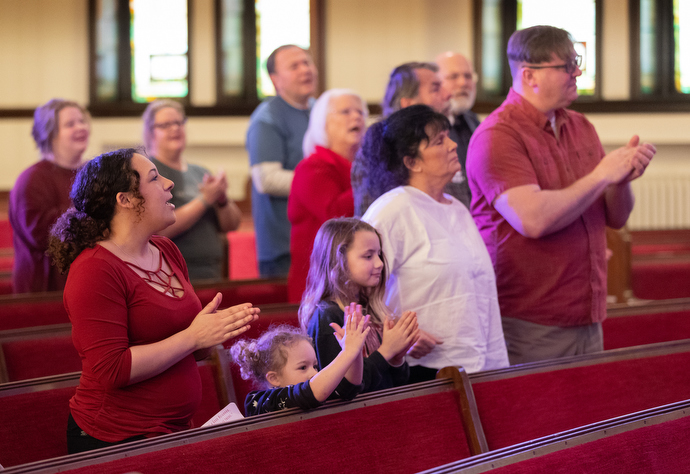 On a recent Sunday afternoon at Magnolia, there appeared to be multiple Jacksons, as the energetic preacher popped up handing out flyers to people arriving for the 5 p.m. service and roaming the grounds and sanctuary to welcome worshippers. Since reopening Nov. 14, Jackson said he has built up attendance to about 80 people.
His enthusiasm never seems to wane.
"I'm so glad you're here!" he said to visitors, a good many of whom live next door at the Regency Inn. Jackson goes door to door at the motel to personally invite guests to worship services, and says he has knocked on every door in five blocks each direction.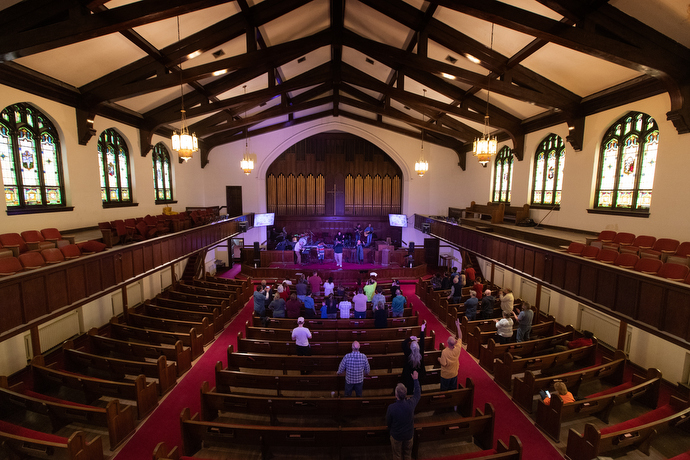 Magnolia's sanctuary is majestic but run-down at closer glance. Gorgeous chandeliers dot the ceiling, but in the back, hunks of plaster have fallen. Large and beautiful stained-glass windows pay tribute to long-dead congregants, many dating back to the late 19th century.
While the facility is no longer condemned, some of the exits are closed off because dangerous rubble lies beyond the doors. Jackson has done his best to improve the property, finding the money to get heat in the sanctuary and recruiting volunteers to clear away debris. The church still has a long and expensive way to go on that front.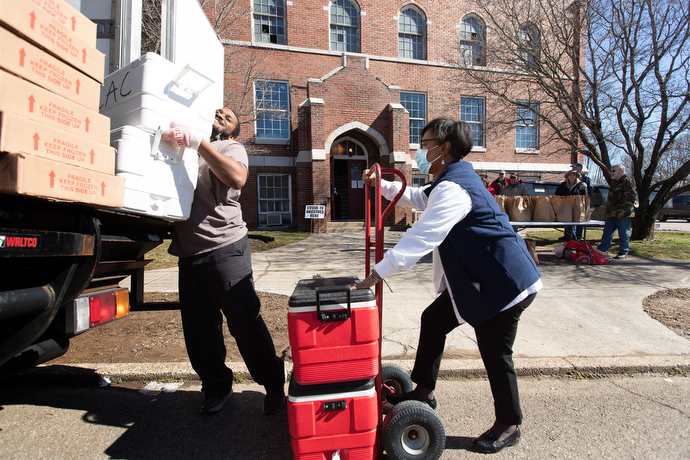 Outreach to the community is the priority. Each Monday, volunteers from neighboring churches hand out supplies and toiletries; a free medical clinic draws hundreds of patients; and lunch is served for those who need sustenance. There's also a meal after Sunday evening worship. A dental clinic is in the works.
"People come here because they have needs and because we love on them and we are kind to them," said Cynthia Finch, a retired health care executive who has run the weekly clinic at Magnolia for 13 years. "Typical doctors' offices, they give you 15 minutes and you're out the door. We take time, and we do a holistic type of care for people."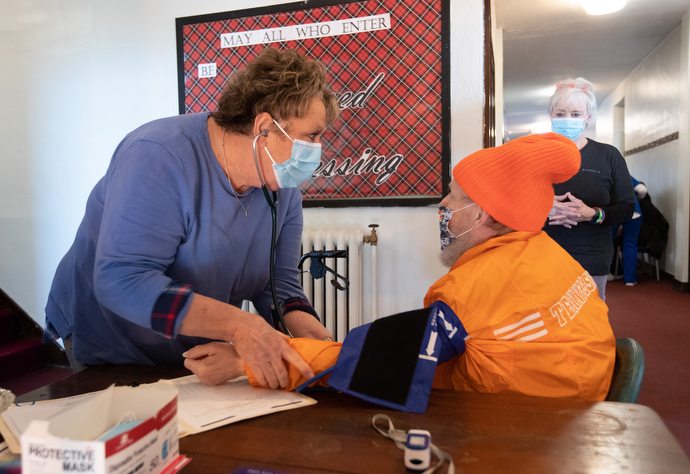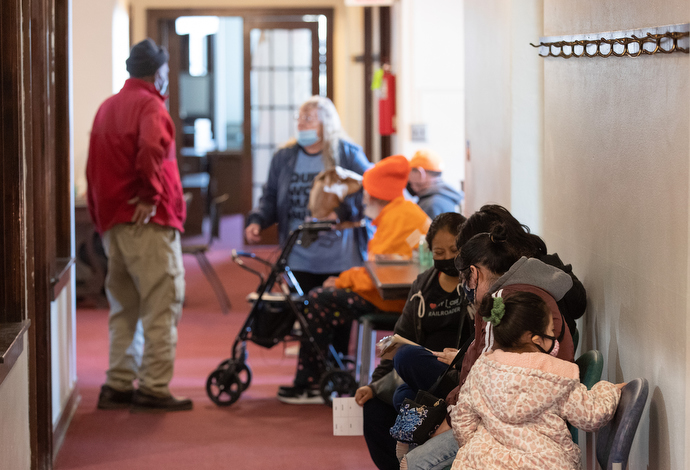 Along with Finch and Jones, a busy composer for television and films with his own recording studio, another successful businessperson, Matt Helms, is in charge of putting together meals for visitors on a small budget.
"Monday is my favorite day," said Helms, who ran his own food service company, United Food Services, until he retired eight years ago.
"I pick the menu, buy the food and make sure it's cooked right," Helms said.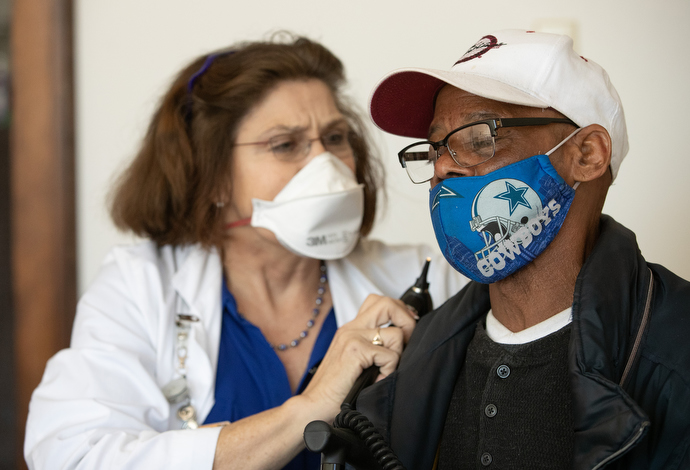 He feeds about 60 people each week, half of the number he was serving before the coronavirus. His budget is $100-$125, and he has to be realistic about the dietary desires of his "clients."
"I try to make it balanced," he said. "We need to give these people some fruit sometimes instead of Petro's chili and chips with cheese. They won't eat fruit, but they love applesauce and sliced peaches."
He tried serving low-sugar lemonade, but the guests, many of whom are diabetic, added their own sugar. Now he serves only coffee and water.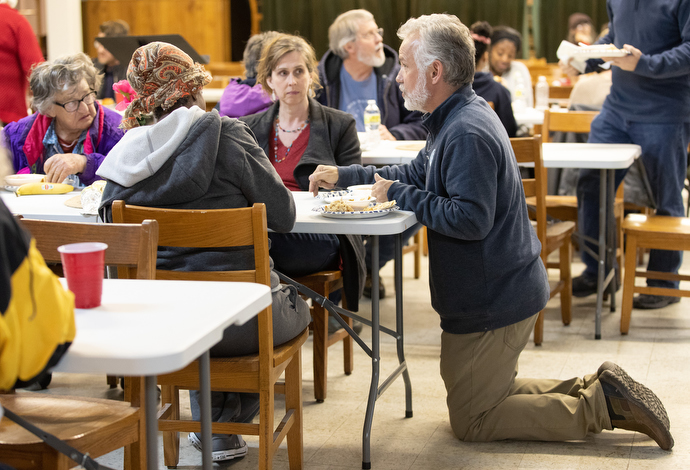 At lunch Feb. 28, Jones surveyed the crowd. He pointed out a man and said it was his brother-in-law, who had been in prison and estranged from the family.
"I've watched my wife cry over my brother-in-law for years," he said. "Somehow he has gotten involved here. He now has a place to live next door. It's been healing for the family. He's getting involved in the church.
"That's a success story right there."
Patterson is a UM News reporter in Nashville, Tennessee. Contact him at 615-742-5470 or [email protected] To read more United Methodist news, subscribe to the free Daily or Weekly Digests.
---
Like what you're reading? Support the ministry of UM News! Your support ensures the latest denominational news, dynamic stories and informative articles will continue to connect our global community. Make a tax-deductible donation at ResourceUMC.org/GiveUMCom.