Editor's note: Second paragraph after the subhead "Sand Creek Massacre," starting with "The 1964...", corrected on March 20, 2012 to reflect that Col. John Chivington was a Methodist pastor.
Caroline Botone Willis interrupted a luncheon of Indian fry bread tacos at Wares Chapel United Methodist Church to teach the hungry group a Native American word.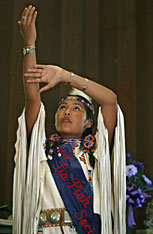 Tiffany Quetone, wearing a traditional Kiowa dress made from seven hides, performed the Lord's Prayer in sign language.
"We are going to do it in four parts, just like I teach my classes," she said. "Repeat after me: Ok-la-hom-a."
Laughing sheepishly, board members of the United Methodist Commission on Religion and Race repeated after Willis. Smiling, she said, "That's just what happens when I teach that in my class." The Choctaw word means "people red."
Willis, a 78-year-old member of the Kiowa tribe, teaches her native language at the University of Oklahoma. Her husband, Henry Joseph Willis, also 78 and a member of the Mississippi and Oklahoma Choctaws, taught his native tongue at the university for five years before becoming a consultant to the Choctaw tribe in its language department. He is working on a dictionary and just finished his third grammar book.
Their daughter, the Rev. Julianne Judd, pastor of the Lawrence Indian Charge in the Oklahoma Indian Missionary Conference and a member of the commission, helped coordinate a day of immersion in the Kiowa tradition for board members during their meeting Oct. 3-7 in Oklahoma City.
Judd, the first Kiowa clergy woman elder in her tribe, was given the name Tape-pah-tah gohn mah, which means "She speaks of Him woman."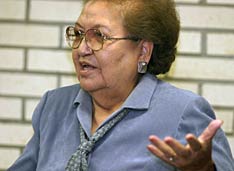 Rare native speaker
Renee Grounds, a commission member, is working with her father to preserve the Euchee (Yu-chi) language. During the commission's meeting, she introduced her father in her native language.
He told commission members his daughter was rare.
"Of the 25 indigenous languages spoken, only four are being learned by children. All the rest are only spoken by elders," he said.
Richard Grounds is project director for the Euchee Language Project based in Sapulpa, Okla., working with the five remaining fluent Euchee speakers.
A Kiowa welcome
The Rev. Mike Svitak and several members of Mount Scott United Methodist Church in Lawton, Okla., welcomed the board members to their church, which is more than 100 years old.
Tiffany Quetone, wearing a traditional Kiowa dress made from seven hides, performed the Lord's Prayer in sign language. Her grandparents, the Rev. Charles and Sandra Quetone, shared stories from their tradition.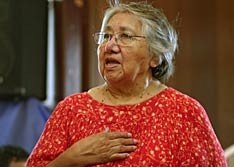 Bernadine Toyebo Rhodes, a member of the congregation, sang a hymn in Kiowa, and Svitak talked about being pastor of the 129-member church today.
"Since our last charge conference we have a total of eight baptisms - five children, one adult and two youth," he said. "We have had two professions of faith and five new members. At one time it was looking pretty bleak because our elders were dying."
Rev. Quetone said at one time the church had more than 600 members.
The next stop was Wares Chapel United Methodist Church, Anadarko, Okla., where the women of the church had been working for days on a traditional meal of Indian fry bread tacos and grape dumplings.
Sand Creek Massacre
In addition to hearing from Caroline and Henry Willis and Richard and Renee Grounds, commission members heard from Homer Flute, director of the Sand Creek Massacre Descendants Trust.
The 1862 Sand Creek Massacre was led by Col. John Chivington, a Methodist pastor, who launched a pre-dawn attack on the Black Kettle village, killing and mutilating the Cheyenne and Arapahos at the banks of Sand Creek in the Colorado territory. In the attack, more than 200 Native Americans, mostly women and children were killed. Chivington was hailed as a hero.
The 1996 United Methodist General Conference, the top lawmaking body of the denomination, expressed regret and issued an apology for the "actions of a prominent Methodist."
Flute said the United Methodist Commission on Christian Unity and Interreligious Concerns is sending a resolution to the 2008 General Conference asking for the church to contribute $50,000 to the development of the Sand Creek Massacre National Historic Site Research and Learning Center.
Dorothy Amauty asked the commission members to help support efforts to get retribution for the victims and their families and to get the government to honor the treaty signed after the massacre.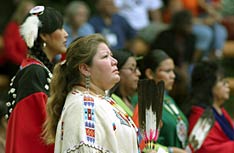 Open hearts
The commissioners ended the day by visiting a Kiowa Black Leggings Society Dance held in honor of those who are serving or have served in the military. The ceremony included the presentation of colors, singing and Native American dancing.
"The love and support and willingness on the part of the congregations to share their stories in open and honest ways with commission members was amazing," said Suanne Ware-Diaz, a staff member of the commission. Ware-Diaz is also a member of the Kiowa tribe.
"Commission members were tired after a week of work, but they had open hearts to hear what was being shared with them," she said. "I was very proud of the respect, humility and concern they expressed. Both sides learned from each other."
Native American concerns
The Native American Concerns work group of the United Methodist Commission on Religion and Race addresses various challenges and concerns - especially related to racial justice, visibility and inclusion - among Native Americans throughout The United Methodist Church, said Ware-Diaz.
Those concerns include increased awareness of and respect for sacred sites and traditions, indigenous languages, sovereign rights and other aspects of Native American life.
The work group has an ongoing emphasis on efforts to stop the use of demeaning Native American mascots, names and imagery by professional, collegiate and amateur sports teams.
*Gilbert is a United Methodist News Service news writer based in Nashville, Tenn.
News media contact: Kathy L. Gilbert, Nashville, Tenn., (615) 742-5470 or [email protected].
Audio
Rev. Julienne Judd: "Until you draw your last breath, you must be a productive person."
Rev. Julienne Judd: "You need to have a native person at the table."
Rev. Harry Long: Singing in Muskogee Creek "Will There Be Any Stars in My Crown?"
Resources
United Methodist Commission on Religion and Race
Oklahoma Indian Missionary Annual Conference
---
Like what you're reading? Support the ministry of UM News! Your support ensures the latest denominational news, dynamic stories and informative articles will continue to connect our global community. Make a tax-deductible donation at ResourceUMC.org/GiveUMCom.