Editor's note: The Rev. Erika Stalcup is an ordained deacon serving as pastor of Eglise Evangélique Méthodiste in Lausanne, Switzerland. The church is in the Central and South Europe Conference and her presiding bishop is Patrick Streiff. She answered questions from Kathy L. Gilbert, a United Methodist News Service reporter.
Q: Please tell me your story, how did you end up in Lausanne?
A: I was born in Wellington, Kansas, to a United Methodist family. As a teenager, I began to play music in our church, and I started to have thoughts of being a church musician. After graduating from high school in 2000, I spent a year in Prague, Czech Republic, studying flute performance at the conservatory. I lived at the International Baptist Theological Seminary where I made friends from all over the globe.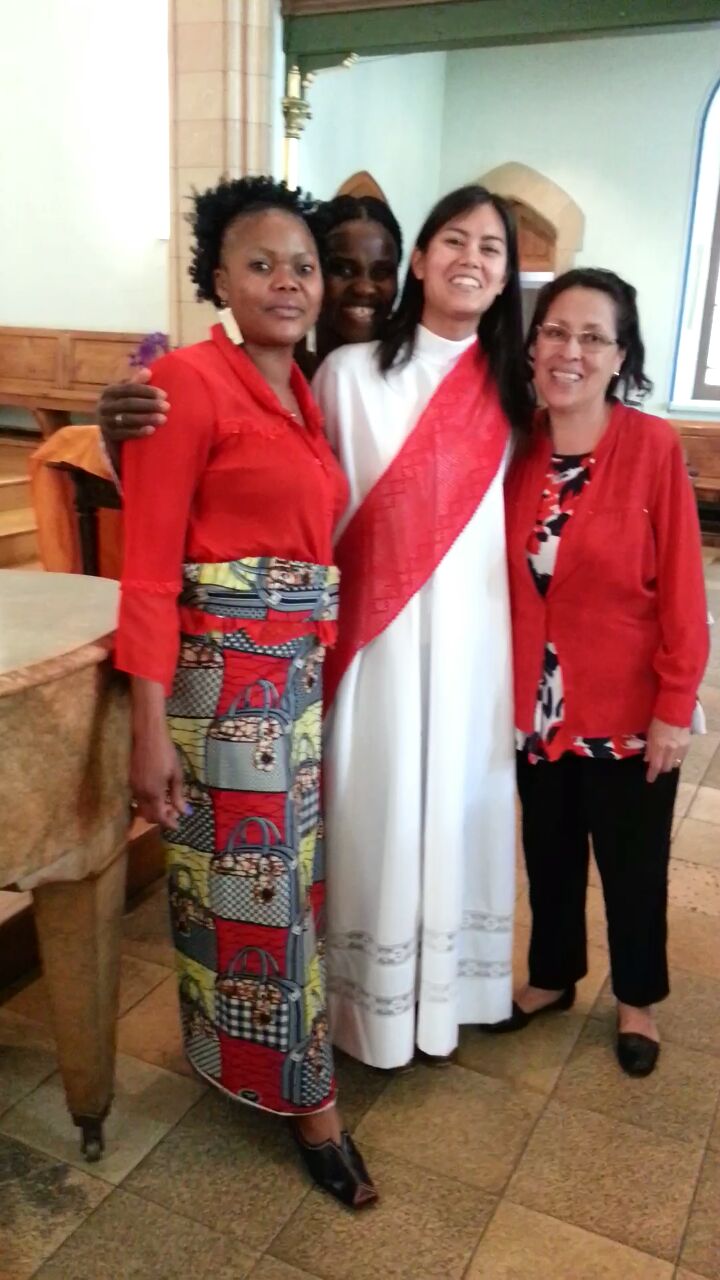 During the Prague year, I began to be curious about Methodism. I made my way to the theology library, found the Methodist section and picked up the tiniest volume I could find: a condensed history of John Wesley's life. I found John to be strangely fascinating
Once back home in Kansas, I continued my investigations in my little church library. The librarian thought I was beginning some sort of massive research project, and she thrust books into my hands saying, "You must read the journals! They're fascinating!" 
Q: What events lead to you becoming a United Methodist deacon?
A: Around this time, I began explore a call to ministry. I learned about the Order of Deacons from the United Methodist Board of Higher Education and Ministry's website and it seemed like a way to formalize my commitment to the church while incorporating my musical interests. 
I got a bachelor of arts in music from Emory University in Atlanta, then completed the Master of Divinity at Yale Divinity School, where I discovered my love of preaching.
Along the way, I continued my Methodist history research by studying the first distinctively Methodist tune-book, "The Foundery Collection" (1742). It was largely a rehabilitation effort, as the book was riddled with errors (incorrect bar lines, notes and note values). I harmonized the melodies in four parts — just in case anyone might like to sing them today — and wrote commentaries on the texts and tunes. 
I began a Ph.D. in history of Christianity at Boston University and was ordained a deacon in full connection in the New England Conference in 2010. In 2013, I married a Swiss man I met while at the International Baptist Theological Seminary and I moved to Switzerland.
I began attending the Methodist church in Lausanne (Eglise Evangélique Méthodiste), and was appointed deacon of the congregation in February 2015 after the previous pastor retired. In 2016, I returned to Boston to defend my doctoral dissertation, "Sensing Salvation: Accounts of Spiritual Experience in Early British Methodism, 1735-1765." 
I am the only ordained deacon in my conference and the Order of Deacons does not hold any significance whatsoever for Methodists here. As I am functioning as pastor of a congregation, this exceptional circumstance only confuses matters, especially for non-Methodists ("So are you the one in charge or not?"). While I stand in solidarity with my deacon colleagues worldwide, in my daily life and ministry I find it more expedient to refer to my function rather than to my order.
Q: Tell me about your community and church. How many people are members?
A: The church in Lausanne is like no other church I have experienced, and yet it is like every other church I have worked in. The building, completed in 1867, was the first Methodist structure in Switzerland. It is appropriately dedicated to John Fletcher, a Swiss-born Church of England priest and collaborator of the Wesleys. 
At present, there are four French-speaking Methodist communities in Switzerland, whereas there are around 120 in the German-speaking region of the country. We have no French-language Methodist seminary, so those who wish to become Methodist pastors either attend the Methodist seminary in Reutlingen, Germany (if they speak German), or attend a non-Methodist seminary and complete the Methodist requirements through the Centre Méthodiste de Formation Théologique. That is a network of pastors who volunteer to teach Methodist courses, which are offered during one week each year in France. The center also maintains two theological libraries, one in Zurich and one in Lausanne.
All French-speaking Methodist churches in Switzerland have a German-speaking past, gradually switching to French over the last few decades. For this reason, there are many records in my office that I am unable to read, as I do not know German.
We have just over 30 official members, several faithful friends of the community, and an average of 20 attendees on Sunday morning. The community is comprised largely of retired Swiss Germans who began attending the church in their adolescence, though we do also have African and South American members who were already Methodist in their home countries (Chile, Angola, Benin, Côte d'Ivoire).
Q: What are some of the activities you have at your church?
A: Current regular activities include monthly Bible study and women's group meeting, weekly singing rehearsal, guitar course, French language class in partnership with an association called InterCultures and popular singalongs in the public square in front of the church.
The activities that reach the most people are events such as concerts and special musical services such as classical concerts and services like Lessons and Carols — particularly attractive to non-churchgoers and participants in other faith communities.
We are very fortunate to have a number of talented musicians in the area who contribute to both our services and special events.
A violinist rents our sanctuary for orchestra rehearsals and music lessons; a harp student from the conservatory lives in one of our apartments; and an organist lives and directs a music school in the building.
Because of their generosity and investment, we are able to offer high-quality events that open our acoustically superb chapel to the public. Located in the city center, our building is also beginning to be used for city-sponsored festivals and guided visits.
Q: What are your dreams for your church and your ministry?
A: While I cherish the intimate fellowship of the community, our current size is no longer compatible with the space that we inhabit. Like many other congregations, we struggle to finance a large, historic building, which is at once a blessing and a burden. 
The building currently welcomes five church communities apart from our own Methodist congregation. There is a Filipino community that rents a small hall for weekly Bible study. A South American Nazarene congregation and an international English-speaking church rent our sanctuary for Sunday services. A charismatic-style French-speaking church occupies the entire ground floor.
We also have, in addition to the pastor's apartment, three apartments and four dormitory-style rooms that are rented. There are also musicians who rent space for rehearsals and lessons, as well as periodic requests for one-time events. 
Even so, the size of our membership understandably limits our financial resources, and we have already transitioned into a less-than-full-time pastorate. I work at half-time, while my colleague, the Rev. Theo Paka, works at around quarter-time — his own primary appointment having reduced his salary to three-quarter-time. 
I live on site and my colleague lives 1.5 hours away and is only present two or three days a month (one Sunday plus one or two days for meetings, Bible study, etc.). I function not only as lead pastor in charge of reinvigorating an aging community, but also as landlord, secretary, website designer, publicity manager and events coordinator. 
Our building also happens to be situated in an area frequented by drug dealers, drug users and Roma beggars. While we are centrally located, many people pass by the building on a daily basis without noticing that it is a church. Our sanctuary is located on the second floor and its door is always locked for security reasons. There are many locals who have never had the opportunity to enter the space. We have enormous potential where we are, but we lack the people resources to do more.
As I see it, we are faced with the two-fold goal of more effectively serving the needs of the neighborhood while finding ways to become financially self-sufficient. The first aim does not necessarily serve the second, however. I have never been comfortable linking financial growth to membership growth, and I do not wish to evaluate prospective relationships in terms of money. 
Finances aside, I do have a dream of expanding our church family, of welcoming a diversity of ages and cultural backgrounds, of providing something for the few children that we do have. 
At the encouragement of our superintendent, we have recently applied for and received a project grant, which should ensure the survival of our community for the next five years.  What we have proposed is a series of projects, all of which might appear to be normal activities of a healthy community. For us, however, they represent nothing less than a resurrection. 
A monthly service of music and meditation coinciding with the Saturday open market; affordable French-language courses for immigrants; transforming a gloomy, unused room into a space for prayer; bilingual ecumenical services with our sister communities who share our space; and conferences given by local religious scholars. 
These are not radical, innovative ideas that will change the world; they are down-to-earth acts of love and service that we are capable of doing here and now with the people already in our midst. It is our hope to revitalize our community life, to strengthen links with area churches and organizations, and to make our space more welcoming and useful to the residents of Lausanne.
Media contact is Kathy Gilbert, a multimedia news reporter for United Methodist News Service. Contact her at (615) 742-5470 or [email protected]. 
---
Like what you're reading? Support the ministry of UM News! Your support ensures the latest denominational news, dynamic stories and informative articles will continue to connect our global community. Make a tax-deductible donation at ResourceUMC.org/GiveUMCom.