When I was in seminary, we spent time in our preaching class constructing catchy sermon titles. This was back in the day when it seemed that every church in the country updated its outdoor marquee at midweek with the sermon topic for the upcoming Sunday.
Our assignment? Write titles so compelling that commuters would get off the bus passing the church to check it out.
The hands-down sermon title winner that year? "There's a bomb on your bus!"
University United Methodist, where I serve as senior pastor, is at one of the busiest corners of "The Drag," a popular strip that borders the sprawling University of Texas at Austin campus. Each day, thousands of students walk by our church on the way to class, and thousands more stroll by to check out local eateries and shops. We've found our best bang-for-the-buck advertising is a huge 5-foot-by-8-foot vinyl sign on the church lawn.
The end of August is back-to-school time, and I work with the staff to create a sermon series theme that might not get people off the bus, but will at least get them thinking.
Late one night as I was leaving church, I heard some strange noises. Creaking gates. Some shuffling sounds. And the idea came to me.
Zombies.
They're everywhere. Since the late 19th century, in literature and films, zombies have become a sub-genre of horror. Zombies now inspire hours of panel discussions at Comic Cons. What's more, these brain-chomping, undead monsters even have their own end-time scenario: the Zombie Apocalypse.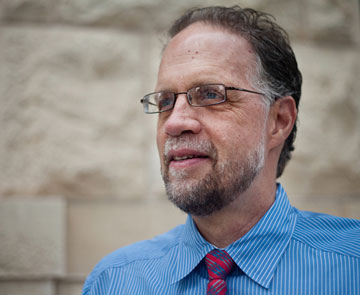 Our fall sermon series would have to be about zombies. But how?
My communications director and I began brainstorming through a lengthy string of stream-of-consciousness text messages and came up with a title, "Jesus Versus the Zombies: How the Dead Ideas of the Church Keep Coming Back and Back and Back &ellipsis;"
A new field of biblical inquiry was born: Zombie theology.
Rather than focusing on zombies as campy characters in B-movies, our sermon series reimagined zombies in a more symbolic way. Zombies became the bad ideas that have popped up at various misguided moments in the church's history and, for whatever reason, can't seem to die off. They keep coming back and, in some cases, exert a kind of stranglehold on the life of Christians and the ministry of the church.
How we fight zombies
And the way we fight off these zombies is with better ideas - with good, solid theology that reflects the grace of God, the compassion of Jesus and life of the Spirit.
During our six-week series, we exhumed and battled all kinds of zombies. One Sunday morning, we focused on belief. As Christians, does it matter what we believe? Most would answer in the affirmative. But are there times in the church's life when Christian faith has become only about believing certain things to be true? Absolutely. Many de-churched folks can trace their journeys out of their congregations to the day that they stopped believing all of the fantastical things they were being asked to believe.
Part of what's happening is that the meaning of words has shifted. What we have created with our language is a huge distortion - I'd call it a zombie - of the ancient meaning of the word "believe." You can trace the earliest meanings of the word "believe" to the Old English be loef, which means to hold dear. To believe someone was to belove them, to hold them dear.
There's a light year of difference between saying, "I believe in God," meaning, I believe certain things to be true about God, and "I belove God," meaning that I trust God with my whole heart. When we focus on all the things we have to believe about God, we risk losing the lively sense of being in a trust-based relationship with a living God.
Here in Austin, a town that prides itself on keeping Texas weird, we found that the zombie series struck a chord. We saw new people in the pews. We watched pedestrians pause at our lawn sign and take pictures. Conversations about the meaning of faith were engaged. The church created an open, sacred space where words might actually heal and where ideas might bring us more fully into the life of God and alongside Jesus' way of shalom.
*Elford is senior pastor of University United Methodist Church in Austin, Texas.
News media contact: Tim Tanton, Nashville, Tenn., (615) 742-5470 or [email protected].
---
Like what you're reading? Support the ministry of UM News! Your support ensures the latest denominational news, dynamic stories and informative articles will continue to connect our global community. Make a tax-deductible donation at ResourceUMC.org/GiveUMCom.