Emotionally, the Rev. Scott Sharp was in a rut. Physically, his body was a mess. And, spiritually, he admits he was having a midlife crisis of meaning. Something had to change.
"I had to do something to prove to myself that I wasn't dead yet," Sharp said. "After two knee surgeries, being in the hospital twice for viral meningitis and then being told I had a heart condition that required implanting a pacemaker, I was shaken pretty deep."
The 44-year-old pastor decided a makeover was in order - inside and out.
Last May, he started training for a triathlon - not just any triathlon, but the Ironman variety. How tough is this pinnacle of human-endurance sports? Ironmen wannabes must be able to swim 2.4 miles, then hop on a bike for a 112-mile ride and then run a full 26.2 marathon before calling it a day - all in 17 hours or less.
When people heard he was taking on the challenge - especially his congregants at Central United Methodist Church in Albuquerque, N.M. - they asked two questions, "why?" and "how?"
"The 'why' I answered by saying I wanted to prove that anything is possible - just like the Ironman mantra," Sharp said. "For me as a pastor, I know that 'with God anything is possible' also comes straight out of Luke's Gospel.
"Every moment I can," is the way the father of three answered the 'how' question.
Cut to the chase. The first-time competitor successfully crossed the finish line in May in The Woodlands, Texas, where he heard the race announcer say, "Scott Sharp&ellipsis; you are an Ironman!"
Sweat poured from his brow. His arms rose in victory. Hands in the crowd reached out for high-fives. His wife cried. Mission accomplished. Now the victorious pastor/athlete could cross the Ironman Triathlon off his bucket list.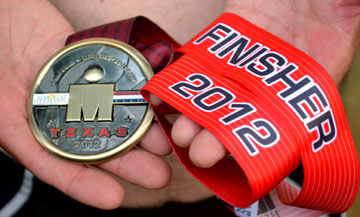 The Rev. Sharp displays the medal he achieved after finishing the grueling Ironman race in The Woodlands, Texas, on May 19, 2012. Photo courtesy of the Rev. Scott Sharp.
Not so fast
"Honestly, it was one of the best days of my life - a day full of joy and difficult challenge, but an unbelievable day," he said. "What's next?"
If he could beat the odds once, could he do it again? The Ironman World Championship in Kailua-Kona, Hawaii, is just four months away on Oct. 13.
"I could never get into the Hawaiian Ironman," laughed Sharp. "I'm not fast enough &ellipsis; just flat out. But I heard about a contest where you can win a slot in the race by telling your story inventively on video - which is something I really wanted to do."
With a magic marker, some creative camera work and the courage to bare all his bodily scars, Sharp had a new purpose. In his 90-second video - "My Story is Written All Over My Body"- he describes how he lives the Ironman slogan of Anything is Possible. Sharp's entry was among 45 semifinalists chosen for public voting. Supporters can go to Facebook to watch his video and vote on his behalf before July 3.
"Competing in the race was never a goal, but when the door opened through this contest, I realized it was another opportunity to embody the truth that we Christians already know - that anything is possible."
Metaphor for ministry
Although his failing health was the catalyst for getting in shape, Sharp's passion came from the soul.
"It became clear to me that the Ironman was a metaphor for ministry for me," Sharp said. "It had significant meaning for me in terms of what it means to be a pastor, what it means to be a person of faith, and in the long run &ellipsis; what it means to be a person who is willing to work on the things that are important in life, whether it's training for a physical goal or taking care of your spiritual life."
Sharp described himself in the same boat as many other clergy.
"We're an unhealthy group in almost every category," he said. "We don't handle stress very well, even though we have high stress jobs. We work too much. We're a sedentary bunch. We don't take care of ourselves physically. We're not doing the things we're supposed to be doing.
"Ultimately, I think it's a matter of discipleship," Sharp said. "I don't think we're called to lead people into unhealthy lives, and too often that's what we model ourselves."
One of the lessons that came out of training for the Ironman was that no one was going to do the physical work except Sharp. No matter what the demands were on his time - and there were many - ultimately the daily decision to walk, swim, bike or run was up to Sharp. He began to see a parallel between his physical training and taking responsibility for his spiritual "workout" as well.
"At first, it was about overcoming illness," he said. "But it's really about the meaning of life. It's about what it means to live and die.
"One of the things I figured out after the Texas Ironman was that if I'm not dead yet, then what am I alive for? That's been a great question to wrestle with as a pastor, as a dad and a husband. Is what I'm doing meaningful? Is it making a difference? Is it effecting change? Is it transforming the world for Jesus Christ?"
Sharp said that for the first time in a very long time, he feels "inspired."
"I've had a lot of people tell me, 'I don't know what's going on with you, but your sermons have been really provocative and a lot more impassioned,'" he said. "For a long time, I wasn't invited to really change my life, and I think that sometimes that's what the church fails to do &ellipsis; inspire people to change their lives and to dig deeper into what it means to be a person of faith.
"The Ironman has reminded me that there's always risk involved in life and that we have to try things that we don't know if we can accomplish."
*Passi-Klaus is a public relations specialist for United Methodist Communications.
News media contact: Maggie Hillery, Nashville, Tenn. (615) 742-5470 or [email protected].
---
Like what you're reading? Support the ministry of UM News! Your support ensures the latest denominational news, dynamic stories and informative articles will continue to connect our global community. Make a tax-deductible donation at ResourceUMC.org/GiveUMCom.