"Domestic abuse is one of the ugliest crimes I can think of," said the Rev. Dountonia Slack.
"This is all about sin. Victims of abuse stay in their corner crying out for hope." Slack, a spousal abuse survivor, addressed an Oct. 2-4 conference hosted by St. Luke's United Methodist Church in Indianapolis.
Not to Believers Like Us Inc., an Indianapolis faith-based organization dedicated to the prevention of domestic violence, sponsored "Shattering the Silence in the Faith Community." Twenty-four advocates for survivors of spousal abuse attended the conference.
Slack said her spousal abuse began in 2006 when her former husband, also a pastor, physically attacked her. She fought back. To her surprise, the police arrested her for domestic battery because she had no marks on her body, but her husband did. She said her husband hit her in the stomach and tried to strangle her.
The couple reconciled a month later, but her husband attacked her again three times within a year. Each time, she retaliated and was arrested. After 17 months and a contentious divorce, Slack said she learned not to fight back, at least physically.
"My husband attacked me four times, and I was arrested. I never had the background on what would happen to me (if I struck back)," she confessed. "After my divorce, I found out that he had been married to three other wives."
Slack said her life changed when her attorney suggested, "Why don't you become your own advocate?"
'Not just a women's ministry issue'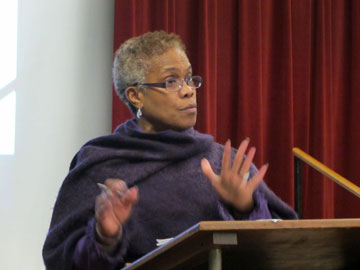 Slack grew up in a church and had loving parents who never abused her. She called domestic violence the "cesspool of injustice."
"The injustice of arrest is most unbearable for most women," she said. Now Slack's response is to educate and help women "with the love of Christ." That is what called her to be an advocate and founder of NOT GUILTY! Courtroom Advocates, a Christ-centered organization dedicated to fighting legal-system abuse, based in Anderson, Ind., 40 miles northeast of Indianapolis.
Spousal abuse, Slack noted, "is not just a women's ministry issue. In marriage, two become one. We can't ignore the male issue. It takes both the abused and an abuser."
Also speaking at the conference was Vivian Finnell, founder and CEO of Not to Believers Like Us Inc. She is married to Bishop Charles M. Finnell, pastor of Christ Temple Apostolic Assembly of Indianapolis.
Finnell, who experienced abuse as a child, said her first goal is to protect abused women and children.
"Abuse is a learned behavior," she said. "Unfortunately, the Bible is even used to justify abuse. ... Domestic abuse is not a women's ministry issue but a society issue. We have a challenge."
Stressing that churches must address the issue, she said spousal abuse exists in congregations. For that reason, Finnell said, every church needs a safety team and a safety plan to respond with a comprehensive approach.
Healing a horrible 'cancer'
Perpetrators and victims can be members of the same church, she said. "Our goal is to understand that domestic violence follows a cycle hearts and flowers, same old stuff, nagging, warning signs, act of violence, remorse leading back to hearts and flowers."
Why did Finnell begin N2BLU?
Resources for churches and individuals
Related Stories
"I saw a need in the aftermath of domestic violence and felt the mission I was supposed to do was healing both mother and father," she said. "I feel called to empower selves about the prevention of domestic violence - a horrible 'cancer' that is talking over our society. I'm not about intervention but prevention.
"By the numbers, spousal abuse in the church is similar to spousal abuse in (the greater) society."
During the conference, 12 speakers shared various aspects of domestic violence prevention. They included a playwright from a violence-awareness-and-prevention theatrical troupe, a community developer, a counselor for domestic violence survivors, a police detective, a family-violence resource attorney and former judge, alawyer who volunteers at a Christian legal clinic, a victim advocate with a county prosecutor's office and an advisory council member of the Indiana Office of Faith-based and Community Initiatives.
The mission of the meeting was to shatter the silence of domestic family violence in the faith-based community by raising public awareness among clergy, church leaders and lay members of all faiths.
*Gangler serves as director of communication, Indiana Annual (regional) Conference.
News media contact: Barbara Dunlap-Berg, Nashville, Tenn., (615) 742-5470 or [email protected].
---
Like what you're reading? Support the ministry of UM News! Your support ensures the latest denominational news, dynamic stories and informative articles will continue to connect our global community. Make a tax-deductible donation at ResourceUMC.org/GiveUMCom.