Since the wars in Iraq and Afghanistan, 152 women have died and more than 950 have been wounded in service to the U.S. military.
Recognition of that service came when retiring Defense Secretary Leon Panetta announced in January that the U.S. military is ending its policy of excluding women from combat.
It is welcomed news.
Combat is a reality for women, said Chaplain Maj. Terri L. Jones, a United Methodist pastor who has been in the military for 15 years in the Army Reserve. Until now, the difference has been that women can't compete for the same jobs and promotions.
"If two soldiers are competing for the same slot and the only difference between them is a Purple Heart, the one with the Purple Heart or combat action badge will have the advantage," Jones said.
The policy change came after a group of women in the military and the nonprofit American Civil Liberties Union sued the Pentagon over the policy of excluding women from combat roles. The Defense Department says of the 1.4 million active duty members of the military. 15 percent are women.
"I applaud the U.S. government for setting an example that no one should be denied opportunities based on their gender," said Dawn Wiggins Hare, top executive for United Methodist Commission on the Status and Role of Women.
'Gender should not be a factor'
"At (the commission) we seek total inclusion of women in The United Methodist Church. Whether it is in the private, public or church setting, gender should not be a factor if everything else is equal," she said.
This announcement means more than 200,000 jobs will be open to women across all the military branches.
Harriett Jane Olson, top executive of United Methodist Women, said the distinctions between combat and non-combat positions needs to be re-examined because the weapons of modern warfare have changed.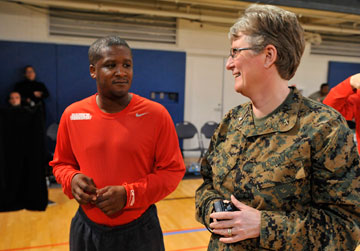 "We support removal of categorizations like this one that were established in a different context, prevented the deployment of the most qualified individuals for the assignment and resulted in a gender-based preference," Olson said.
Women are exposed to combat because there are no frontlines anymore, said the Rev. Tom Carter, executive with the denomination's chaplain endorsing agency and a retired Army chaplain.
"The issue becomes at what level will women be assigned in combat units as well as the size of the units," he said. "As an all-volunteer force, women will have the choice where to serve."
The Rev. Ray C. Bailey, deputy Chief of Chaplains at the Pentagon and an ordained United Methodist pastor, said women have been crucial to the operations in Iraq and Afghanistan for the past decade.
"They are a vital part of our Army family of warriors," he said. Bailey has served in the Army for 31 years.
It is not about gender or any other category, Bailey said, "It's all about the person."
Today, 67 women chaplains serve in the Army.
"These women impact thousands of soldiers and families with their excellent religious support, whether on deployments into combat zones and humanitarian assistance missions or serving on stateside installations," he said.
Another historic first for the Army chaplain corps happened in 2012 when Capt. Delana Small became the first female chaplain assigned to a combat arms battalion unit, the 101st Airborne Division, Bailey said.
Burden and opportunity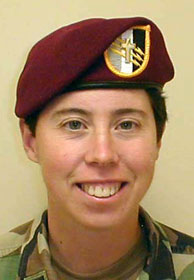 "Military service should not be entered into lightly," said Jones. "Exposure to war and today's conflicts is certainly a burden and opportunity."
Women have unique perspectives and ideas to bring to the military but creating diversity where it did not exist before will bring challenges, she said.
"It is my belief God created male and female to complement each other. Due to human nature, we do not always realize this, but the potential is there. I say we reach for the best and the highest, which necessarily means working together."
Lt. Col. Karen Meeker, an Army chaplain and United Methodist ordained elder, said the women of the armed forces are "strong, smart and proven defenders of our nation's freedom."
Meeker is assigned to the 1st Armored Division as division chaplain, a role that puts her in charge of 30 other chaplains at Fort Bliss, El Paso, Texas. She also just completed a 19,340-foot climb up Mount Kilimanjaro in Tanzania, Africa.
"There are women capable of outstanding service in combat arms. I hope this will attract America's most talented young women to serve in uniform knowing they can compete on an equal playing field with the same opportunities for schooling and positions," Meeker said.
"An historic day for us all ... maybe they'll send me to Ranger school."
For more information about how The United Methodist Church is in ministry with those who serve, please visit www.umc.org/military.
*Gilbert is a multimedia reporter with the young adult content team at United Methodist Communications, Nashville, Tenn.
News media contact: Kathy Gilbert, Nashville, Tenn., (615) 742-5470 or [email protected].
---
Like what you're reading? Support the ministry of UM News! Your support ensures the latest denominational news, dynamic stories and informative articles will continue to connect our global community. Make a tax-deductible donation at ResourceUMC.org/GiveUMCom.