In the heart of this glitzy seashore vacation spot, situated between two casinos and miles of high-rise hotels and restaurants, sits a place of shelter, peace and hope for homeless and poor men and women.
"God put us in this building in this location for a reason. We are in a perfect place to do what we do — feed the body and the soul," said the Rev. Judy Longo, United Methodist local pastor and director of Seashore Mission.
The Rev. Chris Cumbest, who served as disaster relief coordinator after Hurricane Katrina, agrees.
"Seashore Mission is between Back Bay and the Beachfront. It is located at the intersection of two roads that pass through the area," he said. "It is easily accessible and visible for those seeking out its ministries and now it has great facilities designed for the ministries it is carrying out." Cumbest is now pastor of Crossgates United Methodist Church in Jackson, Mississippi.
Hurricane Katrina destroyed the previous mission, stripped it to the slab. Several members of the church and the community died in the building.
Until two years ago, Seashore Mission itself was homeless, drifting from one rented spot to another in search of a permanent home.
That changed, Longo said, when a "wonderful United Methodist" helped the conference buy his 6,500 square-foot paint store.
The former Bankston Paint Store, a well-known business in Biloxi, is the new home for Seashore Mission.
The building is still a work in progress. When completed, it will have a fully functioning kitchen, supply room and walk-in freezer — in addition to a free clothing store, showers and laundry facilities, food pantry and restrooms.
The mission moved in last June and is 70 percent complete. For Longo, waiting for everything to be in place and finished is difficult, but she has come to realize that too is part of God's plan.
"If I had rushed it or if I had all the money in the world … there are so many people who were blessed with giving of their hands and feet."
Two volunteer groups were at the shelter in July. They put in the floor, painted and cleaned.
A youth group built an outdoor pavilion with picnic tables and flower boxes. The group left messages on the tables: "Remember You are Creations from God," "Jesus loves you," "Jesus is your home."
One table has Matthew 11:28 written on the wooden planks: "Come to me, all you who are struggling hard; carrying heavy loads and I will give you rest."
The day shelter is open Sunday, Monday and Thursday and serves 200 meals per day — breakfast, lunch and a "high tea" at 2 p.m. that allows the homeless or poor to get an additional meal before they leave.
Longo said they hand out a lot of shoes. "Shoes are important because they do a lot of walking and go through a lot of soles," she explained, smiling.
Seashore mission offers a safe place to rest.
See related slideshow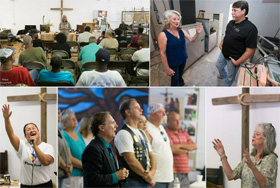 Sunday morning revival time
On Sundays, the large space is transformed into a church with an attendance of between 35 to 50. On July 26, the room was packed and the "Christians Motorcyclists Association" — dressed in black leather vests — provided and served lunch. Musicians from the Christian Cultural Center Fellowship, a ministry that meets on Sunday afternoons at Leggett Memorial United Methodist Church, played and sang.
Longo preached and promised a revival. Her soft voice calmed the rowdy crowd.
She has to pause once in a while: "Royce, I love you, now sit down and be quiet," she said to one man who was getting a little too loud. "I'm just about the only one he will listen to," Longo said to the gathering.
This Sunday she preached on salt.
"There are more than 50 references to salt in the Bible and in Jesus' day, salt was very, very valuable," she said.
As she talked, people settled, sat still and listened. She talked about all the food that taste better with salt and got a lot of affirmations and additions to her list. Royce added "sausage and gravy."
But she also said sometimes people can be a little too salty.
"Have you ever met someone who has almost tried to cram God down your throat? Might say they were a little too salty.
"You are the salt of the earth," she said. "Let me give you a little taste test: When was the last time you prayed with or for someone? When was the last time you invited someone to church? … When was the last time you reached out to the poor and homeless? Could it be you need a little seasoning?
"I pray today that you will leave this place salty and full of flavor and can go out and marinate in the Word and love your neighbors … one chicken pot pie at a time and then pass the salt."
After the service, she directed the congregation in setting up tables for Sunday dinner. She visited with everyone, made sure they all had enough food before they left.
"Many members of my congregation walk 6 or 7 seven miles one way to get to worship," Longo said.
As she cared for all the details of tending to everyone's needs, she mixed in some theology.
"Life is hard. God is good. Heaven is real."
Gilbert is a United Methodist News Service multimedia reporter in Nashville. Contact her at [email protected] or 615-742-5470.
---
Like what you're reading? Support the ministry of UM News! Your support ensures the latest denominational news, dynamic stories and informative articles will continue to connect our global community. Make a tax-deductible donation at ResourceUMC.org/GiveUMCom.