"Like a volcano, HIV/AIDS threatens to explode in the Philippines," warned Manila Area Bishop Daniel C. Arichea Jr. "The church is called to respond to this emerging human emergency with new attitudes and actions focused on education, prevention and compassion."
UNAIDS has identified the Philippines as one of only seven nations in the world where HIV is increasing dramatically. For the first 30 years of the global pandemic, the archipelago of the Philippines reported relatively few cases among its population of 94 million.
From 1984 to May 2012, the Philippines listed 9,696 HIV cases. "What is shocking," says the Rev. Allan D. Casuco, pastor of Manila's Knox United Methodist Church, "is that 54 percent of these patients were reported in the past two years." The 295 cases registered in June 2012 were 66 percent higher than reported in June 2011.
The Roman Catholic archbishop of Manila, Luis Antonio Tagle, called recent statistics evidence of "a silent epidemic" necessitating "a pastoral response by local churches." At Manila's San Lazaro Hospital, Dr. Rosario Jessica Tactacan-Abrenica, the vice president of the AIDS Society of the Philippines, noted with alarm that young people ages 20 to 29 are the largest number of cases.
With about 10 new cases reported daily in the Philippines, government and church leaders are awakening to a potential eruption of HIV and AIDS that may limit national development. As a United Nations report suggests, the "hopes of future prosperity could turn to dust" unless the Philippines address the "hidden epidemic" sweeping the nation.
Workshops on HIV and AIDS ministries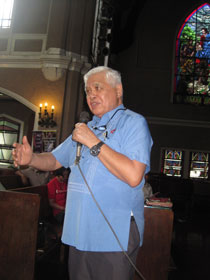 Bishop Daniel C. Arichea Jr. addresses the AIDS conference.
Denominational leaders and institutions recently initiated workshops on HIV and AIDS ministries. Arichea invited pastors, church workers, seminarians and university students to a one-day workshop on AIDS and Issues of Human Sexuality on Aug. 24 at Manila's Central United Methodist Church.
Co-sponsored by the Center for the Church and Global AIDS, the lectures and discussions not only explored scientific and theological perspectives on HIV prevention, care and treatment but also confronted the stigma the church often expresses toward key populations most immediately affected by HIV - women, men who have sex with men and intravenous drug users.
Simultaneously, Roman Catholic leadership in the Philippines summoned priests and laity to AIDS seminars. Monsignor Robert Vitillo, the Vatican's special adviser on HIV and AIDS, said, "Education continues to be the only effective vaccine to combat denial, ignorance and prejudice, which places people at risk of contracting HIV."
Students, faculty, pastors and administrators also met to discuss HIV and AIDS during Founder's Day celebrations at the 111-year-old Silliman University, sponsored by the United Church of Christ in the Philippines in Dumuguete City. Facing a sharp spike in reported infections in their southern region of the Philippines, they formed a university-wide planning team under the leadership of Victor Aguilan, Divinity School professor of ethics.
"Silliman University is engaged in research, teaching and service related to HIV," Aguilan said. "Our challenge is to develop a coordinated strategic approach to overcome indifference and promote prevention in the Philippines."
Reaching out to women in commercial sex
Since 1998, Siliman University has been reaching out to help impoverished female commercial sex workers who seek to scrape together enough money by engaging in "survival sex." One evening in August at an outside coffee shop on the shores of Dumuguete City, 15 women met with university staff and expressed their appreciation for the health clinic and the HIV workshops the university has provided.
Each woman shared her story and her fears. Angela had been thrown out of her home at the age of 10 and had survived by selling her body the past 10 years. Mary Jo lives in a tent because she lost her home in the last typhoon. The women try to negotiate the use of a condom with their customers, but as one staff member says, "The choice these women often face is having enough money to feed their families tomorrow or possibly getting HIV in the future."
Debate over condoms, family planning
The spike in reported HIV infections coincides with a controversial national debate over condoms and family planning. Reproductive health legislation promoted by Filipino President Benigno S. Aquino III would promote the free distribution of condoms to the poor. It also requires "age-appropriate reproductive health and sexuality education" from the fifth grade through high school.
After being stalled in the legislature for 14 years, the bill is now scheduled for a vote in Congress later this year. About 80 percent of the population identifies itself as being Roman Catholic, and the church's hierarchy has mounted a vigorous and vocal campaign to defeat the bill. Polls, however, have indicated about 70 percent of the population approve the proposal.
The United Methodist bishops of the Philippines are supportive of the legislation. Arichea said, "It is surprising how closely the new law correlates with United Methodist social teaching."
Contrary to the Roman Catholic opposition to the use of condoms, Protestants promote a three-fold "ABC" approach to HIV prevention: abstinence, being faithful to one's partner and condoms. At both the United Methodist and Silliman workshops, there were demonstrations of both male and female condoms.
Living in a country with at least 37 volcanoes, Filipinos identify with the frightening imagery of HIV and AIDS as an exploding volcano. Most HIV-positive cases now are primarily men who have sex with men and secondarily people who inject drugs. But conditions appear ripe for the disease to spread into the general population. Poverty, lack of education about sexual health, 9.5 million overseas workers - many of whom experience gender violence and sexual exploitation - and limited access to condoms create an environment conducive to the spread of the virus.
Recurrent themes
At the Protestant workshops, several recurring themes were emphasized.
First, workshop leaders expressed the need for education.
Second, leaders underscored the importance of testing, counseling and treatment.
It may take years for HIV symptoms to appear after a person is infected. Testing is limited in this Southeast Asian country, so the infections may have occurred five to 10 years ago. Only recently have people become ill enough to seek diagnosis and treatment. This means that large numbers of people could be infected now but not aware of their status. Since the largest number of infected people are ages 20 to 29, the urgency of sexual health education for young people was stressed.
The Filipino government provides first-line anti-retroviral treatment for all citizens testing positive for HIV. However, voluntary testing and counseling remain limited in this archipelago of 7,017 islands.
The escalating increase in reported infections, however, may make treatment options less available, since the Philippines Health Department depends heavily on external sources such as the underfunded Global Fund to Fight AIDS, Tuberculosis and Malaria. The Health Department projects it needs $810 million to carry out HIV-prevention programs from 2011 to 2016 but only could identify $440 million in available resources.
Third, the role of Christians in combating stigma and discrimination was highlighted. Noting that faith-based communities often fuel stigma, Bishop Arichea called on Christians "to be more accepting and inclusive in their theology and ministry."
The UNAIDS goal of "Getting to Zero," meaning no new HIV infections, no new AIDS deaths and no discrimination, requires a partnership with faith leaders and followers, particularly in overcoming stigmatization. At Silliman University, Professor Aguilan challenged pastors and other church workers to recognize that "sex no longer can be a taboo topic."
Tactacan-Abrenica of San Lazaro Hospital expressed concern about "the stigma experienced by many persons infected," but said her "experience was that Filipino families are very loving and can be very supportive" if educated about the disease.
In a 2011 pastoral letter on AIDS from the Catholic Bishops' Conference of the Philippines, the church deplored stigma and discrimination, calling on Christians "to be in solidarity with those living with and affected by HIV and AIDS. ... They are the human face of Jesus in our modern time. To love them is to love God."
*Messer is author of "Breaking the Conspiracy of Silence - Christian Churches and the Global AIDS Crisis." He is also executive director of the Center for Church and Global AIDS and chairperson of the United Methodist Global AIDS Fund Committee.
News media contact: Maggie Hillery, Nashville, Tenn. (615) 742-5470 or [email protected].
---
Like what you're reading? Support the ministry of UM News! Your support ensures the latest denominational news, dynamic stories and informative articles will continue to connect our global community. Make a tax-deductible donation at ResourceUMC.org/GiveUMCom.