Many young adults have spent long summer Saturdays in church getting free legal advice and encouragement in the quest of their dreams to one day become U.S. citizens.
In June, President Obama opened the doors for young adults, ages 15 to 30, who are not U.S. citizens but have lived in the United States most of their lives to get a temporary reprieve from the fear of being deported while they are in school or serving in the military.
United Methodist churches, as well as other faiths, are holding free clinics for these young adults - called DREAMers in reference to the DREAM Act or the Development, Relief, and Education for Alien Minors Act that was first introduced in Congress in 2001. The legislation would give young people who meet specific conditions a path to citizenship.
Applications for the Deferred Action for Childhood Arrivals policy started Aug. 15. The Department of Homeland Security reported more than 82,000 applications have been received. So far, 29 have been approved.
Applicants must prove they:
Came to the United States before they were 16
Have lived continuously in the United States for at least the last five years
Are in school or have graduated or obtained a GED certificate
Were honorably discharged if they served in the military
Have not been convicted of a felony or significant misdemeanor offense
Pose no threat to national security or public safety
In short, this policy asserts that DREAMers who can meet certain requirements will not be deported. In addition, when deferred action is granted, the person may be able to pay in-state college tuition, obtain a work permit, and get a driver's license. It is temporary two-year relief that many are hoping will be unnecessary if the DREAM Act is passed.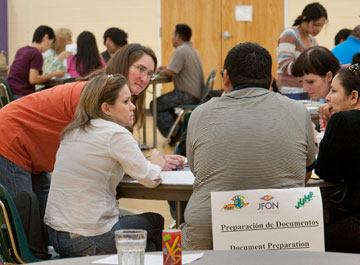 Justice for Our Neighbors, a United Methodist ministry that provides legal services, education and advocacy, has chapters across the denomination who opened their doors to the rush of applicants wanting to take advantage of this ruling. Many annual (regional) conferences without JFON chapters are also conducting free clinics.
Brynne Howard, an attorney serving the Iowa Justice for Our Neighbors chapter, said the clinics have been a moving experience.
"One of the worst parts of my job, until this program, was explaining to DREAMers that they really had no options, that there wasn't any way for them to get a work permit or a Social Security number," she said. "I felt like I could literally see the hope drain from their faces in those moments. Although this isn't the final step and we still need to push for the DREAM Act and comprehensive immigration reform, I've seen kids with their faces lit up with a little bit of hope again!"
Howard has worked at clinics in Des Moines and Storm Lake, and several smaller Iowa communities will have clinics in October, November and December. She expects they will help more than 300 people apply for the deferral.
Out of the shadows
Danny Upton, interim director of legal service for the National Justice for Our Neighbors, said the deferred action would change the lives of hundreds of thousands of young people.
"Deferred action will allow them to remain with their U.S. citizen siblings, spouses and children rather than returning to countries where they have no family, cannot speak the language and may have no memory of ever having lived," he said.
"Deferred action will bring these valued members of our local communities out of the shadows making it possible for them to work, to pay taxes, to go to school, and to support themselves and their families. Finally, deferred action will allow immigration authorities to prioritize the removal of criminals, fugitives from justice, and others who pose a threat to the health, safety and welfare of the public."
Upton is working on 120 applications in conjunction with his home church, Hazel Green (Ala.) United Methodist Church and other faith organizations.
The United Methodist Tennessee Annual Conference JFON trained more than 70 attorneys to aid in the process and have already seen more than 600 people.
'God in action'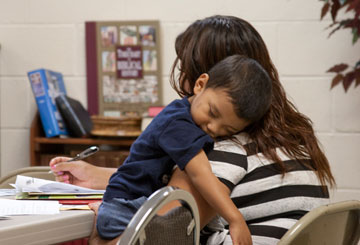 Application for deferred action is not risk-free. It does not change immigration status or provide a path to citizenship. Although the federal government has agreed to keep the information confidential, deferred status is granted at the discretion of Immigration and Customs Enforcement. Action against applicants can be pursued if there is fraud, involvement in a serious crime, or national security concerns; and, there is no guarantee that this will be a long-term policy for DREAMers.
The Rev. Kaki Friskics-Warren, Tennessee's JFON co-chair, describes this as God in action. "All of this is a result of much prayer as well as faith in action in the form of advocacy. Volunteering at the TnJFON legal clinics and witnessing parents who are willing to risk being on the government's radar and youth full of so much hope, this is truly a glimpse into the fulfillment of the reign of God."
The Rev. Joaquin Garcia with the Tennessee Annual Conference refers to Leviticus 19:34 as he reflects on the importance of this ministry, "The United Methodist Church, through Tennessee Justice For Our Neighbors, is not only helping these young people but also implementing the Biblical mandate to welcome the alien and treat them 'as the citizen among you.'"
* Gilbert is a multimedia reporter for the young adult content team at United Methodist Communications, Nashville, Tenn. Snider is a producer for United Methodist Communications.
News media contact: Kathy L. Gilbert, Nashville, Tenn., (615) 742-5470 or [email protected].
---
Like what you're reading? Support the ministry of UM News! Your support ensures the latest denominational news, dynamic stories and informative articles will continue to connect our global community. Make a tax-deductible donation at ResourceUMC.org/GiveUMCom.