Ramiro Ramirez traveled with his wife and family from southwest Texas just to tell the story of how the border wall threatens Jackson Chapel United Methodist Church and two cemeteries. They told the story for anyone who would listen, but especially for members of the U.S. Congress.
The Ramirez family stood in front of the U.S. Capitol during an early cold spell Nov. 14, and again told their story — this time with help. Four members of Congress spoke, as did members of grassroots advocacy organizations and a district superintendent from The United Methodist Church.
Ramirez, a longtime United Methodist, holds the deed of two cemeteries and a building – Jackson Chapel United Methodist Church in San Juan, Texas, just east of McAllen. The church is right on the Mexico/United States border. Ramirez's great-grandfather, Martin Jackson, built the chapel on the property in 1874. Ramirez has relatives buried in the cemeteries going back generations and he and his wife plan to be buried there, too.
But he's unsure, now, if he'll be able to visit those relatives in the future, or if his descendants will be able to visit his grave. That's because the proposed border wall between Mexico and the United States would split the cemeteries in two.
"Those cemeteries are sacred to us," Ramirez said, standing on Capitol Hill following a press conference. "Our children and our children's children will be buried there. It's very sad to think that that wall will be put right next to it and destroy the cemeteries."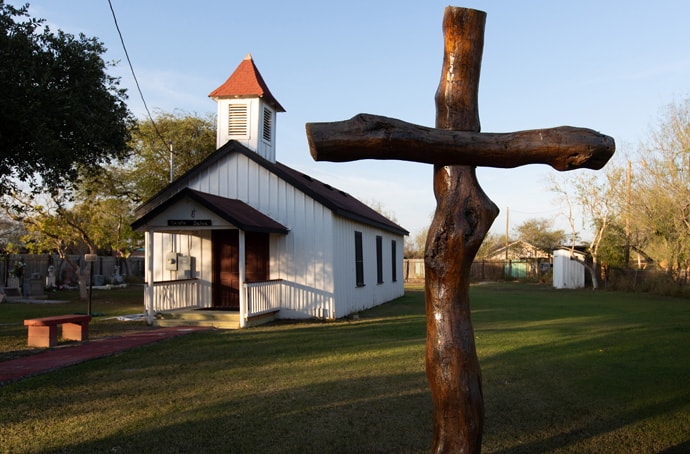 Ramirez, along with six other plaintiffs, filed suit March 14 in District Court in the District of Columbia against President Donald Trump and three cabinet members. The lawsuit said that, "President Trump's Emergency Declaration, the militarization of the border, and additional wall construction along the border causes immediate and concrete harm to the Plaintiffs."
The lawsuit alleges that "if constructed on the levee, the border wall would cut off direct access to the Jackson Ranch and Cemetery, stranding the property in a no man's land between the Rio Grande River and the wall."
The lawsuit puts the Ramirez family and Jackson Chapel in the center of a larger national debate about immigration, border security and the president himself.
At the press conference, U.S. Rep. Filemon Vela, a Texas Democrat who serves the 34th District — which includes Brownsville and other border communities — said that he and other colleagues are working hard to stop funding for what they see as an unnecessary and unneeded wall.
"Over the course of the past few years, we have been able to exclude specific sections of land from where the wall would be built," Vela said, "like the Santa Ana (National) Wildlife Refuge. But the reality is that that is of no consolation because we shouldn't be building any border wall whatsoever."
Rep. Veronica Escobar, a Texas Democrat elected this year to represent the 16th District, said that she has witnessed "shocking" conditions for immigrants and vulnerable families. "Every single member of Congress, who represents the southern border opposes the wall, opposes more wall funding. We know that it doesn't work," said Escobar, whose district includes El Paso.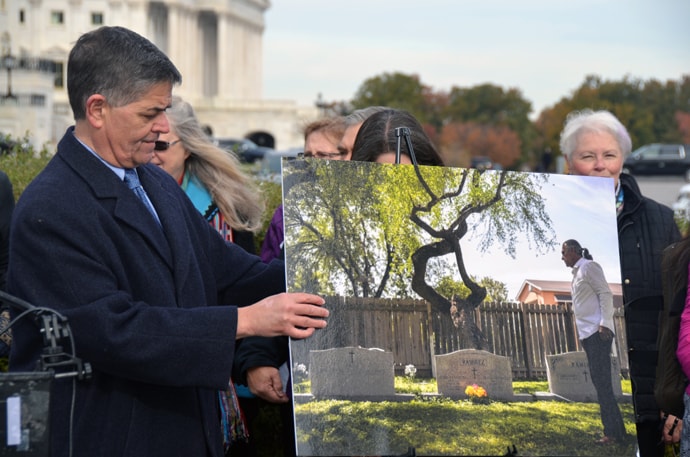 The Rev. Joe Archie, superintendent of the Wilmington District in the Peninsula-Delaware Conference, brought greetings from Bishop Peggy Johnson.
"We stand here today in solidarity with the Ramirez family. We are in partnership with the First Nation's peoples, with Earthjustice, as partners together. We are standing up for the Jackson Chapel Ranch. This chapel symbolizes who we are as The United Methodist Church and even who we are as a nation: it is bilingual and multicultural, and multiracial," Archie said.
Rio Texas Conference Bishop Robert Schnase did not speak at the news conference, but said he came to Washington to support the Ramirez family and the historic United Methodist church.
"The story that they have, and the history that they have running back 170 years, is just amazing," he said. "Multiple generations have lived on that land and in that area, and from that chapel have come leaders who have started various other United Methodist churches in that area over the century."
The bishop said the two affected cemeteries include veterans of the Civil War, both World Wars, Korea and Vietnam.
"There are folks of Mexican decent buried there," he said, "who came from the south, and an incredible variety of people. I've seen the list of who's buried in these cemeteries, and it's pretty overwhelming; it's a representation of what the border area is like."
Schnase said he knows that there is no consensus among United Methodists in his area about immigration and the wall. However, he said, "there's just something, on its face, that says, 'You don't disturb historic cemeteries.' You don't cut people off to where they can't get to their own loved ones."
The wall will be built on top of the nearby levee, said Melinda Ramirez, Ramiro's wife. That means there will be a 150-foot "enforcement zone" encroaching on the cemeteries. "And that will wipe out everybody buried in the Eli Jackson cemetery," she said.
Ramiro Ramirez said that most of the visits with lawmakers went well. Many didn't know of his family's plight and took interest. Others, not so much.
"We're here to tell them the truth," he said. "It's not a danger down there. We go to the chapel on a weekly basis and it's free, it's wonderful, it's peaceful and it's a place we go to show our respect to our ancestors."
Alsgaard is managing editor in the Ministry of Communications for the Baltimore-Washington Conference. To get more United Methodist news, subscribe to the free Daily or Weekly Digests.
News contact: Vicki Brown, 615-742-5472 or [email protected].
---
Like what you're reading? United Methodist Communications is celebrating 80 years of ministry! Your support ensures the latest denominational news, dynamic stories and informative articles will continue to connect our global community. Make a tax-deductible donation at ResourceUMC.org/GiveUMCom.