Leonard Jeangilles was worried that a mission team he was helping would be late returning to the Methodist Guest House for dinner.
It was Tuesday, Jan. 12, 2010. The 27-year-old translator had been assigned to keep the mission team from Dallas on schedule.
The team from Highland Park United Methodist Church was there for a week of work in a clinic started by the congregation in 1985. When team members drove into the small town of Petit-Goâve, about 40 miles west of Port-au-Prince, early that morning, a large crowd was waiting for treatment.
At 4 p.m., Jeangilles told the team leader the group should be heading back into Port-au-Prince. "(The team leader) told me, 'No, these people have been waiting all day, and it would be a shame to send them home before we see them.'"
Moments after the last patient left, Haiti was struck by an earthquake that demolished almost every structure in the small town. A wall from the building next door flattened the clinic. One of the volunteers, Jean Arnwine, was trapped in the rubble and later died from her injuries.
"I was walking back to the clinic, and it felt like someone grabbed me from behind and pulled and then pushed me forward," Jeangilles said. "I was really scared."
Jeangilles, separated from the mission team, also could not contact his family, including his 3-year-old daughter, and friends in Port-au-Prince. He spent the first night after the earthquake on board a boat used to evacuate the survivors. "That was really scary too because I don't like boats," he recalled.
It is a day Jeangilles and thousands of Haitians will never forget. Living through such an experience changes people, but it can also strengthen their faith. Here are some of their stories.
Surviving to give back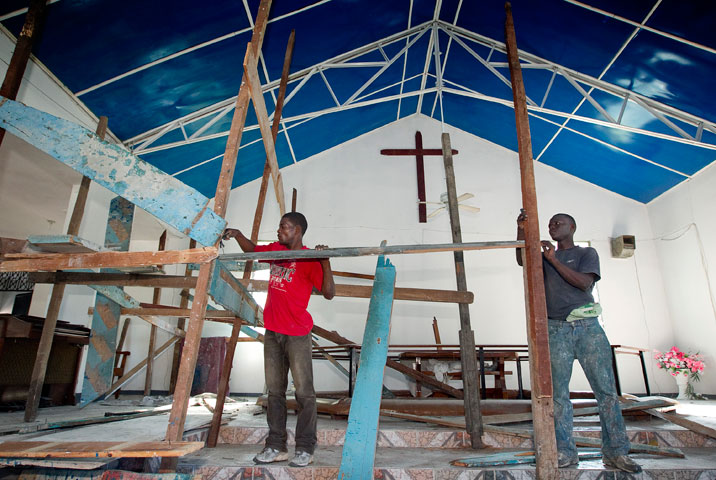 Josny Mehu was carrying his 2-year-old daughter into their home when the earthquake struck. Before he got inside, his home collapsed. No one in his family was hurt.
Today, he is thankful to be helping his country rebuild as a program officer for the United Methodist Committee on Relief in Haiti. He worked with the previous UMCOR Haiti office before it closed in 2008.
One of his responsibilities is working with Camp Corail, a resettlement camp built for the thousands displaced by the earthquake. There, UMCOR has built nine school buildings that will provide a free education to as many as 900 children. He is also involved with a project to plant papaya and lemon trees for shade and a community garden for food and income. Another project will provide a drainage system for the camp located at the foot of a hillside.
He finds strength in being part of the effort to rebuild Haiti.
Finding courage
"Nicolette" (not her real name), 15, found the courage to leave an abusive home after she attended a YWCA leadership seminar for young women. The leadership seminar teaches young women entrepreneurship skills, provides psychosocial services, offers instruction on sexual health and guides them as they strategize for life in the aftermath of the earthquake.
Nicolette now lives with an aunt. A gifted painter, she is developing her creativity to become an interior designer.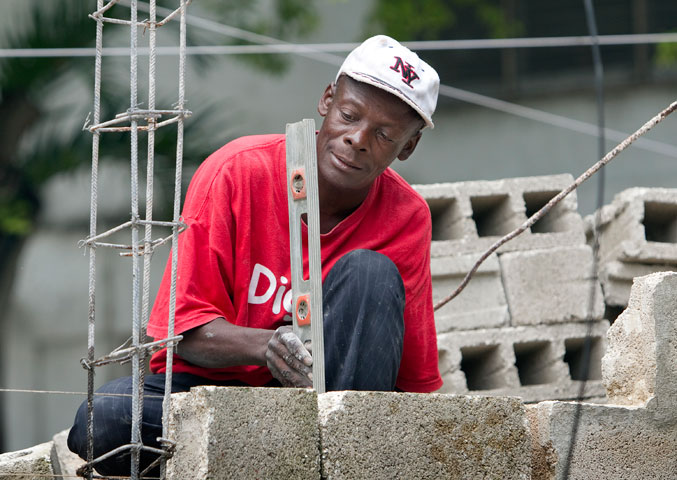 Along with some 50 girls and young women, Nicolette also attends the YWCA youth center, located on the campus of a Montessori school. Many of the children in the youth center live in tent communities, and most do not go to school. The youth center - supported in part by UMCOR and United Methodist Women - gives them an opportunity to break the cycle of poverty by building up their confidence, affirming their worth as children of God, and teaching them life skills.
Lasting friendships
Oge Celin, 30, has worked for the Methodist Guest House for "10 good years," he said. He is a driver and translator for groups coming to the house on mission trips. Though he had little formal training in English, he is one of the best translators because he loves to practice with the guests.
"They are good people, and I like to talk with them and laugh with them," he said. "There have been a lot of people who have left a lasting impression on me. Most of the Americans I have met are very good people because they talk to me, and I can tell they have a heart for Haiti. It feels good to meet people who really care about my country."
Celin is married to Josianne and they have a 6-year-old daughter, Laura. Two of his older brothers live in the United States, but his parents and younger sisters live in Haiti. "My mom is a lay pastor, but not in a Methodist church," he said. "My dad is a painter and a Methodist."
Celin wants the people in the United States to know their support is crucial.
"Your time and money are so important as we rebuild. God bless America and all my American friends."
Touching lives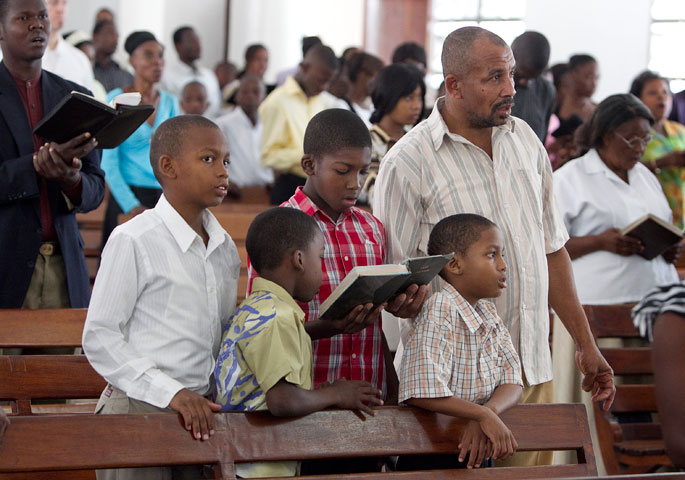 The people who meet Haitians like Celin and Nicolette also come away blessed.
"How can people survive in such adverse conditions? How can they live when all seems to be lost?" asked the Rev. Jim Jones, pastor of Christ United Methodist Church, Enid, Okla., who recently led a volunteer team in Haiti.
"Most of the people had stories about the quake and what they had lost - family, friends, houses, jobs. But they were finding ways to survive. They found ways to feed their children, and, in many places, they came together as a community to help each other.
"The profound effect on me was to witness people who lost everything but haven't given up hope," he said. "The churches and people we worked with knew God was with them, during the quake and always."
Signs of faith
It is easy to see faith running through Haiti.
Vehicles rattling down the streets in every direction seem to reflect a country with their eyes on something higher: "Christ Capable," "Merci Jesus," "In God We Trust," "Psalm 46:1,""Daniel 3:17," "Hope" and "Feeling Jesus."
Many of the people in Haiti are living testaments to Matthew 6:21. "For where your treasure is, there your heart will be also."
*Gilbert is a multimedia reporter for the young adult content team. Melissa Hinnen, communications director, UMCOR, and Barbara Dunlap-Berg, internal content editor for United Methodist Communications, contributed to this report.
News media contact: Kathy L. Gilbert, Nashville, Tenn., (615) 742-5470 or [email protected].
Related Video
Interactive Graphic
Destruction in Haiti: Now and then (New York Times)
Related Articles
Haiti: Shaken but not broken one year later
Volunteers build relationships in Haiti
Quake survivor focuses on Haiti recovery
Love draws mission team back to Haiti
Camp offers shelter for displaced Haitians
A Year later, Haiti struggles back
UNICEF: Year after quake, thousands of Haitian children still suffering
Haitians turn out for one-year anniversary of quake
Haiti quake far more destructive than 2004 tsunami: study
Resources
Earthquake in Haiti: The Church Responds
---
Like what you're reading? Support the ministry of UM News! Your support ensures the latest denominational news, dynamic stories and informative articles will continue to connect our global community. Make a tax-deductible donation at ResourceUMC.org/GiveUMCom.