A year after a massive earthquake shattered Haiti's infrastructure and the lives of its citizens, the commitment to rebuilding the Caribbean nation remains.
However, even in the best of times, improving the lives of Haitians can be a daunting task.
November's deadly cholera outbreak and brush with Hurricane Tomas, December's tension-filled presidential election and the upcoming runoff election now postponed until February or later have helped slow earthquake recovery efforts.
"The last couple of months have been pretty difficult for people," said Melissa Crutchfield, who coordinates international relief for the United Methodist Committee on Relief. "I think it's stagnated the progress."
Andre Prospery Raymond, a Haitian who has worked for UK-based Christian Aid for eight years, believes the coming year could be a difficult one for his country. "I was expecting the (recovery) situation to speed up at the end of 2010, but with this election crisis it is very difficult to predict," he said.
Progress has been particularly slow for those still living under tents, according to the Rev. Gesner Paul, president of the Methodist Church of Haiti, and many believe the government has not done enough to remedy that situation.
Despite the obstacles, Paul added, "Haiti will be rebuilt. It is for us as Haitians to work to rebuild Haiti."
Not insurmountable
While the challenges of Haiti's recovery can be overwhelming at times, they are not insurmountable, says the Rev. John McCullough, a United Methodist pastor and top executive of Church World Service.
His agency's partnerships in Haiti where it has worked for more than 50 years remain strong, bonded by a sense of enthusiasm and a conviction that the efforts are making a difference.
"At the same time, we have to be realistic about what is reasonably possible," McCullough said. "The destruction here was massive. It is going to take a long time."
Some of the progress is measured in small steps. As Church World Service studied the affected populations, it realized that people with disabilities "were often times having to do without," he explained.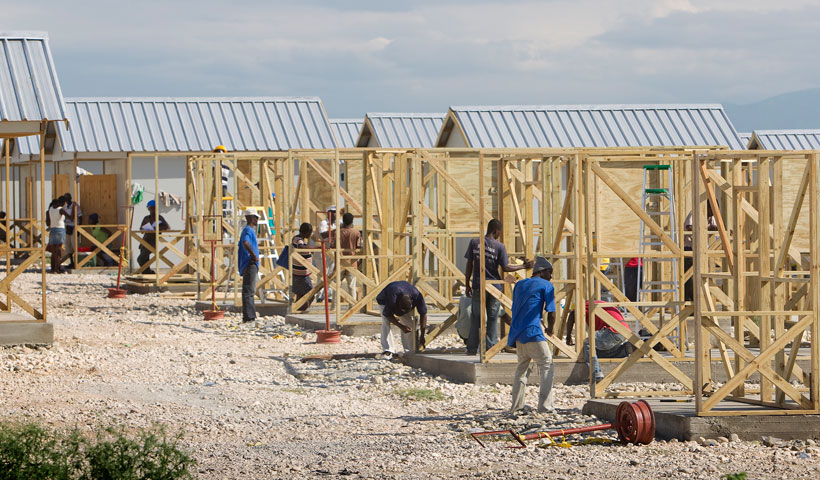 By focusing on that demographic, the agency was able "to create centers where people could gather and not have to compete with those who are more physically able to get some of the basics."
Christian Aid, a Church World Service partner, decided it could have a stronger impact by assisting Haitians living in the countryside, and it is working to improve livelihoods there. Raymond, the Haiti country manager, believes the initial earthquake response went well, despite the slowdown in the last few months.
Housing, however, remains an immediate concern. "We do have thousands of people living in tents," he said. "The situation is not good."
In December, the United Nations reported that 1 million people are still living in homeless camps, though that number represents a decrease from a 1.5 million peak in July.
Housing challenges
The aid community quickly realized that the biggest challenges related to housing and the clearing of rubble would be verifying land ownership and approving an official building code, Crutchfield pointed out. "Once those two things are solved, I think things will move a lot more quickly," she said.
Because the Methodist Church of Haiti has been asked for documentation regarding its Port-au-Prince buildings, she knows city planners there are making progress. "They're trying to figure out what buildings will stay, what buildings will go," she explained.
While the displaced Haitians wait, UMCOR has assisted in making the tent cities into livable communities by setting up schools and helping with water and sanitation needs. The relief agency's long-term plan with its partners includes shelter, livelihood, agriculture and microenterprise programs.
UMCOR also has a supply chain in place, and larger shipments of school kits and health kits "are finally starting to come in with regularity," Crutchfield reported. A distribution plan -- developed with the Haitian church, UMCOR NGO office and other Haitian partners can be adjusted to meet newly defined needs. "We actually were able to divert some of our health kits to the cholera-affected communities," she noted.
That type of flexibility also is evident in new partnership arrangements. On the nongovernmental level, that includes the ACT Alliance and the United Nations. On a denominational level, the British Methodist Church is addressing post-earthquake school rehabilitation and other relief needs through a collaborative relationship with Haitian Methodists, The United Methodist Church and United Church of Canada.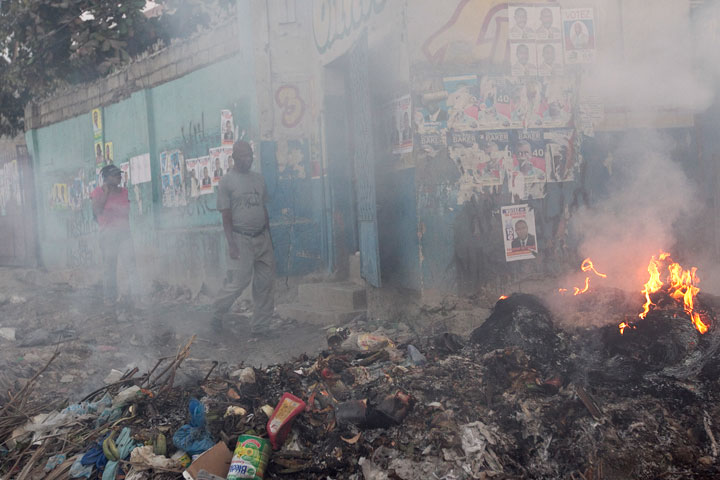 "I think, as a Methodist community, we can hold our heads up high and be proud of what we've achieved," said the Rev.Tom Quenet, Americas and Caribbean partnership coordinator for the British Methodist Church.
Encouraged by the Rev. Marcus Torchon, a Haitian now living in Liverpool, the Wirral Methodist Circuit in England has pledged to rebuild the Leveque Methodist School northwest of Port-au-Prince. Both United Methodist Volunteers in Mission and Haitian Methodists will assist in reconstruction. So far, the circuit has raised about $160,000 toward the project, well on the way to its $300,000 goal. "It's been a tremendous effort to get to that point in such a small time," Quenet pointed out.
The London-based Methodist Relief and Development Fund has appreciated the opportunity to provide emergency agricultural assistance through the Methodist Church of Haiti and UMCOR, said Nick Burn, program manager. "We're kind of feeling our way (in the new relationship) but it's been good &ellipsis; to benefit from the staff on the ground," he added.
Working at grass-roots level
Grants from United Methodist Women helped the Lambi Fund of Haiti allocate emergency assistance to grass-roots groups dealing with the influx of earthquake survivors in the Haitian countryside. All but one organization "was able to expand and double their crops," reported Karen Ashmore, executive director, and now recipients are ready to resume their traditional projects for sustainable development.
But if people in the countryside are ready for recovery, the situation is different in heavily damaged Port-au-Prince, where the fund extended its work to answer a cry for help from women in the tent cities.
Personal safety remains a concern for women in the capital. "As long as they're living in tents and can't lock doors, that's always going to be a security issue," Ashmore explained. "Rape awareness (techniques) and peer support help."
The Lambi Fund also distributed small grants to 350 women in two women's groups to help them start small businesses and pay school fees for their children. The majority of the women are selling goods in the market, she said, "which in Port-au-Prince is one of the easiest ways to start a small business."
The larger recovery has been much more complicated, and Quenet of the British Methodist Church sympathizes with the frustrations that Haitians must feel even as he admires their resilience and patience. "As an outsider, stepping in periodically, I can see the differences," he said. "But for somebody living in Haiti, where the changes are so slow, it must be very, very frustrating and very difficult."
No one can dispute that progress has been made, says Rick Santos of the Maryland-based IMA World Health. "Ultimately, the question is how much progress, and can more be done?"
Before the earthquake, IMA World Health was working in Haiti with other partners as part of a national plan under the Ministry of Health to address the threat of neglected tropical diseases, such as Lymphatic Filariasis and Soil Transmitted Helminthes, through mass drug treatments. Despite the earthquake, hurricane and cholera outbreak, the agency has treated 1.7 million people in the past year.
As one of the earthquake survivors plucked from the rubble of the Hotel Montana, Santos himself has "a sense of real solidarity" with the Haitian people, and he envisions ways to help stabilize the country's strained health-care system and perhaps finding a way to use the more than 17,000 Haitian volunteers trained for drug treatment programs.
Jump-starting the real recovery may require more policy-level conversations between Haitian leaders and donor governments, he said.
Igniting the economic engine
That especially includes Haiti's powerful neighbor to the north. "The Haiti earthquake really awakened a lot of people to the long-term development needs that exist, even within our own hemisphere," McCullough said. But even with the outpouring of compassion and volunteer and financial support, Haiti's status as "the poorest country in our hemisphere" has not changed, he pointed out.
Haiti's partners need to take a look at what it will take to "ignite the economic engine of Haiti," McCullough said, to allow for real growth and development. That means holding the U.S. government and other pledging governments accountable for their promises, he added.
During a visit to Port-au-Prince on the eve of the anniversary, former U.S. President Bill Clinton, a United Nations envoy to Haiti, told the BBC he was frustrated by the slow progress but thought the speed of the recovery was picking up. For UMCOR and its partners, the emphasis is definitely shifting toward recovery, said Crutchfield, who is hoping first anniversary observances will create "fresh enthusiasm" for rebuilding.
"I feel like this first year has been a necessary learning process for everyone," she said. "We have really made great strides in learning how to work together."
*Bloom is a UMNS reporter based in New York. Follow her at http://twitter.com/umcscribe.
News media contact: Linda Bloom, New York, (646) 369-3759 or [email protected].
Related Video
Interactive Graphic
Destruction in Haiti: Now and then (New York Times)
Related Articles
Haiti: Shaken but not broken one year later
Volunteers build relationships in Haiti
Quake survivor focuses on Haiti recovery
Love draws mission team back to Haiti
Camp offers shelter for displaced Haitians
A Year later, Haiti struggles back
UNICEF: Year after quake, thousands of Haitian children still suffering
Haitians turn out for one-year anniversary of quake
Haiti quake far more destructive than 2004 tsunami: study
Resources
---
Like what you're reading? Support the ministry of UM News! Your support ensures the latest denominational news, dynamic stories and informative articles will continue to connect our global community. Make a tax-deductible donation at ResourceUMC.org/GiveUMCom.