After 10 days in Haiti, I don't know what to do with my memories. I don't feel big enough or strong enough or special enough to carry them.
Friday, Feb. 12, marks the one-month anniversary of the earthquake that shook Haiti apart--30-something seconds of terror that left a nation wounded forever. Feb. 12 also will mark the beginning of the 2010 Winter Olympics in Vancouver. For the next few weeks, the news will be filled with young, beautiful, healthy people performing incredible feats and setting world records.
All I can think about is what will happen when the rainy season starts in March.
Try to imagine thousands of people living outside, too afraid to sleep in any place with real walls and a roof. Babies and old people. Strangers and families. Sheets, tablecloths and towels for their walls. Mattresses and blankets for their floors. Even a gentle rain will bring new misery.
And there is already enough misery.
A mother's tears
I wonder if tiny Laury is still sick. His 21-year-old mother's tears stab my heart. Since the day she pulled him from under the rubble of their house, the 1-year-old has been miserable. She worries he will never get well as long as she has no safe, clean place for him to live.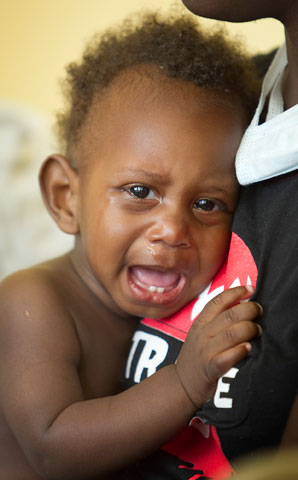 Louis and Madame Felix, 74 and 76, are probably out of rice and beans by now. They were so happy to get their share of the first food distribution made by the United Methodist Committee on Relief. Their faces glowed as they talked about the Methodist church they were baptized in, the one they were married in, the one that is now brown rubble spilling out on the churchyard.
Samuel Loomery, 17, was so close to completing his secondary education when his school crashed down on him. Classmates helped pull him to safety. He wonders about another student who was trapped close by. He's still not sure what happened to him.
Is Winsley Polo, 2, still alive? So frail, so small, lying quietly in a crib sheltered by a blue tarp. She is one of the lost children, babies who were not claimed by parents after the earthquake, who are living with compassionate caregivers at Grace Hospital.
Moments of grace
It makes me smile to remember Sister Paulette Holly, 82. I sat next to her during a Sunday worship service at the destroyed St. Martin Methodist Church. Standing to sing, she pressed the hymnal into my hands. I tried to explain I didn't understand French. She just shook her head, pointed to the words and said, "It's easy."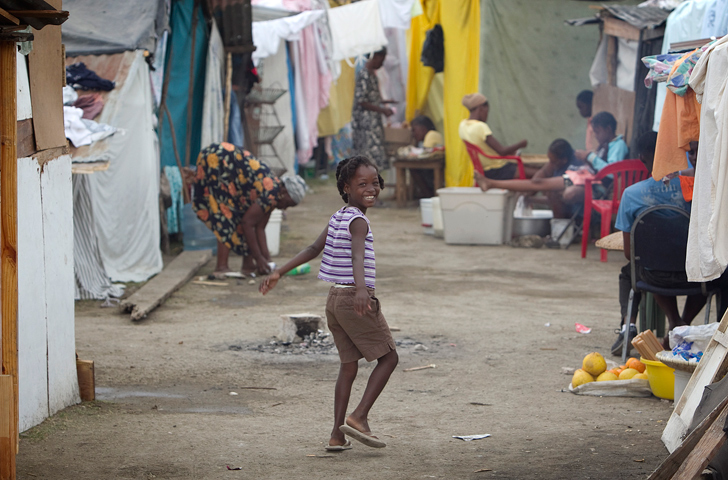 Easy it is not. I relied so much on the kindness of our patient driver, Oge Celin. I pressed him into being my personal interpreter early on and he was instrumental in many of the interviews I was able to do.
The kind people who work at the Methodist Guest House care for travelers even though they have all lost everything in the earthquake and are coping with personal grief. Each one has a broken heart over the deaths of United Methodists Sam Dixon and Clint Rabb.
Emile Belorne, a Guest House supervisor, considered my request to hear what happened to her on the day of the earthquake. She pondered the request for two days. When she was ready, she broke our hearts as she told us of her fear and faith in God.
"I say, Lord if I am still alive, it is by your grace. I am no better than the others who died. You made me a favor. If I am here, I have to do something for your glory."
Kites amid rubble
The new death toll from the earthquake is 230,000. That number does not include the bodies yet to be recovered from collapsed buildings or the many people who were pulled from the rubble and buried privately by families.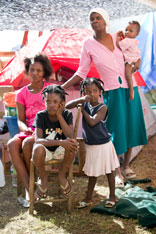 That rubble is becoming part of the landscape. People are going on with their lives without any of the things I find most basic-a private place to bathe, a quiet place to read, a safe shelter from the weather, a door to shut out strangers.
Women on the side of the road sit all day waiting to sell their meager supply of vegetables. Men tackle the great mounds of debris one piece at a time. Using handsaws, taking all day to cut through one piece of steel reinforcing bar.
Parents make kites out of plastic bags to delight their children.
And everywhere, they live with the dread of the rainy season.
"We have been lucky so far, no rain yet," said one man. "But the rain will come."
*Gilbert is a United Methodist News Service news writer who was on assignment in Haiti Jan. 21 to 31.
News media contact: Kathy L. Gilbert, Nashville, Tenn., (615) 742-5470 or [email protected]
Haiti Reflections
Related Video
Slideshow
Related Articles
Haiti journal: Deaconess, 82, cares for orphans
Haiti journal: Home is a field, but families remain families
---
Like what you're reading? Support the ministry of UM News! Your support ensures the latest denominational news, dynamic stories and informative articles will continue to connect our global community. Make a tax-deductible donation at ResourceUMC.org/GiveUMCom.