After the January 2010 earthquake in Haiti, United Methodists across the connection responded with money and volunteers. In late February this year, a team from United Methodist Communications went to Haiti to look at ways in which life has improved. This is part of a series about what that team found.
As they sat on the front pew of St. Martin Methodist Church, a gentle breeze ruffled the little girls' frilly dresses in the colors of a rainbow — pink, white, turquoise, yellow — and tempted little boys trying hard to be quiet for the two-hour worship.
Lucienne Bazile stood in the open doorway by the 20 children, gently shushing them or separating them when they got a little too busy and forgot where they were.
It was a dramatic change from a Sunday in January 2010 when few children were in attendance and services were held amid the rubble of the church and school left behind by the earthquake days before.
On that day in 2010, and this Sunday in 2013, Noelzina Doavil and Bazile were at their church — grieving then, joyful now.
The two faithful church members are happy to be in the rebuilt structure that is now one large two-story building with the church on the second floor and the primary school on the first level. The original church and school were separate one-level structures next to each other.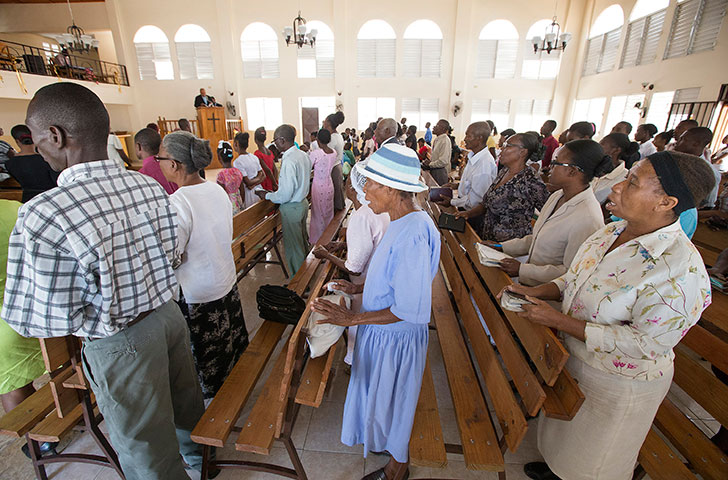 On Sept. 9, 2012, the Methodist Church of Haiti welcomed about a thousand participants to a joyous inaugural Communion service at St. Martin's Methodist Church.
The beautiful white building shines in a poor neighborhood that still shows scars from the massive earthquake.
On Jan. 12, 2010, Doavil and Bazile were just finishing choir practice in the church with three other friends when they felt the first tremors.
"We were just having prayer to end our time together," Doavil said. She and Bazile were in a doorway and that saved them from being crushed. Their friends were farther back in the room and all died. Three "brothers" in faith pulled them out, Bazile said.
They both beamed when they spoke of the new church and school constructed as part of the Haiti Response Plan, a collaborative effort with the Eglise Methodist d'Haiti, United Methodist Volunteers in Mission and the United Methodist Committee on Relief.
"We lost some members because they are afraid to come back in the building," said Gaston Hormil, a local preacher in St. Martin. But many came back and brought new people.
Haiti: Healing, rebuilding
Voices of praise floated out the open doors, and the Bible verses seemed especially related to the faithful congregation.
In Psalm 91:14, they read, "Those who love me, I will deliver; I will protect those who know my name."
Editor's note: The Noelzina Doavil referred to in the third paragraph of this story and the Noel Zierne in the earlier story are the same person.
*Gilbert is a multimedia reporter for the young adult content team at United Methodist Communications, Nashville, Tenn.
News media contact: Kathy L. Gilbert, Nashville, Tenn., (615) 742-5470 or [email protected].
---
Like what you're reading? Support the ministry of UM News! Your support ensures the latest denominational news, dynamic stories and informative articles will continue to connect our global community. Make a tax-deductible donation at ResourceUMC.org/GiveUMCom.