Gulfside Assembly, the historic United Methodist center in Waveland, Miss., is on a deliberate but not fast track as it continues to recover from Hurricane Katrina, according to the president of the board of directors.
"Gulfside Assembly is on the move - not on the fast train, but on a deliberate track," said Mollie Stewart, who is helping guide Gulfside's reconstruction.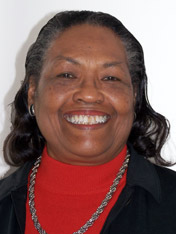 The nearly 85-year-old retreat center, built on 60 acres facing the Gulf of Mexico, was swept away when Hurricane Katrina cut a swath across the Gulf Coast in 2005.
Volunteers are urgently needed to help with the cleanup, officials said. The Federal Emergency Management Agency will pick up the trash and debris collected at the site through June, and other arrangements for debris disposal are being considered. Gulfside's board of trustees wants as much of the grounds cleared of debris as possible.
Gulfside also needs groups of volunteers to pick up bottles, cans, pieces of wood, asphalt, small stones and the kinds of things that would get in the way of the lawn mowers and other equipment, said Abraham Carey, chairman of the building and grounds committee.
"We are building on our history and heritage but looking to the future to serve the generations to come," Carey said.
"It really boils down to just kind of getting your hands in the dirt and doing what you can do," he said. No special skills are needed from volunteers. "Just come," he said. "... It is labor, but you can have a lot of fun when you come here, too."
A future with hope
After being relocated temporarily to Atlanta, the Gulfside office has returned to the assembly grounds. The staff is using a building owned by the United Methodist Committee on Relief, which set up shop there after the flood waters receded. The relief agency and the disaster response/relief team of the Mississippi Annual Conference stores equipment there, and work teams use it as a base for doing work in the surrounding areas.
The grounds also host the Mississippi Coast CARE (Community Aid Relief Effort) and Amish Relief, which do volunteer work in Waveland and other parts of the area.
"Both groups have been a tremendous help to us, but their focus is in the community and not in our institution," Carey said.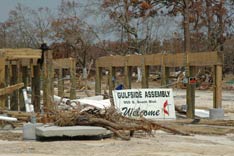 The board, through a long-rang planning team, is considering Gulfside's needs and ministry for the future. A consultant is helping the members in a discernment process on what Gulfside will look like, what its ministries will be and what the timeline will be.
"We feel as a board that we are doing the right things that will make Gulfside stronger in the future," Stewart said. "We are on target with God and seeking his guidance as we move into the future with greater hope than ever before. &ellipsis; (We) will not be restricted by what was."
While no formal fundraising is under way, people are donating to a fund called "The Gulfside Recovery Fund," and a full campaign is being planned, Stewart said.
"I think that there are a number of people who love this place, and they just need to know that there are other people who love this place and that it has been significant to so many people - that Gulfside restoration is a must. And we hope that people will come and help us make this a dream again," Carey said.
Historically significant
Gulfside was a much-revered facility, and many of today's prominent African-American United Methodist church leaders trace their spiritual roots back to the assembly. It provided a boarding school for boys from rural areas, a day care facility for community children and a theological training center for African Americans from Texas, Louisiana, Alabama and other parts of the once-segregated South.
Founded in 1923 by Bishop Robert E. Jones, the first African-American Methodist bishop, it was the only place where blacks and their friends could meet for spiritual, educational and recreational activities of that era.
Gulfside also served the Central Jurisdiction, an entity created in 1939 as a racial compromise when the Methodist Episcopal Church, the Methodist Episcopal Church, South, and the Methodist Protestant Church merged. The non-geographical, segregated jurisdiction for African-American Methodists existed until 1968, when it was dismantled with the merger of the Methodist Church and the Evangelical United Brethren Church.
"I think one of the reasons we haven't gotten the help that we need is that when people see the devastation, they're overwhelmed," Carey said. "But you look at some of the photos with the bricks piled up from the buildings that people once knew as thriving residences, they're just overwhelmed ... and wondering, 'What can I do in the midst of all that devastation?'"
The devastation includes boats that washed up from other places, car seats for babies, destroyed vehicles and donations from across the church reduced to rubble. "Whatever, you can almost find it here," Carey said. "We even found a sign that came from New Orleans on the property (as well as) iron pipes, plastic, and just about any kind of debris that you would find on a dump."
Funds needed
Gulfside leaders applaud the church for its support in the past and encourage continued support for the future. Stewart affirms "the connectional system and all that means to us as a church" because annual conferences such as Texas, Louisiana, Mississippi, Missouri and the Southeastern Jurisdiction included Gulfside in their 2007 budgets.
"As a fellow United Methodist, this means a lot to me personally as I travel across this jurisdiction and beyond, encouraging and informing (the) church on the importance of paying conference apportionments," Stewart said.
Those interested in volunteering at Gulfside can contact Wilma Dunbar, the assembly's business manager, at [email protected]
Gulfside receives funding as an Advance Special of The United Methodist Church. Checks should be made payable to "Advance GCFA," designated for Advance #760235, and placed in local church offering plates or sent to GCFA, P.O. Box 9068, GPO, New York, NY 10087-9608. Call (888) 252-6174 to make credit-card donations.
*Green is a United Methodist News Service news writer based in Nashville, Tenn.
News media contact: Linda Green, (615) 742-5470 or [email protected].
Resources
---
Like what you're reading? Support the ministry of UM News! Your support ensures the latest denominational news, dynamic stories and informative articles will continue to connect our global community. Make a tax-deductible donation at ResourceUMC.org/GiveUMCom.