At Duke University, students in the 14 freshmen dorms on East Campus compete in an Eco-Olympics that results in lowered utility use for the remainder of the academic year.
Allegheny College students learn to reduce waste through the One Less Cup campaign, which promotes reusable takeout containers, and the annual "Trashion Show."
Composting at Green Mountain College goes full cycle when food waste from dorms and the dining hall is used to fertilize vegetables that are grown on the campus farm and then prepared for student meals.
Such activities illustrate why these three United-Methodist related institutions made the sixth annual "Cool Schools" list of the nation's greenest universities, as detailed in the September-October issue of "Sierra" magazine.
This year, Duke was ranked in the Top 10, at No. 7, while Green Mountain was No. 11 and Allegheny was No. 55. Other United Methodist-related schools on the list of 96 include University of the Pacific (42), Boston University (54), Drew University (61), and Syracuse University (74).
The ranking is based on an extensive online survey with significantly more questions than in previous years, noted Sierra, the magazine of the Sierra Club. The revamped survey allowed the four-year colleges and universities who responded "a greater opportunity to draw attention to their positive steps across a broad range of sustainability factors."
The U.S. Environmental Protection Agency defines sustainability as a "productive harmony" between humans and the natural environment that fulfills social and economic needs of current and future generations. If the efforts by these 96 schools is any indication, this concept is being enthusiastically embraced by students, faculty and college administrations.
Duke a climate neutrality leader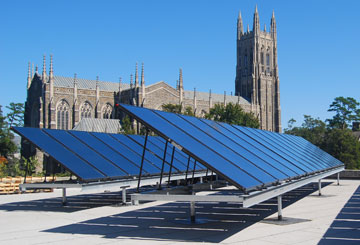 Solar panels on Duke University's student center provide approximately 40% of the hot water for the building.
Sierra Magazine named Duke a campus leader in its quest to achieve climate neutrality by "generating and buying offsets and coaching other schools to do the same."
Like many schools, Duke is a signatory of the American College and University Presidents Climate Commitment, said Tavey McDaniel Capps, environmental sustainability director. The university's target date for climate neutrality - having no net carbon (greenhouse gas) emissions on campus - is 2024.
One of Duke's first initiatives to develop local tangible carbon offsets was methane "capture" from a hog farm in North Carolina, in partnership with Duke Energy. "They took the renewable energy credit from their production of electricity and we're getting the offset from the destruction of the methane," she explained.
The university, including Duke Health System, has 22 Leeds-certified buildings, with 12 more under construction, for a total of 5 million square feet.
Duke also has a "Smart Home," related to the School of Engineering, originally designed to focus on smart technology, but now related to sustainability and a one-acre farm managed by a Duke graduate. "This is the first year we've provided produce to the dining halls and it's been a great partnership," Capps said.
Students are introduced to Duke's sustainability commitments during their first semester in the month-long energy, waste and water reduction competition called Eco-Olympics. "It's been a great way to capture the attention of our freshman and get them engaged," Capps said. "They're learning about their choices and how it impacts the world around them and it impacts their dorm."
Student organizations also reach out to the community. In 2009, DukeFish started a pilot project, "Walking Fish," that links fishermen on the coast of North Carolina to consumers who pre-pay for a 'share' of fresh, locally harvested seafood.
Green Mountain's 'triple bottom line'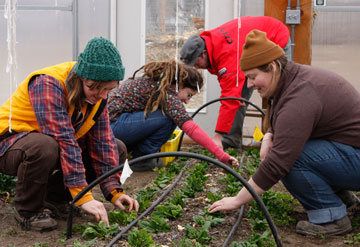 Students at Green Mountain College work in a campus garden where compost created by recycling waste from dorms and the dining hall is used to grow vegetables. Photo courtesy of Green Mountain College.
Green Mountain College in Poultney, Vt., has placed high on Sierra Magazine's list for the past few years, particularly in categories such as energy efficiency, food, academics, purchasing, transportation, waste management, administration, and financial investments. The college has 700 undergraduate students.
The college's new strategic plan has a "triple bottom line" for environmental, economic and social sustainability, explained Aaron Witham, sustainability coordinator. That means "resilient and adaptable systems" on campus and an educational mindset that incorporates those aspects of sustainability into the general education program.
"One thing the whole campus is passionate about is waste diversion," Witham said. "It seems to be near and dear to the hearts of most GMC students."
Compost is king at Green Mountain. Student eco-reps collect waste from the dorms, work-study students gather waste from the dining hall, and it all goes to the campus farm. Some waste is fed to the pigs, but the rest is used for compost piles "broken down by worms and bacteria."
Green Mountain College took a huge step in reducing its carbon emissions when the BioMass plant was opened in 2010 for central heating and electricity generation. The impetus for the project came from students, Witham said, who used a grant from the student campus-greening fund to finance a $10,000 feasibility study for the project.
Student interest also generated the interactive energy dashboard on campus, Witham said, with a touchable screen where "you can see in real time what our electricity use is in each of the dorm rooms and you can also see what kind of heat we're using on campus." The dashboard will come in handy during the school's two-day no-electricity challenge, scheduled around Halloween.
Allegheny's energy challenge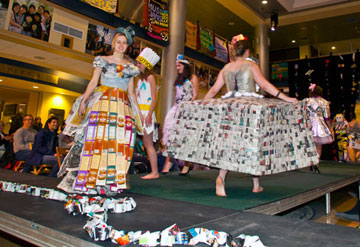 Allegheny College students combine fashion with waste recycling through the annual "Trashion Show." Photo by Bill Owen for Allegheny College.
Allegheny, a college of 2,100 students in Meadville, Pa., also has an annual campuswide energy challenge to reduce electricity consumption through behavioral changes. The idea is to turn the concept of sustainability into "something that's fun and interesting," said Kelly Boulton, sustainability coordinator.
During the challenge, students play "hide and go seek" in the dark and participate in an unplugged mike night in a dimly-lit student-run coffee shop. "The money that would have been spent on utility bills&ellipsis;we take that money and instead use it to install solar panels on an array that we're adding to over the years," she explained.
The Rev. Jane Ellen Nickell, a United Methodist chaplain at Allegheny, is a witness to how engaged students have become in sustainability initiatives.
She teaches a class on religion and ecology that draws students from both religious studies and environmental studies. "We look at environmental issues from a couple of different angles in terms of what people of faith are doing about them," she explained. "It's a lively class."
Nickell, a member of the denomination's West Virginia Annual (regional) Conference, is a board member of Pennsylvania Interfaith Power and Light. Her students spend 10 hours of "service learning" in local congregations during the semester, assisting with sustainability projects. "It's actually helping congregations take the next step," she said.
Focusing on fun, Allegheny's annual "Trashion Show," targets waste, "an issue that is rife with guilt," Boulton noted. To deal with that guilt creatively, students are invited to design outfits made of materials typically thrown away and strut a catwalk in their creations. The school's Green Gator blog included highlights from the March show.
"It's quickly become one of the most popular events on campus," she said. "It's something that everyone looks forward to."
*Bloom is a United Methodist News Service multimedia reporter based in New York. Follow her at http://twitter.com/umcscribe.
News media contact: Linda Bloom, New York, (646) 369-3759 or [email protected].
---
Like what you're reading? Support the ministry of UM News! Your support ensures the latest denominational news, dynamic stories and informative articles will continue to connect our global community. Make a tax-deductible donation at ResourceUMC.org/GiveUMCom.