---
Key points:
Despite being denied an education as a girl, she went on to become a nurse and leader in The United Methodist Church in Zimbabwe in her role as an African bishop's spouse.
Her book is titled, "Reflections on My Life and Faith Journey as an African Bishop's Spouse."
"It is a story of faith," Greater said of her book. "God intervened and answered my prayers. As the Bible teaches, with God, nothing is impossible."
---
Denied a high school education because she was a girl, Greater Taremeredzwa Nhiwatiwa spent her teen years scaring baboons out of her family's maize fields in rural Maswera Village, northeast of Mutare in Manicaland, Zimbabwe.
Later, a guerrilla war forced her to seek refuge in Botswana.
Against all odds, however, Greater became a nurse and married Eben Nhiwatiwa, who was elected a United Methodist bishop in 2004. Today, he is assigned to the Zimbabwe Episcopal Area and she leads the United Methodist women's organization in Zimbabwe.
Her most recent accomplishment is writing a book, "Reflections on My Life and Faith Journey as an African Bishop's Spouse."
"It is a common experience in the African context," she wrote, "that … people of my generation faced numerous challenges in their educational pursuit. Prominent among those challenges is that, more often than not, parents could not afford to educate their children because of a lack of resources. I am one of those who faced such obstacles."
After Greater finished Form 2 at Mutambara United Methodist Mission, her father said he could no longer support her education.
"To make matters worse," she said, "my father concluded that the little education I had already acquired was enough for a girl child. That gender discrimination affected me very much.
"I had never worn a pair of shoes until I started Form 1. What can I say about holding a book in my hands to read! That was a rare privilege that I only started to enjoy in high school. At that point, we were able to read textbooks which were left in the classroom.
"Faced with a bleak future," Greater Nhiwatiwa continued, "I prayed to my God, and he answered me. Today I am who I am because of answered prayers."
She wrote the book to chronicle her difficult journey. "It is a story of faith," she said. "I am convinced that God intervened and answered my prayers. As the Bible teaches, with God, nothing is impossible."
Nhiwatiwa expressed hope that her book would encourage women of all ages to pursue their goals, despite challenges. "My motto is, 'Forward ever, backward never.' Refuse to quit or give up," she said.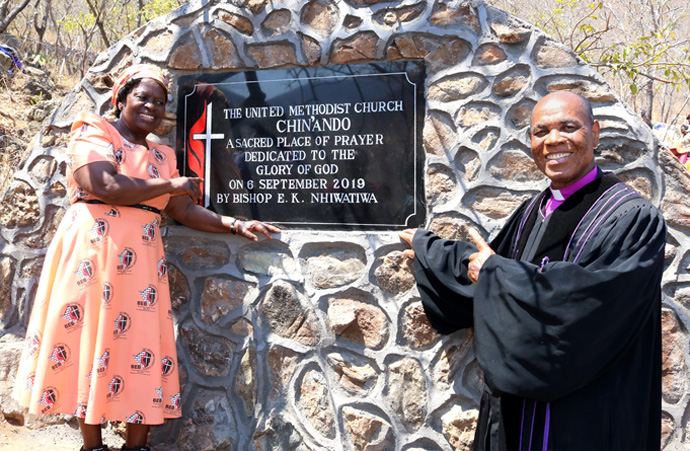 Bishop Nhiwatiwa said he has been inspired by her dedication to the project.
"When Mrs. Nhiwatiwa hinted to me that she wanted to write a book," he recalled, "I suppressed the temptation of discouraging her. I thank God for helping me keep the doubts to myself.
"Greater is an adventurous and determined person," he said. "Her determination, focus, perseverance and discipline coalesced to prevent her to look back from her course of action. At one point, she surprised me when she changed her course of study from nursing to a degree in industrial hygiene at Illinois State University."
After completing her studies in the U.S., Greater Nhiwatiwa returned to Zimbabwe and forged a career path for women in industrial hygiene — ensuring occupational health and safety in workplaces.
Blandine Mujinga Muyombo Ngoy, the spouse of Bishop Mande Muyombo, North Katanga Conference, said her friend was blessed to be in a family that taught her about prayers, the values of Christian faith and hard work.
Subscribe to our
e-newsletter
Like what you're reading and want to see more? Sign up for our free daily and weekly digests of important news and events in the life of The United Methodist Church.
"Greater … worked at Mutambara Mission Hospital as a nurse in 1977. That was during the war of liberation in Zimbabwe, and many wounded liberators would come for treatment," Ngoy said.
"Unfortunately, the mission was attacked, many staff were wounded and some lost their lives. Greater survived this brutal attack but was left traumatized. She sought refugee status in neighboring Botswana, where she survived on one Pula (about 8 cents USD) per day."
Then, Greater Nhiwatiwa was selected to further her studies in the United States.
Ngoy credited Nhiwatiwa with teaching her many things. "She has contributed a lot to the Bible Study Fellowship," Ngoy said, "and has been at the forefront of missionary partnership."
Longtime friend Judith Mutamba said Nhiwatiwa models servant leadership.
"I have witnessed some women who halfheartedly supported their husbands when called to undertake such demanding duties," Mutamba said. "Greater had to drop a flourishing career and studies, not only to support the bishop but also to lead the women, mentor United Methodist church families and be a mother to us all.
"I had no doubt in my mind that God had a strategic plan for her life, one that has led us to the historic launch of this book today."
Bennenia Chesa, who worked closely with Nhiwatiwa in the Zimbabwe East Conference for 15 years, described her as "a leader who leads from the front, a teacher, a team player, a motivator and a goal-oriented individual who believes in the power of prayer."
Her book, Bennenia said, spells out her journey "in very simple terminology that leaves the reader with a burning desire to pick up pieces of discarded dreams and talents that had long been thrown into trash cans and turn them into reality. Prayer has always been her weapon. When in a difficult situation, she remained steadfast in the Lord."
Mwazvita Patricia Madondo, editorial consultant, said, "This inspiring writing debut captures an indomitable will to succeed and unshakeable faith in a limitless and faithful God. Greater, fondly known as 'Mai Bishop,' shares the story of her life, spanning from humble beginnings to where she is today. We celebrate and congratulate Greater for this great achievement."
Nyasha Tapuwa Nhiwatiwa, Nhiwatiwa's daughter, said, "I applaud the publication of your book, Mommy. This is the greatest gift that you have given, not only to me, but also to the whole world.
"You kept your faith, and you kept believing in God. You conquered your fears, and in doing so, you inspire the readers to do the same."
Bishop Nhiwatiwa thanked his wife for writing the book, which "will always be a life nugget for me. I will always cherish the words, lessons and meaning embedded in it. Thank you for giving all of us a shared moment of thanksgiving,"
Chingwe is a communicator for the Zimbabwe East Conference.
News media contact: Julie Dwyer at
[email protected]
. To read more United Methodist news,
subscribe to the free Daily or Weekly Digests
.
---
Like what you're reading? Support the ministry of UM News! Your support ensures the latest denominational news, dynamic stories and informative articles will continue to connect our global community. Make a tax-deductible donation at ResourceUMC.org/GiveUMCom.