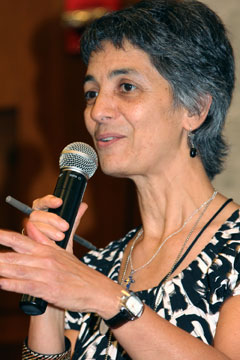 Roseangela Oliveira is the new executive director for the World Day of Prayer International Committee. UMNS photos by Felipe Castillo, GBGM.
Despite geographic and cultural distance, Vivi Akakpo, from the African nation of Togo, and Vaieli Fuiono Piita, from the Tuvalu islands in the Pacific, find some similar concerns among their peoples.
An ecumenical movement brings the two women of faith even closer through the use of "prayerful action" to address those concerns.
As Patricia Penn, a member of the African Methodist Episcopal Church from Sacramento, Calif., and part of the World Day of Prayer U.S. Committee, explained, "Not only are we praying, but we also realize there is a mission focus and we have to act."
All three were among the 225 women from 104 countries meeting this week at the Interchurch Center in Manhattan, where the World Day of Prayer International Committee and USA Committee offices are based.
Roseangela Oliveira, a native of Brazil and former missionary for United Methodist Women is the new executive director for the international committee.
The international committee meets every three to five years to share experiences of World Day of Prayer, hold regional meetings, select themes and writer countries for the annual worship service and elect an executive committee. Annette Poitier of the Bahamas is the current chairwoman.
The movement has matured in the 25 years since Eileen King, a Roman Catholic, was hired as the first executive director. Just as its communication methods have progressed from typewriters and telegrams to computers, the Internet and social media, World Day of Prayer has tested assumptions, clarified its mission and learned to value diverse ways of working together in Christ, she said.
This meeting, King added, is a way of "testing ourselves yet again to see how we move to be more engaged" in world issues. The conference theme, from Amos 5:24, is "Let justice roll down like waters, and righteousness like an ever-flowing stream."
Connecting women in prayer from the local to global level is a familiar goal for Oliveira, who helped create training and leadership opportunities for women as a regional missionary for Latin America from 2001-12.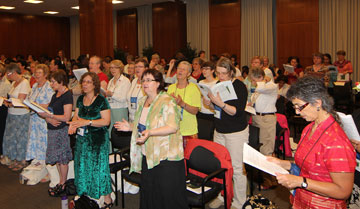 Roseangela Oliveira (right) joins with other participants in the World Day of Prayer international gathering at the Interchurch Center in New York.
World Day of Prayer is "how women see life and how women live their faith," she said.
'Spiral justice' process
On Tuesday, staff from United Methodist Women led a "spiral justice" process on the topic of migration, allowing participants to consider their own experiences, learn about migration stories in the Bible, listen to migration stories of other women present and then consider the systems of separation, war and poverty that contribute to migration.
The issue of migration presents some common "push factors" worldwide, noted Akakpo, who represents the All Africa Conference of Churches.
Climate change, for example, has expanded the desert in Mali and Niger, driving migration to the Atlantic Coast, and played havoc with food production in different parts of Africa. "After a long period of drought, then comes the rains and the people and places are flooded," she explained.
In the Pacific, Piita's Polynesian island nation already has been affected by the rise in sea level, as well as a shortage of rain. "The root crops that people depend on for their daily food are very much affected," she said. "Even the coconut trees&ellipsis;they were all dying away, no more fruits."
World Day of Prayer
World Day of Prayer is a worldwide ecumenical movement of prayer and action centered in an annual worship service on the first Friday of March. The concept dates back to the late 19th century, when groups of women gathered to pray and collect money for mission.
Each year's service, written by women from a selected country, is translated into more than 90 languages and celebrated in tens of thousands of local communities in about 170 countries.
Participants ventured beyond the Interchurch Center on Wednesday to visit groups in the New York area that work with immigrant and migrant people, in preparation for World Day of Prayer 2013, hosted by France, on the theme "I was a stranger and you welcomed me."
The French committee found the theme, which they received in 2007, to be "a difficult issue in France and the world," said Lawrence Gangloff, secretary. Recent national elections in France, they noted, highlighted political foment against immigrants.
Gangloff and other members of the French delegation - Odile Lelu, president, and Anne-Marie Terreau, treasurer - described a nearly two-year writing and editing process to create the World Day of Prayer service for 2013. The finished product was distributed globally last November to allow time for translation and preparation for the March 2013 event.
The call to welcome the stranger, Gangloff pointed out, "is a call for yesterday and tomorrow" and a good follow-up to "Let Justice Prevail," the 2012 World Day of Prayer theme from Malaysia.
"Dignity always comes with justice," she said. "This is one step more, to bring love."
*Bloom is a United Methodist News Service multimedia reporter based in New York. Follow her at http://twitter.com/umcscribe.
News media contact: Linda Bloom, New York, (646) 369-3759 or [email protected].
---
Like what you're reading? Support the ministry of UM News! Your support ensures the latest denominational news, dynamic stories and informative articles will continue to connect our global community. Make a tax-deductible donation at ResourceUMC.org/GiveUMCom.