Measuring whether the HIV and AIDS pandemic is nearly over or still flourishing depends on where you live and whether you see the proverbial glass half-full or half-empty.
If you are among the 60 percent of the 37 million people infected in the world who have access to life-saving treatment, your perspective will be different than the 40 percent still threatened by the disease.
Speakers at the July 23-27 22rd International AIDS Conference in Amsterdam, Netherlands, which drew some 15,000 participants, celebrated glowing progress made in recent years in reducing infections and deaths in certain parts of the world.
But the executive director of the Joint United Nations Program on HIV/AIDS, Michel Sidibé, also warned of a new "conspiracy of complacency."
Prince Harry, Duke of Sussex, declared that "AIDS is a topic that has drifted from the headlines. And with that drift of attention, we risk a real drift of funding and action to beat the virus. We cannot lose a sense of urgency …"
Choosing to follow in the footsteps of his late mother, Princess Diana, the British royal family member has launched with Elton John a new campaign called the "MenStar Coalition," aimed at reaching young men, who globally are most resistant to getting tested and treated.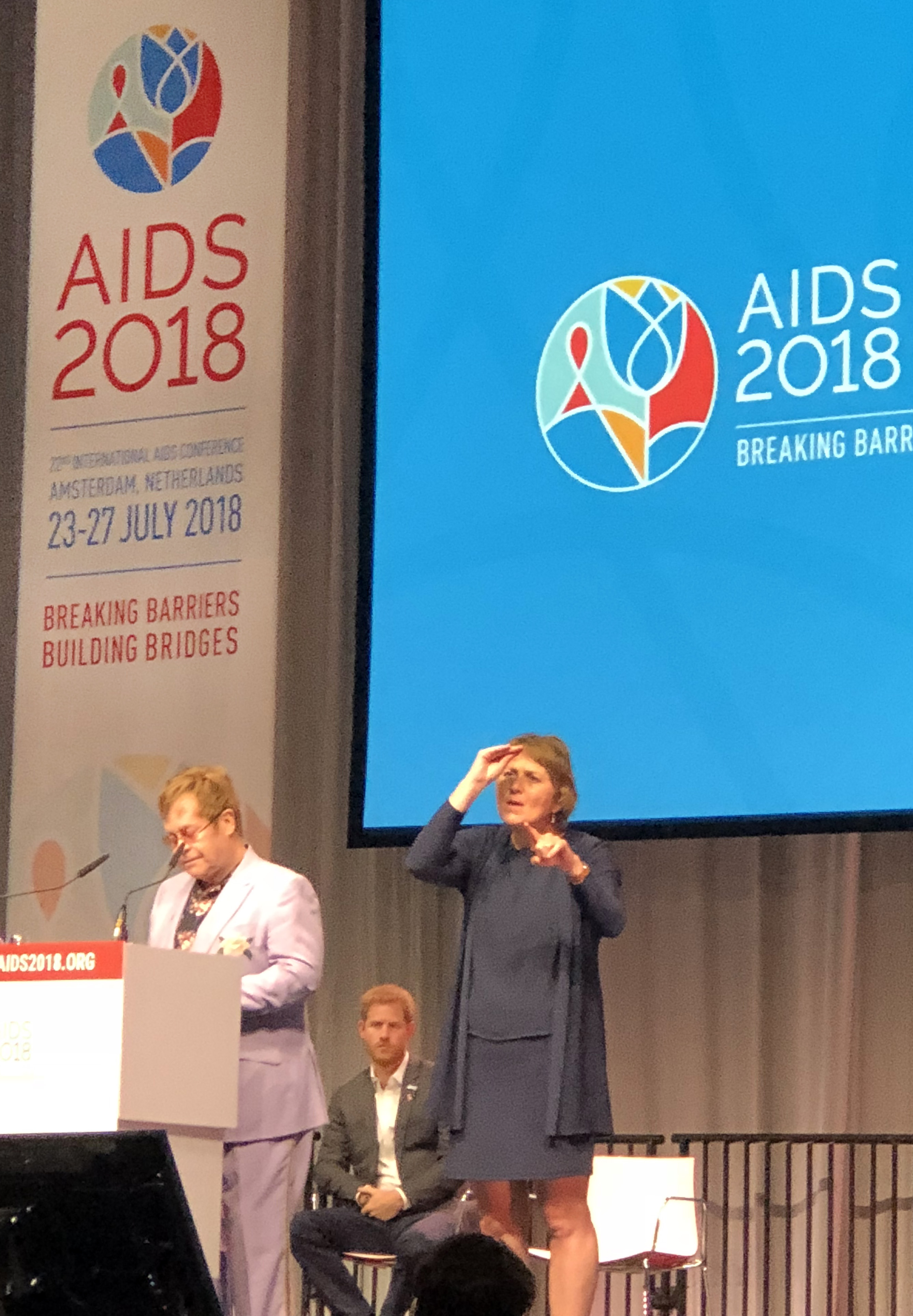 John expressed frustration about persistent stigma and homophobia. "It is sinful we don't end AIDS," said John, "but bigotry and hatred toward LGBTQ persons holds the world back."
Failure to educate, test and treat key population groups like men who have sex with men, sex workers, prisoners, refugees and injecting drug users means "20 years from now we will be wondering why HIV still has not been conquered," he said.
The stubborn resistance of stigma in curtailing solutions to the AIDS pandemic also was a recurrent theme at a July 21-22 interfaith conference organized with leadership from the World Council of Churches Ecumenical Advocacy Alliance.
Meeting not far from the Amsterdam home of Anne Frank — the well-known Jewish victim of the Holocaust and author of "The Diary of a Young Girl" — the 250 interfaith leaders explored how religious attitudes can either fuel exclusion and hate or be a source of inclusion and love.
Conference participants constructed a symbolic cardboard bridge, which was later moved to the global village of the main conference, where it linked together the "Interfaith Networking Zone" and a discussion area shared with the World Health Organization, UNAIDS and Unitaid. Throughout both conferences, faith leaders shared good practices from the field.
UNAIDS estimates 37 million people globally were living with HIV in 2017. Some 21.7 million are receiving antiretroviral treatment, but that means about 40 percent are not getting any treatment. Due to lack of testing, about 25 percent do not know they are infected and probably are spreading the virus.
New HIV infections have been reduced by 47 percent since the peak in 1996, but 1.8 million people were newly infected last year and nearly 1 million people died from AIDS-related diseases. UNICEF reports that in 2017 around 30 teenagers, ages 15 to 19, were newly infected per hour.
An ambitious UNAIDS goal of "90-90-90" envisioned that by 2020 at least 90 percent of infected people would know their status, 90 percent of those tested would be receiving treatment and 90 percent of those treated would have undetectable viral loads.
These objectives, leaders have acknowledged, will not be reached by the 2020 deadline. It would require $6 billion more in funding, double what the U.S. currently provides.
The United Methodist Global AIDS Committee has organized an HIV and AIDS Ministry Conference, "Breaking Barriers," Oct. 25-27 in Indianapolis. The event, which has a number of co-sponsors, will feature an address by Dr. Deborah Birx, U.S. Global AIDS Coordinator and U.S. Special Representative for Global Health Diplomacy.
The committee had hoped to hold a West Africa AIDS conference, scheduled for May 2019 in Côte d'Ivoire, but a decrease in expected funding may result in its cancellation.
Dramatic disparities exist globally in how HIV and AIDS are experienced. United Methodists in in the United States never hear about babies being born HIV positive in their communities because medical treatment has virtually eliminated transmission from mother to child.
But a United Methodist in Nigeria, Liberia or Sierra Leone realizes the daily threat, as infants born in their country are among the more than 400 babies being born HIV positive every day around the world.
United Methodists in Western Europe live in a region of decreasing infections, while Russia and Eastern Europe have experienced a 30 percent increase in recent years. United Methodist bishops in the Philippines are mounting a vigorous education and prevention effort, since their country faces the fastest growing epidemic in Asia and the Pacific.
A promising new prevention medication called PrEP (pre-exposure prophylaxis), commonly known by its trade name of Truvada, was widely discussed at the conference. The breakthrough, however, highlights global discrepancies as cost and stigma against key populations prohibits accessibility in most of the world.
The disparity of perception on whether the AIDS crisis is almost finished or far from over influences funding. Since the disease is waning in the minds of people in the U.S. and Europe, international funding programs to further reduce HIV infections and care for those still untreated are threatened.
"There can be no Brexit against AIDS," declared former U.S. President Bill Clinton as he keynoted the closing of the International AIDS Conference. He alerted AIDS activists, scientists, civil leaders and faith communities that "it would be calamitous to withdraw efforts before victory is achieved."
The temptation, he said, was to think AIDS was over.
Clinton added: "I promise you, if we walk backwards, the chance is that AIDS will return in epidemic proportions with breathtaking consequences. The goal remains to save as many lives as possible."
Messer is executive director of the Center for Health and Hope, Centennial, Colorado, and president emeritus of The Iliff School of Theology, Denver. Paul Jeffrey, a correspondent for the World Council of Churches, contributed to this report.
News media contact: Linda Bloom at 615-742-5470 or [email protected]. To read more United Methodist news, subscribe to the free Daily or Weekly Digests
---
Like what you're reading? Support the ministry of UM News! Your support ensures the latest denominational news, dynamic stories and informative articles will continue to connect our global community. Make a tax-deductible donation at ResourceUMC.org/GiveUMCom.