When the largest-ever number of delegates from outside the United States - 382 of 988 - came to the 2012 United Methodist General Conference, a large team of interpreters awaited those delegates.
Nearly 150 people provided official language-interpretation services during part or all of the April 24-May 4 legislative meeting in Tampa, Fla.
Overseeing that massive effort was Don Reasoner, who has traveled the world in his role as director of multilingual resources for the United Methodist Board of Global Ministries. "Our largest teams were the French, the Portuguese and the Swahili (interpreters)," he said.
During plenary sessions at the Tampa Convention Center, those who felt less comfortable conversing in English also could listen to the proceedings in Korean, Spanish, Russian or German or watch the American Sign Language interpreter.
In today's multicultural world, such a variety of language services might be taken for granted. That was not the case several decades ago.
When Joyce Hill attended her first General Conference in 1972, she and other staff of what was then the World Division of the Board of Global Ministries became acutely aware "the non-English speakers were just left out of the process."
During the 1976 General Conference in Portland, Ore., Hill and two colleagues acted as interpreters by literally whispering into the ears of delegates.
Lewistine "Mac" McCoy sat with the Mozambique delegation and translated the floor action into Portuguese, Pat Rothrock spoke in French to the Congo delegation and Hill provided Spanish interpretation at a table of Latin American church leaders.
"It had never been done before, and it was a battle really to get access to the floor to do it," Hill recalled in an interview. "We had to convince the marshals we were facilitating understanding, we were not interrupting the process."
At Indianapolis in 1980, General Conference officials decided to handle interpretation themselves - until the staff got an "SOS call" and had to step in. "By 1984, we were in charge of it," she said.
Hill, now retired, continued to translate for another six General Conferences. "The fact that General Conference accepts it now as part of the standard operating procedure to me is a delight," she declared.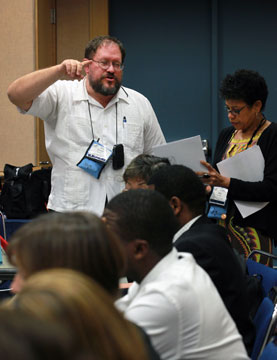 Donald Reasoner, General Conference staff, instructs a group of interpreters during the 2012 United Methodist General Conference in Tampa, Fla. To his right is Keila Guimaraes with the Portuguese language interpretation team.
Guesswork involved
In Tampa, Hill assisted Reasoner, part of the General Conference staff, with the language-team logistics. Reasoner, who succeeded Nilda Ferrari as coordinator, has served both as a Spanish interpreter and coordinator of the audio equipment purchased by the Board of Global Ministries in 2000. Tampa marked his sixth legislative assembly.
Determining interpretation needs for the 2012 General Conference was more guesswork than exact science.
The General Conference secretary and business manager collected information through delegate information forms. Reasoner attended a briefing in Zimbabwe, where he was able personally to check in with African heads of delegations to calculate which delegates were fluent in English and who might need assistance in a specific language.
Most of the German-speaking delegates were bilingual, he said, but a few asked for German interpretation. Many Eurasia area delegates also spoke English, but a few from Russia and former Soviet bloc countries were more comfortable with Russian interpreters.
Having enough interpreters on hand the first week to cover 13 legislative committee meetings was a challenge. Once the committees concluded their work, Reasoner said, the number of interpreters on site dropped to 60.
For the 2012 event, conference officials looked at the history of each committee to make an "educated guess" on how many smaller working groups it might form, which would increase the need for interpretation, he explained.
It turned out that a larger number would be required for Tampa, compared to Fort Worth in 2008. "We had recruited a few additional persons to use as floaters," he said. "We used up all of our floaters and were still short."
About two-thirds of the language team members were General Conference veterans. The budget allows Reasoner to hire some professional or experienced interpreters. "All of our interpreters came with references," he added.
Experienced volunteer interpreters often have been former missionaries, staff or global church members who have come to the United States to study.
Barbara Pessoa, who retired from Global Ministries about 12 years ago, was providing Spanish translation for General Conference No. 7 in Tampa. She also has used Swahili on occasion and, on the plane ride home, was contemplating attending classes to improve her skills in that language for 2016.
Added challenge
Interpreters are not required to be Methodists themselves, but are expected to have some familiarity with the denomination. "The challenge of interpretation is not just the linguistic side of it," Reasoner explained. "It's also the church language."
Even church members struggle with the alphabet soup of acronyms for United Methodist agencies and organizations. Frequently used terms such as "connectionalism" are not found in a regular dictionary, he pointed out.
Hill understands. "Some professionals who don't understand United Methodist vocabulary can be totally swamped by it."
Religious word choices also can have the wrong connotations for some General Conference attendees. Latin American Methodists, for example, do not want to hear Roman Catholic terms used. "To have a translator come in and say 'the priest is going to celebrate mass' could rub some people the wrong way," Reasoner said.
Dialect is another issue. The interpretation coordinators discovered early on there are several variations of Swahili, for example, and what is spoken in West Africa and Central Africa are different.
The 2012 General Conference approved written translation in Swahili at the next top legislative meeting. Such translations, which this year included editions of the Advance Daily Christian Advocate in Portuguese and French and a two-page summary of official reports in other languages, are outsourced and not the responsibility of the on-site interpretation team, Reasoner said.
With the number of non-U.S. delegates expected to increase, an even larger number of interpreters likely will be recruited for the 2016 General Conference in Portland, Ore.
The local host committee can contribute to that effort by finding bilingual volunteers to assist international delegates outside the business sessions.
"Portland needs to know we need people who speak other than English," Hill said.
*Bloom is a United Methodist News Service multimedia reporter based in New York. Follow her at http://twitter.com/umcscribe.
News media contact: Linda Bloom, New York, (646) 369-3759 or [email protected].
---
Like what you're reading? Support the ministry of UM News! Your support ensures the latest denominational news, dynamic stories and informative articles will continue to connect our global community. Make a tax-deductible donation at ResourceUMC.org/GiveUMCom.