Editor's note: This is last of a series following an incoming freshman and a first-time university president through their first school year at a United Methodist-related university.
The final grades are in, the caps and gowns have been put away and most students have gone home for the summer. And yet University of Indianapolis president Robert Manuel is still hard at work. End of semester may signal time off for many students, but apparently a president's work is never done.
"It's definitely less on the academic side ... you move into planning. It doesn't slow down; it just becomes different work," Manuel said.
In what has been a busy first year on the job, Manuel can point to a number of "high-water marks," especially the creation of the Richard G. Lugar Academy, a collaboration with the longtime U.S senator from Indiana.
"We had a very good time seeing where our graduates go - to med school, law school, to really good jobs. We had some faculty get fellowships, and a few are headed to Harvard this summer for study and review. There were a lot of athletic achievements as well in football, volleyball, soccer, golf, track. Even a couple national champions," he said.
So after a little time off with the family, Manuel will get ready for his second year and start over again ... or not.
"The goal is not just to start over again," he said. "We have this plan - Vision 2030 - that takes us out 18 years with capital projects, academic projects, student life projects. My goal is to turn them over to the appropriate leaders on the campus and go out in search of business partners, nonprofits and individual philanthropists to get this stuff funded.
"It's a nice, clear path and really exciting to see how the ideas that came through the community through the planning process will ultimately transform this place."
A summer of service
For many college students, summer break may mean road trips and taking it easy for a few months, but some students at U Indy are just starting the hard work. Students live out the school's motto, "Education for Service," on numerous mission trips and service projects.
Which is why we find soon-to-be sophomore Andy Wegg doing his best Davy Crockett impression on a mountaintop in Tennessee. A Mountain T.O.P., that is. Wegg is spending the summer as a day-camp coordinator for Tennessee Outreach Project, a United Methodist-related rural ministry in the Cumberland Mountains.
Wegg has spent six years at Mountain T.O.P. as a camper, but this is his first time as a regular staffer. Campers stay for a week; Wegg's position runs from May to August.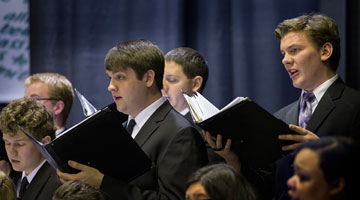 Andy Wegg, right, sings in the choir during the March 21, 2013, inauguration of University of Indianapolis president Robert Manuel. A UMNS photo by Mike DuBose.
"It's a lot more exhausting than I thought it would be, but it's a lot of great service for the Lord," he said. "It's so fulfilling to accomplish, and I feel good doing it."
Manuel sees the school's motto as a reflection of its connection to United Methodism.
"It's a way to manifest the education we do here in the world and reflect on that experience to see how it shapes you and your capabilities," he said.
Students don't only do service work in the summer; it's a year-round mission. Manuel said U Indy students racked up about 25,000 hours worth of service each term this past year.
In May, the school has a two-week term where students travel to different parts of the world and consider their service in a global context.
"Some students went to Cuba, others to Taizé, France; some went to Cypress. One group went to Texas to identify remains of the forgotten and establish DNA records so we can try to place the families," Manuel said. "All of that service gets culminated in the academic work we do here."
'The future's so bright'
Wegg will barely have time to get back from Tennessee before helping with freshman orientation and starting a second year that promises to be as hectic as his first. He may have packed a few years' worth of activities into two terms, but Wegg said it was all fun.
"The year went very well. I made dean's list both semesters, so I'm doing something right. I received a letter from the music program that said, 'Keep up the good work and you're going to do great as a music student.' I'm really excited to go in as a sophomore knowing a little bit more about what I'm doing."
When pressed for a high point of his first year, Wegg said he's tempted to say starring in U Indy's production of "Little Shop of Horrors," but he thinks he's most grateful for all the friends he's made.
"I don't know how the year would've been if I didn't have my friends backing me up in my good and bad times. Making all the connections with friends and my professors made me feel like I did choose the right school."
Some of those friends are helping Wegg form the school's first a capella group.
"My friends and I were complaining that the school doesn't have one, and I thought, 'Why not stop complaining and take action?' I'm really excited, and President Manuel said his daughters love that kind of stuff and told us, 'You guys can come perform at my house.' Hopefully, this will become another tradition at U Indy that will last."
"When Andy came by to see me before he left for Tennessee, he said he has four or five ideas for new groups he wants to start next year, including the glee club," Manuel said. "It's really great to see freshmen like Andy take root and find their passions here."
As for the upcoming year, Wegg proclaimed, "U Indy, you ain't seen nothin' yet! I'm just getting started!"
*Butler is editor of young adult content for United Methodist Communications, Nashville, Tenn.
News media contact: Joey Butler, Nashville, Tenn., (615) 742-5470 or [email protected].
Follow President Manuel at twitter.com/uindyprez.
---
Like what you're reading? Support the ministry of UM News! Your support ensures the latest denominational news, dynamic stories and informative articles will continue to connect our global community. Make a tax-deductible donation at ResourceUMC.org/GiveUMCom.