Tapiwa Nyawasha, a member of Kuwadzana Extension United Methodist Church, recently devised a way to earn money for food and empower widows, single mothers and other women. Her business venture, launched last year, involves fashioning discarded plastic into mats for various uses. She said she was inspired by magazine articles, including one about a woman who took up knitting wool at age 79.
Now 59, Tapiwa started crocheting when she was in her 20s. "I started crocheting doilies for women who did cross-bordering," she noted. Cross-bordering is the buying and selling of goods and services between businesses in neighboring counties, with the seller in one country and the buyer in another. "In return," she said, "I was given clothes for my children." Today she teaches her craft to other women so that they, too, can benefit.
Freelance writer Ndaizivei Chifamba was grateful for her new knowledge. "The training I received from Tapiwa," she said, "enabled me to craft using my hands. It is a skill no one can take away from me. I would gladly take part in the project because, as a woman, I believe I have the strength and ability to develop and impact the community and find other new, innovative ways of crafting."
Now Tapiwa wants to expand her business. "I just need someone to advertise my project," she said. "I need to open a shop to sell these mats and raise resources to finish building my house and put aside for my retirement.
"With scissors, knitting needles, crotchet hook, plastic and off-cut cloth, you can make wonderful items ideal for raising funds from zero capital. Time is what you need. It takes me one week to make an item or mat, depending on how big it is."
Tapiwa collects discarded plastic products and obtains fabric remnants from tailoring industries. She cuts the plastic and cloth into strips to crochet.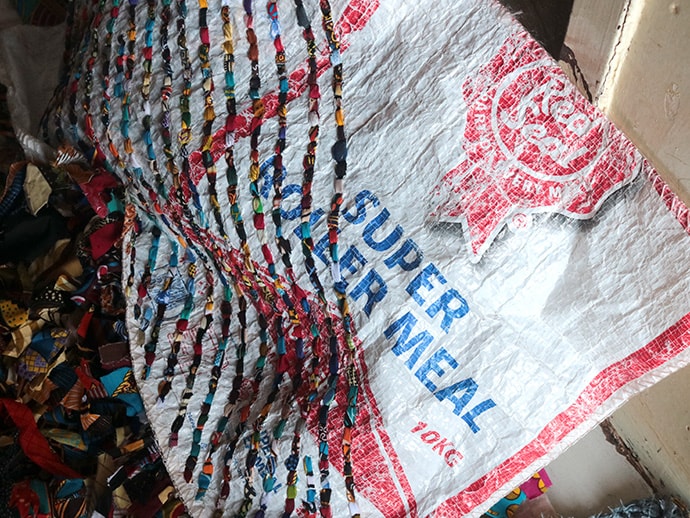 Along with supporting herself, Tapiwa uses her earnings to assist her church and the women's organization.
Speaking to women in the South Congo Episcopal Area, Tendai Gurupira urged women to increase awareness of waste management by reusing plastics. With recycled materials, she explained, they can create bags, doormats, table mats and bins made of plastic bottles and sell the items to earn money for charity. Gurupira coordinates ministries with women, youth and children in the Zimbabwe Episcopal Area.
"Women! Give awareness on the five Rs: Reduce, Reuse, Repair, Recycle and Rejoice," she said. She cited Tapiwa's successful model and encouraged others to follow that example.
"In the long run," said Amkela Sidange, environmental education and publicity manager, "these are what are called 'green economies,' earning a living by saving the environment and protecting the environment through adopting best environmental practices such as recycling.
"Tapiwa is bringing waste back to life – a waste-reduction strategy on its own – by recovering recyclables and turning them into cash. That's a livelihood-enhancement project by earning cash from trash."
The Rev. Josephine Bangure, associate pastor of the King David United Methodist Church Circuit, agreed. "Women do great works and successful projects in the church," she said. "This is the best way of educating the church and society to maintain a clean environment."
Kumuterera is a communicator with the Zimbabwe West Conference.
News media contact: Vicki Brown at (615) 742-5470 or [email protected] To read more United Methodist news, subscribe to the free Daily or Weekly Digests.