Jan. 11, 2013, is Human Trafficking Awareness Day. More information and resources on this global crime are available from United Methodist Women, the Board of Church and Society and Interpreter Online.
I have made more mistakes than I would care to remember, and I wish I'd known Jesus sooner.
I was 34 years old before I became a Christian. In all of the years before that, I was in a terrible business, connected to the sex industry. My dad and I owned a business in a tough Houston neighborhood, a motel that catered to prostitutes and their customers. For my entire life, up to age 34, that's what I did every day. I literally lived in a house of pain.
When I was 5, my dad told me how we were gonna make money. He called me "Big Shot Mister President Boss Man." He said, "Big Shot, we are going to make money off other people's pain."
Every day, in and out of this "borderline bordello," there were people. There were buyers and sellers, and most of the sellers were female. Because I was raised without a conscience, it didn't matter. My entire life, I spent every day in that place not caring who got hurt, why, or even the cost. We profited from darkness.
Recently, I was reflecting on just how significant Christ is. I wish I had known about Christ back then. There were people around me who did the church thing and people who said they were Christians, but my dad taught me never to trust preachers and church people. He said they were all full of it. For most of my life, I believed he was right.
Twenty-eight years ago, I walked into this building that just happened to be a Methodist church. I was still in the "family business," but I'm at church with my wife - who actually introduced me to Jesus. I'd go, I'd sit, I'd leave and go back to work. And I did that for five years.
During those five years, there were people in that church who would say, "Rudy, we love you." And I'd reply, "Yeah. Right." My daddy told me about people like them. He said they'd say one thing, but do another. As I lived life, I began to believe that.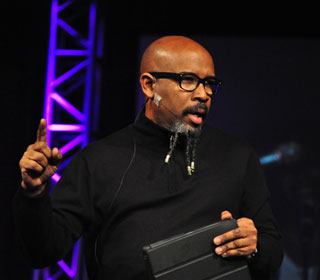 The Rev. Rudy Rasmus
But I'd show up every week, and these people kept telling me they loved me. One day, five years later, I believed it. And that's when life got interesting.
Early in my life, I lived recklessly. I did things to my mind and my body that weren't good for me. No one told me, "You know what, Rudy, there's another possible way you can go."
So at 34 I found out, and for the past 22 years I've been on this ministry path. And on this path are a lot of folk who used to have lives like mine.
I'm constantly reminded how God loves me. For most of my early life, my business was the sex trade. I had no idea the ages of the girls who worked in and out of our place; I didn't care. And I've had many opportunities over the years to recount and to repent. I wasn't a bad guy, but I didn't do good things. And in spite of that, Jesus said, "You can come be a part of my crowd." And that unconditional love God showed me is why I'm so committed to this faith today.
*Rasmus is co-pastor, with his wife Juanita, of St. John's United Methodist Church in Houston. This commentary was adapted from Rasmus' Nov. 9, 2012, opening sermon at the Imagine What's NEXT young adult conference in St. Louis.
News media contact: Joey Butler, Nashville, Tenn., (615) 742-5470 or [email protected].
---
Like what you're reading? Support the ministry of UM News! Your support ensures the latest denominational news, dynamic stories and informative articles will continue to connect our global community. Make a tax-deductible donation at ResourceUMC.org/GiveUMCom.