The memory of the sounds a parent makes when the casket closes on a child killed by a gun brought one Chicago-area pastor to a United Methodist forum on reducing gun violence.
"Those noises have continued to echo through my mind," said the Rev. Lindsey Long Joyce, pastor of St. John's United Methodist Church in the Chicago suburb of Oak Park, Illinois. "What's happening in my city is inhuman, and to ignore it would be a sin."
Chicago has seen more than 600 gun homicides this year alone.
Joyce was among 48 United Methodist clergy and laity from across the United States attending the Nov. 14-16 Faith and Guns Forum, organized by the United Methodist Board of Church and Society. All arrived eager to help themselves and their congregations become more effective advocates against violence, a stated priority for The United Methodist Church.
Pastors came from some of the country's toughest urban areas, including the Rev. Pamela James, who leads Christ United Methodist Church in Paterson, New Jersey, and the Rev. Larry Dozier, pastor of St. John's United Methodist Church in the Watts section of Los Angeles.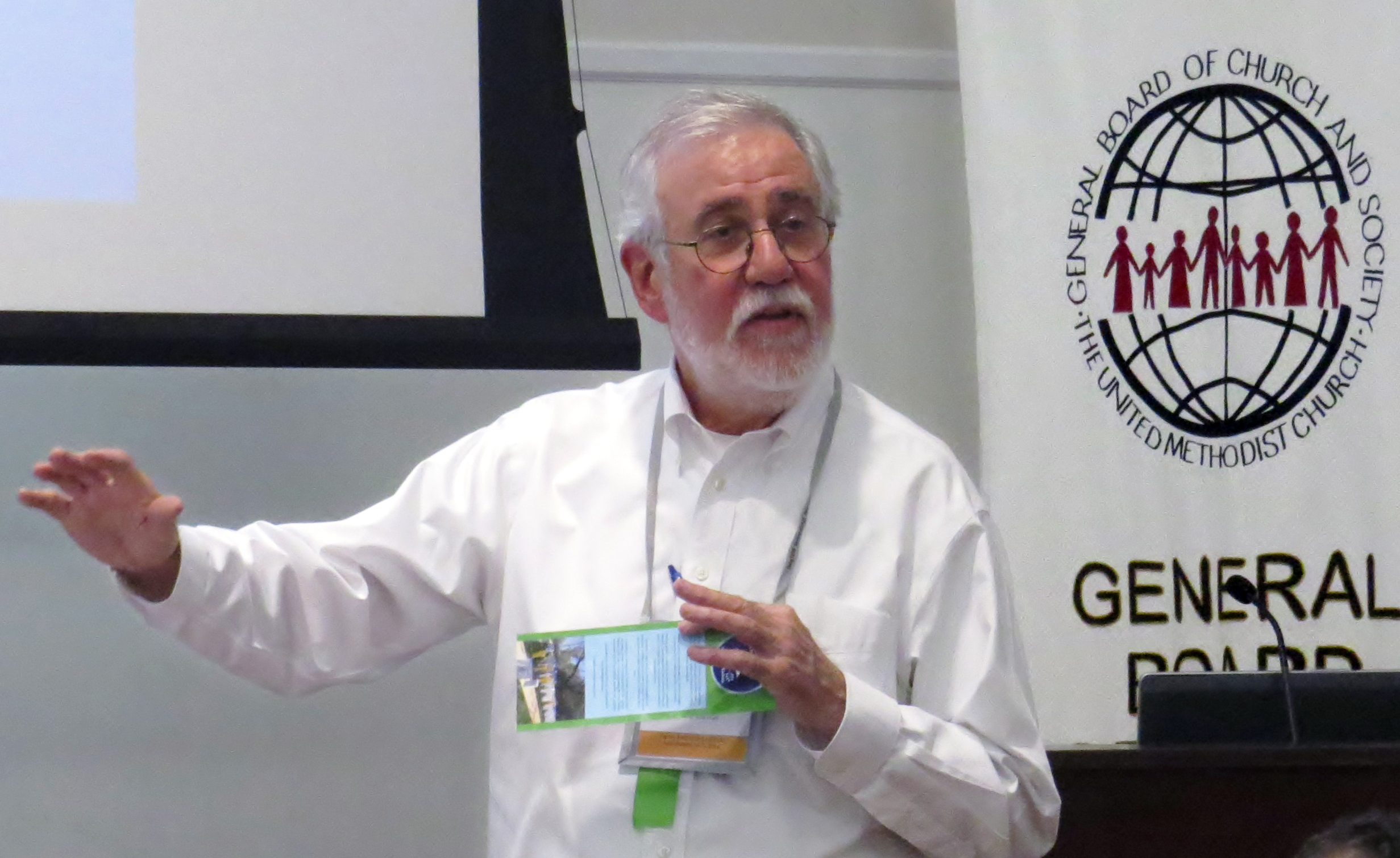 Janet Boone arrived from Oklahoma, where gun ownership is prevalent and reasoned debate about gun laws is, in her experience, rare.
"I want to be able to have a conversation without it being a confrontation," said Boone, a member of Grace United Methodist Church in Oklahoma City, and a staff member at Mosaic United Methodist Church there.
Channeling frustration
Church and Society, as the Washington-based social action agency of the denomination, regularly puts on issues forums.
While gun violence in the United States is hardly a new concern, the high-profile mass shootings of recent years, including at Emanuel A.M.E. Church in Charleston, South Carolina, and the Pulse nightclub in Orlando, Florida, prompted requests for an event like the one this week, said Aimee Hong, director of the agency's seminar program. 
"A lot of people are frustrated by what is going on, and not really knowing where to put their energy or how to connect with people," she said.
For two days, attendees met in The United Methodist Building on Capitol Hill for briefings from experts on a range of topics related to gun violence. On Nov. 18, the pastors and laity made their way to Senate and House office buildings to lobby members of Congress and their staffs.
The forum was, to some degree, an eye-opening primer, with speakers noting that some 33,000 Americans a year are killed by guns, and more than 130,000 are shot. Studies show Americans are 25 times more likely to die of gun violence than residents of other high-income countries.
Susan Polan, associate director for public affairs and advocacy for the American Public Health Association, described gun violence as a public health crisis in the United States.
Polan said mass shootings have increased somewhat in recent years, as have gun-related homicides, after a long, slow decline beginning in the 1990s. But she and others noted that suicide, often omitted in discussion about gun violence, accounts for about 60 percent of gun deaths in the U.S.
Dorothy Paugh, a speaker at the forum, lost both her father and grown son to gun suicides. Now she advocates for background checks for gun purchases, as well as other measures that can interrupt a fatal act that's often done on impulse.
"Suicide has kicked my butt twice," Paugh said. "I'm going to do whatever I can."
The long game
From a range of speakers, the pastors and laity heard that faith-based efforts are crucial.
"You are the moral voice on these issues and you should be asking beyond the political will, based on your prophetic witness," said Claire Markham, associate director of the Faith and Progressive Policy Initiative of the Center for American Progress.
But Markham also noted that it's important to "play the long game," given the prevalence of guns in the U.S., as well as the lobbying power of the National Rifle Association.
Even after the Sandy Hook Elementary School shooting in Newtown, Connecticut, in which 20-year-old Adam Lanza fatally shot 20 small children as well as six adult staff members, the U.S. Senate failed to pass a bipartisan-sponsored bill that would have required background checks on nearly all gun purchases.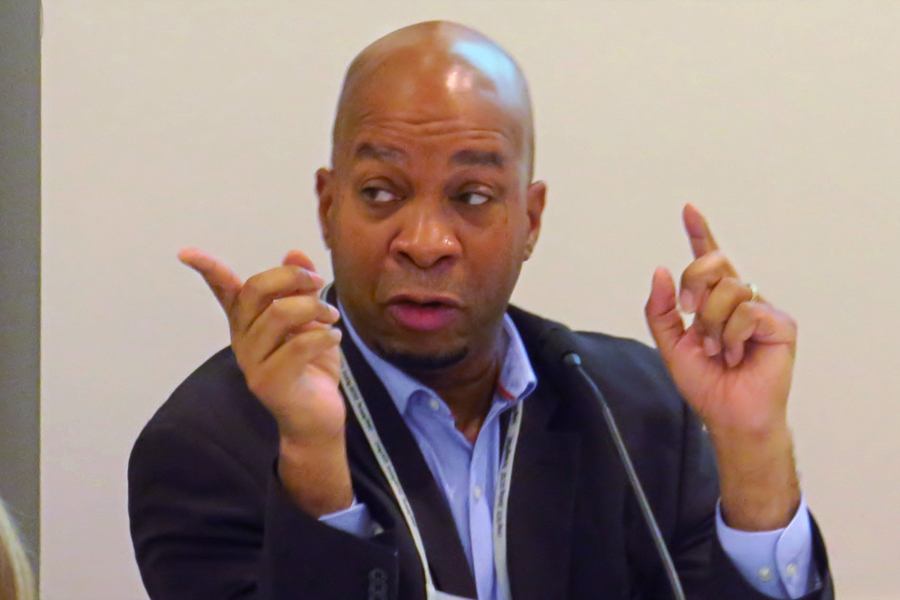 "The faith communities of Newtown emerged with a naïve belief that this might turn the tide," said the Rev. Mel Kawakami, now retired but pastor of Newtown United Methodist when the mass shooting occurred on Dec. 14, 2012. "We did not count on the strength of the gun lobby."
The Nov. 8 election saw an NRA-backed Republican, Donald Trump, win the presidency, and Republicans retained control of the House and the Senate. That will have gun violence reduction advocates playing defense, said Greg Waples, also of the Center for American Progress.
He and other forum speakers lamented that chances have improved for Congress to pass legislation requiring all states to honor concealed-carry gun permits issued by other states. Thus, states with strict limits would have to honor permits issued by states with weak limits.
But while Congress is a challenging terrain, gun violence reduction advocates have had success at the state level, with more states embracing expanded background checks for gun sales. On Election Day, three of four states approved referendum measures supported by gun violence reduction advocates.
"When we take things to voters, voters are with us," said Kathleen Krepps, of the D.C. chapter of Moms Demand Action for Gun Sense in America.
Bryan Miller, founder of the faith-based anti-gun-violence group Heeding God's Call, encouraged the United Methodists to look for ways beyond legislation to make a difference. Miller said vigils and other direct action by his organization had helped pressure federal authorities to close a gun shop in Philadelphia for selling to straw purchasers.
The Rev. Cedric Johnson, assistant professor of pastoral theology and congregational care at United Methodist Wesley Theological Seminary, stressed that addressing root causes is important.
 "Public education has failed the young people of inner-cities for decades," he said. "You can't understand gun violence in urban centers without looking at housing policy."
Different ways to fight
That analysis was affirming to the Rev. Fredrick Johnson, pastor of Hamilton United Methodist Church and Faith United Methodist Church in Los Angeles.
Deeply concerned about gang violence among young African American men in his community, he has started a literacy program at one church and is planning a computer lab at the other.
"Education becomes a starting point for us," Johnson said.
Other pastors at the forum felt they were leaving with much better understanding of the range of options for helping to reduce gun violence, including legislation, direct action, education, and attention to domestic violence and suicide.
 "It helps to go back to your people and say, ʽYou know, there's different ways to look at this, and different ways we can fight it,' " said the Rev. Angela Brown, associate pastor at Glide Memorial United Methodist Church in San Francisco. 
The Rev. Andrea Davidson, pastor of Hartzell Memorial United Methodist Church in Chicago, plans to preach a sermon series based on information and insight gained at the forum.
She wants to get her congregation more engaged. But the issue also is personal.
"I'm here because I have twin 9-year-old boys who are growing up in the city of Chicago, and I want them to be safe," Davidson said.
Hodges, a United Methodist News Service writer, lives in Dallas. Contact him at (615) 742-5470 or [email protected]
---
Like what you're reading? Support the ministry of UM News! Your support ensures the latest denominational news, dynamic stories and informative articles will continue to connect our global community. Make a tax-deductible donation at ResourceUMC.org/GiveUMCom.