Ask members of First United Methodist Church, "Who is my neighbor?" and by their actions, they answer, "Whomever God sends to us."
After hurricanes Irma and Maria devastated Puerto Rico and plunged its 3.4 million people into a desperate humanitarian crisis late last summer, the 360-member Florida congregation in Kissimmee sprang into action, reaching out to refugees who fled to the U.S. mainland. Many of these U.S. citizens relocated to central Florida.
Through the church's bilingual ministry "Casa de Paz" and the Community Hope Center, United Methodists here have received and assisted more than 600 Puerto Rican families who arrived in the Orlando metropolitan area seeking stability and a chance to rebuild their lives.
How To Help
The Florida Conference is collecting financial donations through a Puerto Rico hurricane-relief effort.
The United Methodist Committee on Relief is receiving gifts for hurricane relief through The Advance #901670 for U.S. Disaster Response.
First United Methodist Church's Hispanic pastor, the Rev. Jose Nieves, grew up in Puerto Rico. He and a team of volunteers and the Community Hope Center provide basic supplies such as water, hot meals, meal vouchers, backpacks, school supplies, clothing, haircuts and grocery gift cards as well as provisional housing (rents, deposits and utilities).
Even before the most recent hurricanes, many Puerto Rican families had left the island because of the economic crisis and were living in Florida hotels. "Now," Nieves said, "they are living together with those who escaped the devastation. They have been creating a huge area in Orlando and Kissimmee with growing needs for care and support."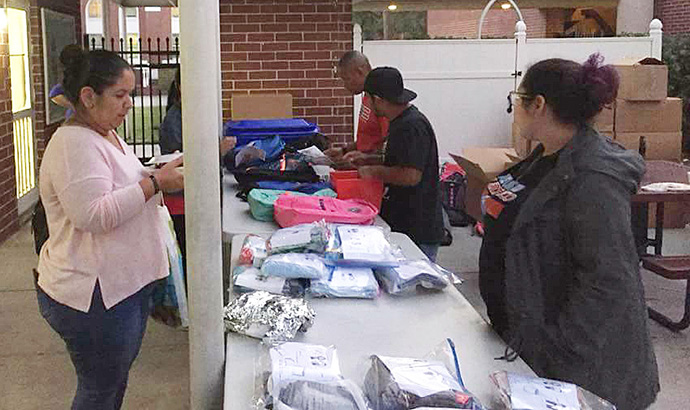 With the Community Hope Center, First United Methodist Church walks refugees through social services. "There are not just poor people affected," Nieves noted. "We have a large number of educated people with bachelor's and master's degrees, nurses, teachers, mechanics. Most of them do not know how to access social services because they never used them before."
The Rev. Mary Downey is a deacon in the Florida Conference and the Hope Center's executive director. "We are not only responding to their physical needs," Downey said. "We are also addressing the trauma and the spiritual needs that come along with going through that kind of devastation."
Nieves said he has to keep reminding hurricane survivors that "this is not your fault. You have done nothing wrong. You are not being punished."
A nonprofit organization, the Hope Center has a proven history of meeting human need. For years, the center has assisted families who face poverty and homelessness and live in motels and hotels in Orlando and Kissimmee.
Today, the agency has broadened its scope to serve not only impoverished people but also those facing "a situation out of their hands," Downey said.
Developing affordable housing is high on the list of center priorities. Meanwhile, the center collaborates with the United Methodist Committee on Relief to provide emergency assistance with food and shelter.
The center also cooperates with the Federal Emergency Management Agency, which provides social services, and with bipartisan Florida congressional representatives for long-term housing alternatives. "Whoever wants to help with the situation," Nieves said, "we coordinate together."
He said about 400 families who survived the hurricanes continue living in hotels in Osceola and Orange counties, despite impending FEMA deadlines for their departure. The church helps other families with rent, water and electricity deposits to help then transition into stable housing.
In addition, approximately 1,500 families are still staying with relatives, often in crowded conditions.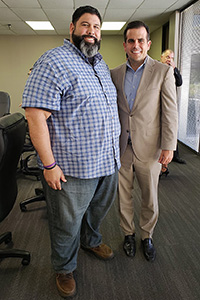 Florida political leaders, social organizations, First United Methodist Church and Puerto Rican government authorities have requested FEMA extensions to their service coverage and housing-support deadlines. On April 24, Nieves meet with Puerto Rico Gov. Ricardo Rosselló. Nieves said Rosselló expressed "his commitment to work with FEMA for an extension until June 30 in order to allow students to finish their school year."
'Proud to be United Methodist'
Another important service is identity recovery. During and after the disaster, many people lost their identification, and Hope Center helps them to recover their documents. Through an interdenominationally supported organization called "IDignity of Osceola," hurricane survivors recover birth certificates, Social Security cards and other documents that allow them to receive community and social services.
According to Nieves, the ministry with Puerto Rican families is all about faith and Wesleyan ethics.
Many refugees, he said, "come from a culture that the church is always asking for money. Prosperity gospel is very prominent in Puerto Rico. So, to have a church that says we will give you our Christmas Eve offering – we will give our largest offering day to help you – has been awesome.
"I am super proud to be Methodist," Nieves added. "This connection that brings together [First United Methodist Church and hurricane survivors] cannot be easily dismissed."
Downey said the church has been intentional about being "in the right place, at the right time, talking with the right people, to bring as much awareness to the situation as possible. We are doing this because of our deep faith and because we are United Methodist."
She noted that "Congressional leaders have expressed their support and desire to work with the church, for the commitment and seriousness that have been demonstrated. They have seen that we have brought results to the table," Downey said. "We have not just been saying, 'Let's have a prayer.' Prayers are important; people are asking us to pray for them."
Along with prayer, Nieves said, when multiple churches commit their offerings, along with resources and people, "this is a real commitment. This is changing the face of central Florida. The families … will never forget how The United Methodist Church helped."
'God going before us'
"God is putting people in front of us that have been helpful to serve the Puerto Rican community," Downey said, mentioning several situations in which they found providential solutions and alternatives.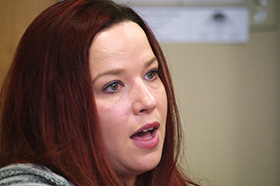 One example was a gift of $200,000 that the center received from an organization in Seattle. "We used it to hire case managers and to open spaces (in partnership with UMCOR) to receive and relocate families," she said. "It came from the initiative of a former congresswomen when I told her what we were doing. Then she made a phone call to a foundation, and they said, 'We want to invest in your organization and help you address these needs.' There is no way that I can look at this situation and not see the Holy Spirit and God going before us."
"God was before us, with us and in front of us," agreed Nieves.
The City University of New York's Center for Puerto Rican Studies estimated that Puerto Rico would lose 470,000 residents by 2019 as consequence of the hurricanes. Individuals and groups are urgently needed to address survivors' continuing needs, the pastor said.
"We have several deadlines in the future when thousands of families will be without the help of FEMA to stay in a hotel," Nieves said. "We are trying desperately to see how many families we can help. This is humanitarian crisis that is changing the whole area in a way that I can't even fully understand."
They are seeking housing, job opportunities, English-as-a-Second-Language specialists, financial support ($3,000 to $5,000 to sponsor a family) and mission volunteer teams who can work in central Florida and Puerto Rico.
Vasquez is the director of Hispanic/Latino Communications at United Methodist Communications. Contact her at 615-742-5470 or[email protected]. To read more United Methodist news, subscribe to the free Daily or Weekly Digests.
---
Like what you're reading? Support the ministry of UM News! Your support ensures the latest denominational news, dynamic stories and informative articles will continue to connect our global community. Make a tax-deductible donation at ResourceUMC.org/GiveUMCom.