A small-town United Methodist church that became a Tropical Storm Harvey shelter had to call for rescue itself as floodwaters poured in, forcing the pastor, volunteers and flood victims up to a loft.
The Rev. Sharon Sabom and others at Mauriceville (Texas) United Methodist Church waited for six hours on Aug. 30 before the Cajun Navy — boat-equipped volunteers from Louisiana — arrived to get them to safety, said the Rev. Alicia Coltzer, superintendent of the Texas Conference's Southeast District.
"They handled the restrooms by using a sheet and a potty chair, because they couldn't go downstairs," Coltzer said.
United Methodists are among millions of Houston and southeast Texas residents grappling with the aftereffects of a historically ruinous storm that struck at hurricane force on Aug. 25, then lingered for days, bringing 50 inches of rain to some areas.
One major hardship spot is Beaumont, Texas, where the city water system is out.
"People don't do well when they don't have water," said Coltzer, whose district includes Beaumont. "They need water. It's August. And drinking water is a huge issue in a city that has a high population of people in need."
She added that church services are unlikely to resume in Beaumont until the water system is back
The ongoing threat from Harvey extends to the Texas-Louisiana border, where civil engineers are dealing with a surging Sabine River.
"The secondary disaster is the release of the water from the Toledo Bend Dam coming down the Sabine River," said the Rev. Laraine Waughtal, disaster response coordinator for the Louisiana Conference. "That's going to create flooding for homes, maybe even 500 to 600 to a thousand homes, depending on the volume."
At the First United Methodist Church in Brazoria, Texas, the Rev. Don Brown has come through OK thus far. His church building and parsonage remain dry.
But Brown has church members scattered around Texas by earlier flooding, as well as the ongoing threat of flooding from the nearby Brazos and San Bernard Rivers.
"It's really a sort of slow-motion train wreck," he said of the wait for those rivers to crest. "You know the trains are going to arrive. You just don't know when."
Brown, a Houston native and hurricane veteran, is still coming to terms with Harvey.
"This has been Noah-like rainfall, and it's extraordinary and terrifying," he said. "I don't know how you prepare for an 800-year storm."
Houston Methodist Hospital has continued to operate but has postponed many elective surgeries. Perkins School of Theology, a United Methodist seminary based at Southern Methodist University in Dallas, has had to cancel classes in its Houston-Galveston program.
The Texas Conference has offers for outside emergency response teams but is still looking for places where they can sleep and shower.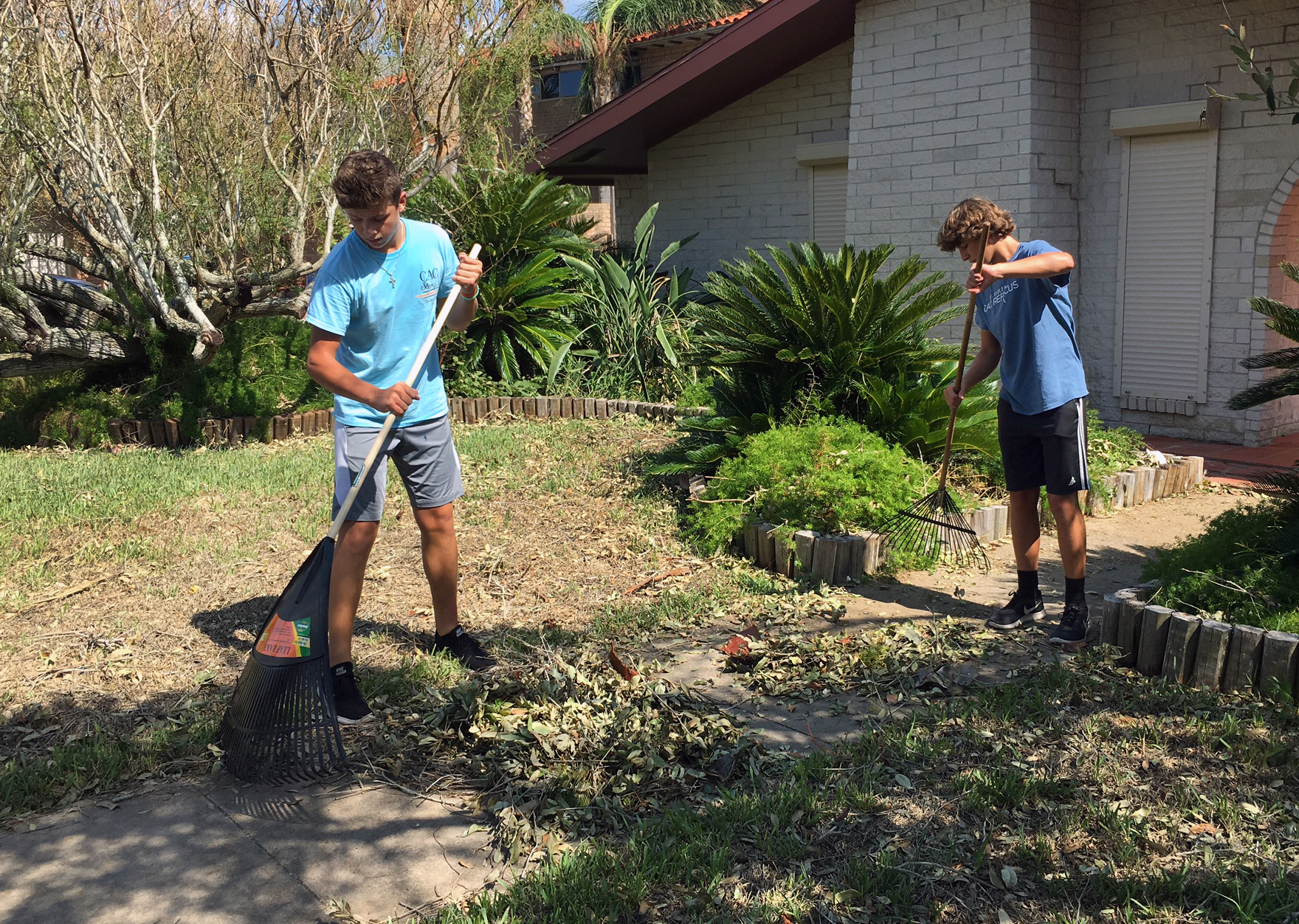 The Rio Texas Conference took the first hit from Harvey, when it arrived on the Texas Gulf Coast at hurricane force on Aug. 25. United Methodist emergency response workers are on the scene, helping to clear debris.
"We had chainsaw teams into Refugio (Texas) from the Grace United Methodist Church in Corpus Christi, beginning on Monday," said the Rev. Beth Tatum, the conference's Coastal Bend District disaster response coordinator. "We are organizing and deploying more early response teams now."
First United Methodist in Corpus Christi is serving as a hub for the effort, Tatum said.
Tatum is helping coordinate relief work while also serving as pastor of the First United Methodist Church in Sinton, Texas, which is still picking up from Harvey's winds and lashing rain.
"I am leaning heavily on my colleagues for prayer and encouragement and trying to remember to stop and breathe and take in the Holy Spirit's peace and strength throughout the day," she said.
The Rev. Peter Miller, pastor of St. Mark's United Methodist Church in Baytown, has put out the word locally that his church came through the storm OK and will be glad to be a worship space for United Methodist churches and others flooded out of their buildings.
"We're doing our best to pull together and give people a place to worship," Miller said. "For many it's going be the closest they've got to a sense of normality."
For drama, it would be hard to top what happened at the Mauriceville United Methodist Church. Sabom, the pastor, is resting after the ordeal, but details were shared by Coltzer, who kept in touch with her by text.
Coltzer said the church's family life center took in more than 40 people flooded out by Harvey. Sabom texted her about 4 a.m. on Aug. 30 to say floodwater was threatening the impromptu shelter.
By 10 a.m., the group was forced to climb to the building's loft.
"They moved everybody upstairs," Coltzer said. "They had a man in a wheelchair they had to carry upstairs. And there was no electricity."
Sabom and her crew were among in the area many waiting for rescue, and the Louisiana volunteers got there about 4 p.m., Coltzer said.
"Sharon, because she's a conscientious pastor, wouldn't let them evacuate until they told her where they were taking them," Coltzer added. The Mauriceville group was moved to the First United Methodist Church in Buna, Texas, which also had become a shelter.
The episode ended happily enough. But for Sabom, who also leads the Deweyville United Methodist Church, hard times continue.
"She's emotionally wiped out, physically exhausted and is going to just rest for about three days," Coltzer said. "Her home flooded, too. They (Sabom and her husband, David) lost both cars. … It's pretty traumatic."
Sam Hodges, a writer for United Methodist News Service writer, lives in Dallas. Contact him at (615) 742-5470 or [email protected].
To read more United Methodist news, subscribe to the free Daily or Weekly Digests.
---
Like what you're reading? Support the ministry of UM News! Your support ensures the latest denominational news, dynamic stories and informative articles will continue to connect our global community. Make a tax-deductible donation at ResourceUMC.org/GiveUMCom.