Union United Methodist Church sits so far back in the southeast Georgia pines that the crackling report of a deer hunter's rifle sometimes interrupts worship.
It's been known to happen as members kneel for communion.
"All of a sudden they've got a grip on the altar rail and they don't turn loose," said Steve Brown, the church's volunteer lay speaker. "It's what we call white-knuckle prayer."
View Church photos
Historic Rural Churches of Georgia offers exterior and interior photos of about 120 church buildings.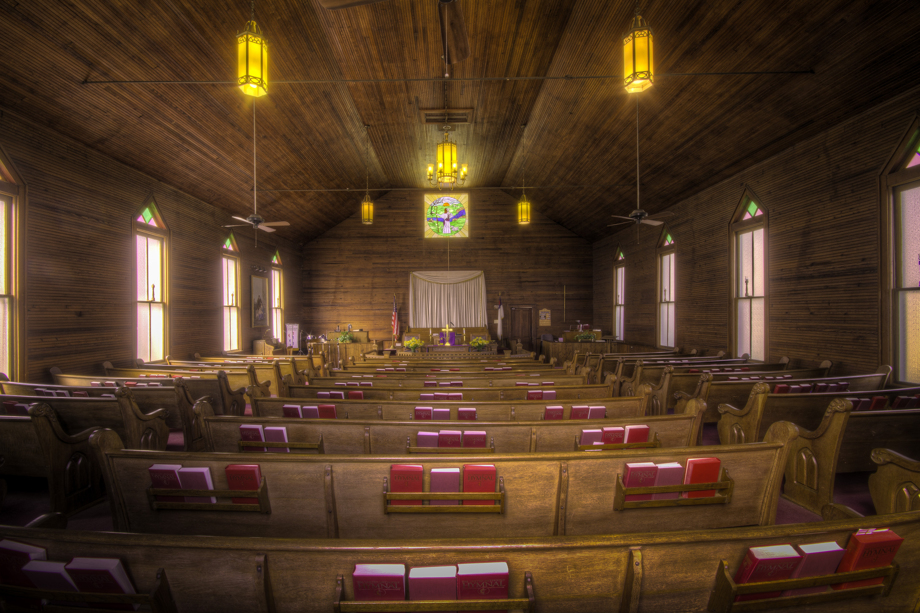 Some of the website's loveliest examples are from active United Methodist churches. View a sampling of these photos»
Though Union United Methodist is geographically obscure, it's enjoying a raised profile thanks to Historic Rural Churches of Georgia. This online project celebrates — through text and sumptuous photographs — the lovely but vulnerable old church buildings found off the state's back roads.
"We decided to create a website to see if anybody else cared," said Sonny Seals, speaking of himself and George Hart, a fellow Atlanta resident and frequent companion for road trips around Georgia.
Since debuting in 2012, their website has had more than 16,800 "likes" on its companion Facebook page. Many of the website's entries are trailed by reader comments praising the project and sharing memories of the churches.
Last fall, the Atlanta Journal-Constitution featured the project. The University of Georgia Press is publishing a book adapted from the website's images and text.
"It turns out a lot of people do care," said Seals, 72. "We seem to have struck a nerve."
The website is ecumenical, but of the nearly 120 church buildings covered so far, about a third began as Methodist, and a dozen or so are active United Methodist churches or campgrounds.
United Methodist fans of Historic Rural Churches of Georgia include the Rev. Hugh Hendrickson, who leads the North Georgia Conference's work in archives and history.
Hendrickson has served rural churches his whole career, and he thinks old country church buildings are an under-appreciated spiritual treasure.
"I've never gone into an ugly rural church," he said.
Shining a light
It was an abandoned Methodist church in Powelton, Georgia, that got Seals interested in the fate of rural churches. He discovered the building about 10 years ago during a detour on a dove- hunting trip, and had a vague recollection that Powleton figured in his family's history.
Seals sought out an elderly aunt, who filled him in. Then he returned to the Methodist church and discovered that its cemetery held the grave of his great-great-grandfather, a Confederate soldier.
Eventually, Seals enlisted Hart to join him in a broader investigation of the state's rural church buildings, and their ramblings led them to undertake Historic Rural Churches of Georgia.
The project doesn't raise money to save old church buildings. But it does raise awareness of their beauty, history and fragility, given the threats of fire, vandalism and the decline of many rural areas.
Historic Rural Churches of Georgia cheers on successful efforts at saving old rural churches, as well as those just getting underway.
"The end goal is preservation, and the best way we can positively impact preservation is to shine as much light on the opportunity and problem as we can," Seals said.
He and Hart are the main steeple chasers, identifying churches to highlight and researching their histories. But they've recruited volunteer photographers, working in a style Seals calls "reverential documentation."
Each church's entry includes exterior and interior photographs, as well as a history of the church and an analysis of the building's architectural distinctions. If the church has a graveyard — and most do — the entry includes photos of that.
Many of the buildings still house active congregations. Some are open only for weddings or special services, and others are used for secular purposes. Still others are abandoned, and obviously those are the ones most needing emergency preservation efforts.
Spared by Sherman
Fields Chapel United Methodist in Cherokee County, Georgia, north of Atlanta, is among the going-strong churches glad to be on the website.
"They were very professional to work with, very honoring of the church's history but also of the fact that it's active today," said the Rev. April Ellis, pastor.
Fields Chapel has been meeting since 1820, and built its most recent sanctuary in 1898. The website's photos dwell on the building's heart pine floors, oak pews, multi-color pane windows, and curved altar rail. 
Seals and Hart's research showed that the dedication in 1899 drew a big crowd to hear the Rev. Sam Jones, a celebrated revivalist known for his "quit your meanness" theology.
The attention Fields Chapel got from Historic Rural Churches of Georgia prompted members to hold a Founder's Day service, which pulled in scattered former members as well as visitors.
"It's been good for us," Ellis said.
As for Union Methodist, north of Statesboro, Georgia, the website notes that it was organized in 1790, spared by Gen. William T. Sherman on his 1864 March to the Sea, and saw construction of its current white-frame sanctuary some 20 years later.
"Elaborate, carved brackets, some with acorn finials, are mixed with fretwork trim all of which rests upon and is supported by classical, square columns," the website elaborates.
Brown, the lay speaker, is thrilled with such recognition. To anyone who discovers Union United Methodist through the website, and wants to drive way back in the woods for a visit, he makes this promise:
"When you walk in that door, you realize God's waiting on you. … And whatever you've got on your back will seem a lot lighter when you leave."
Hodges, a United Methodist News Service writer, lives in Dallas. Contact him at (615) 742-5470 or [email protected]
---
Like what you're reading? Support the ministry of UM News! Your support ensures the latest denominational news, dynamic stories and informative articles will continue to connect our global community. Make a tax-deductible donation at ResourceUMC.org/GiveUMCom.