In a world that has embraced the "myth of scarcity" amidst a "culture of consumption," God offers abundant life through Jesus Christ-a spiritual truth that the church must live out and reflect in managing its own finances.

Speaking on behalf of the finance agency of The United Methodist Church, Los Angeles Area Bishop Mary Ann Swenson delivered that message April 24 to the 2008 United Methodist General Conference, the church's top legislative session held once every four years.

"The idea that 'more is better' &ellipsis; is an American idea that has spread around the globe, and it has become toxic," said Swenson, president of the board for the General Council on Finance and Administration. "It is a turbulent, muddy river that has flooded and polluted our ability to see the abundance of what God has already given to us."

The 992 delegates are scheduled to vote on a churchwide budget on May 2, the closing day of the 10-day gathering. The proposed $642 million spending plan would fund denominational ministries during the four-year period beginning in January 2009. For the first time in the church's history, the budget was developed around four primary areas of emphasis: cultivating principled Christian leaders, starting new congregations and revitalizing existing ones, engaging in ministry with the poor, and stamping out the diseases of poverty.

"Our God is an abundant God, who has given every gift needed to fulfill our purpose," Swenson said. That abundance, she said, should be reflected in the mission and ministry of the church.

Using the analogy of the church as a cup, Swenson said God's life-giving love and grace should overflow and pour out into a thirsty world in need of spiritual transformation. However, "too often we are living as if we have just one small cup."

When used faithfully, however, the cup becomes Christ's vessel for mission and ministry. "When it is empty, its purpose is to be filled; when it is filled, its purpose is to be emptied. It gives what it receives; it receives only so that it can pour out," she said.
Modest increase
The budget proposal calls for a 4.8 percent increase over the four-year period, which church leaders acknowledge does not keep up with inflation projections.

The United Methodist Church, funded primarily by its U.S. congregations, has generally managed to maintain its financial strength despite decades of shrinking U.S. membership, thanks in part to a membership that on average is wealthier than the general U.S. population, according to numerous studies.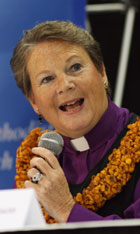 However, there is concern that the church's aging ranks are not being replenished with younger people. And, in recent years, local churches and annual conferences have retained a greater percentage of their funds for local and regional ministries and needs, decreasing the share earmarked to support churchwide ministries and administration.

Swenson told the delegates that the proposed budget balances and integrates the needs of congregations, annual conferences and the general church.

The budget is based on a formula in which, for every $1,000 that is received in a congregation, $854 remains in the local church, $124 supports district and annual conference ministries, and $22 goes to denominational ministries.

Swenson emphasized the importance of the United Methodist connectional system in working together for God's purpose. The 11.5 million-member denomination has 48,000 congregations served by more than 45,000 clergy in more than 50 countries on five continents.

"In this past four years, our members have given nearly $25 billion through the offering plate, of which almost $520 million was provided for connectional ministries administered through the general church," Swenson said. In the next four years, "we expect to see as much as $28 billion pass through our congregations in the United States."

Swenson said the church's finance agency also is working to obtain more data on United Methodist congregations and annual conferences outside of the United States, as well as their ability to contribute financially to the general church. "We are just now beginning to be able to measure the additional impact of the combined giving of our faithful members" outside the United States, she said.

"God has poured out everything needed for ministry in this time, in this global place and for all the people of God. Let us be the cup overflowing in a thirsty world."

*Aldrich is news editor of United Methodist News Service.

News media contact: Marta Aldrich, e-mail: [email protected]

Phone calls can be made to the General Conference Newsroom in Fort Worth, Texas, at (817) 698-4405
(817) 698-4405 until May 3. Afterward, call United Methodist News Service in Nashville, Tenn., at (615) 742-5470
(615) 742-5470.
Related Articles
General Conference headlines

Changing demographics affecting church funding

Church budget tightens around four areas of focus
Resources
---
Like what you're reading? Support the ministry of UM News! Your support ensures the latest denominational news, dynamic stories and informative articles will continue to connect our global community. Make a tax-deductible donation at ResourceUMC.org/GiveUMCom.