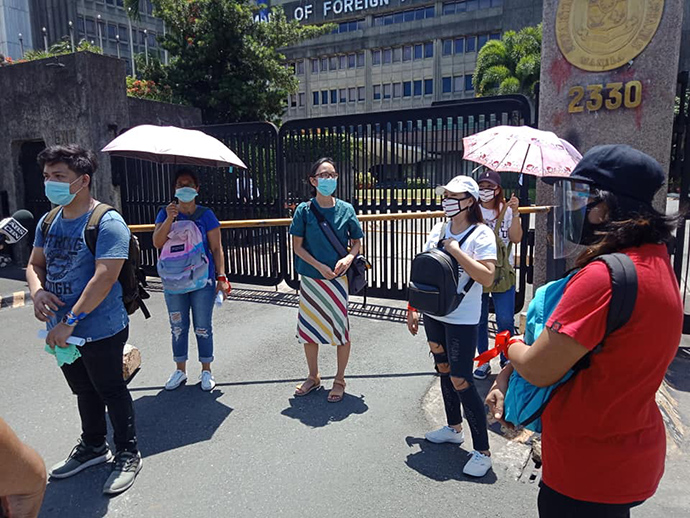 United Methodists joined a prayer rally to seek repatriation of Filipino overseas workers stranded in Riyadh, Saudi Arabia, due to COVID-19.
The Rev. Mariesol Villalon, program manager for anti-human trafficking and migrant ministry in the Manila Episcopal Area, was among those praying in front of the Department of Foreign Affairs in Pasay City on July 17. During the lockdown, she has sustained an online ministry with Filipino workers stranded overseas, including a man who is United Methodist.
Jonathan Sábado, a member of The Living Water United Methodist Church in New Dagupan in the Occidental Mindoro province, is one of thousands of overseas Filipino workers seeking to be repatriated since the COVID-19 outbreak.
Sabado, speaking to UM News by phone, said he is holding onto his faith and hopes he will be home soon. He is among 127 Filipinos who have been without work for four months in Riyadh, said Villalon.
Many Filipinos work overseas to provide better lives for their families. They mostly are employed in household services, manufacturing, nursing, personal care, welding, plumbing and civil engineering. Sabado is an aluminum installer in Riyadh.
The Department of Foreign Affairs reported the return of 11,688 overseas Filipinos in the last week, bringing the total number of repatriated overseas workers from the Philippines to 90,497 since the department began its COVID-19 repatriation efforts in February.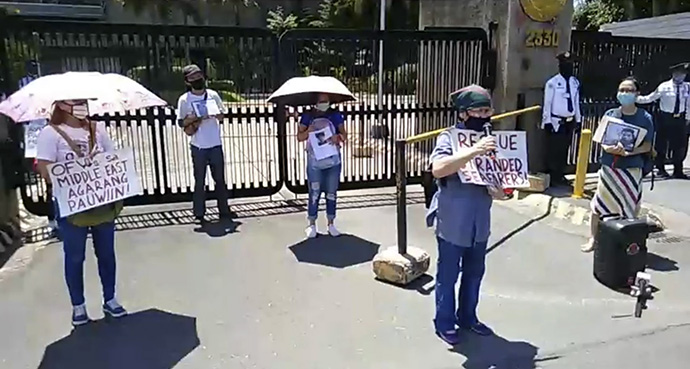 Villalon has been assisting Sabado's family in appealing to the Department of Foreign Affairs and Overseas Workers Welfare Administration for repatriation. Sabado said that he was told his company's human resource office was working on his repatriation, but no progress has been made.
"(Jonathan and other Filipino overseas workers) are experiencing emotional distress. They were the ones scavenging for food as we have seen on TV news. Since lockdown, it meant no job and no salary. They are so scared to contract the virus," Villalon said.
Through her online ministry, she connects with the families of overseas workers and assists them in reporting the cases to government agencies and requesting repatriation.
She has assisted female overseas workers from Cagayan, Visayas and Mindanao, including a pregnant woman who arrived from Taiwan on March 17 and was stranded at a quarantine facility in Manila. She said two Filipino women who work as domestic helpers — both United Methodists from the Manila Episcopal Area — are currently at the Philippine Embassy in Jeddah, Saudi Arabia, awaiting their airline tickets to fly back to the Philippines.
Villalon said families of overseas workers also have received assistance through the women's organizations from the Scranton Center in Seoul, South Korea, and the Wesley Foundation in Tokyo, as well as from the United Methodist Board of Global Ministries.
Eden Joy Agagad, Sabado's sister, accompanied Villalon at the prayer rally and said she is grateful for the support.
"I thank the Lord and I fully acknowledge the great help of The United Methodist Church to my brother, for the encouragement to hold on and not lose hope."
Agagad said that the family prays for her brother's safe return.
"He lost his job since lockdown, his two months' salary is delayed (and) there is scarcity of food. Relief goods being distributed to them are no longer enough," she said.
"Back home, his family is waiting. He's got three kids; our mother is so anxious (for) him."
On July 19, 88 deceased Filipino workers were repatriated, half of whom died of COVID-19, according to the Department of Labor and Employment.
Sábado, who is awaiting his exit visa, said he is hopeful that he will be home soon.
"Our request is immediate because of our predicament of getting sick. We don't have enough budget for food; we only eat twice a day so we would have food for the next day."
Sabado said he's trying to stay positive despite the challenges.
"I will never let depression defeat me. The best option is to be tough."
Still, he said, he is worried about contracting the virus, the food situation and his family back at home.
"The best (we can do) is to be strong and be prayerful during these uncertain times."
Mangiduyos is a communicator from the Philippines. News media contact: Vicki Brown, news editor, [email protected] or 615-742-5470. To read more United Methodist news, subscribe to the free Daily or Weekly Digests.