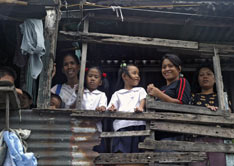 Kent and Vince, both age 12, were born in a cemetery in Manila, and until recently lived among the tombs with no hope of a future beyond the mausoleum walls.
They were no different than thousands of street children wandering around the 11 million residents of Manila until a United Methodist pastor saw their potential.
The boys now live at the Gilead Center, a residential shelter for street children supported by the Women's Division of the United Methodist Board of Global Ministries.
The children are grateful for small things: a roof over their heads when it rains, food on the table when they are hungry and a warm bed inside a safe room at night.
"I was not afraid there because it was where I was born," Kent said of his life in the cemetery. "I like being clean now; you could never be clean there."
The Rev. R. Randy Day, then top executive of the United Methodist Board of Global Ministries, and Rebecca Asdellio, also a board staff member and a native of the Philippines, traveled to Manila in July to visit several ministries that care for street children and the poor.
Life in the cemetery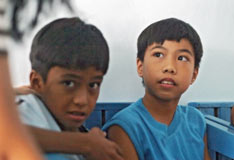 Manila North Cemetery is the city's largest cemetery. It is also where many of the poorest residents live.
Everywhere in the cemetery are signs of life. Scraps of wood and tin become walls and roofs, resting on and between the tombs.
Clotheslines heavy with wet jeans, shirts and children's clothes are strung from trees. A basket lined with rags and shaded by a torn umbrella contains a worn child's toy. Dogs and cats weave their way around the tombs sniffing for overlooked bits of food. Men, women and children walk dispassionately among graves.
Joseph Saneigo was washing a few clothes when leaders from the Board of Global Ministries, Bishop Solito K. Toquero of the Manila Area and others from the Philippines Annual (regional) Conference came to see where Kent and Vince's life began.
"I make 30 pesos a year to take care of a few of the tombs," Saneigo explained. He was buying water from his neighbors who have built homes on top of the graves. It costs 4 pesos for a bucket of water.
Saneigo said he lays a mattress on top of a tomb at night but that "the mosquitoes are very bad."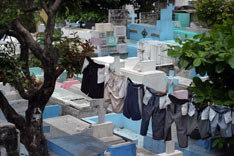 Ministry among the tombs
The Rev. Allan D. Casuco started Sta. Mesa Heights United Methodist Church outside the walls of the cemetery and has built a congregation among the people of North Manila Cemetery.
"We are a very mission-minded congregation," he said. The 200-plus members sponsor children like Kent and Vince so they can climb out of poverty.
One woman who has six children said one of her children is sponsored by the church, which means he gets fed, clothed and can attend school.
"The pastor came here to visit and he was so happy he made us want to join him," she said.
"This is truly a story of resurrection," said Day. "You have raised up a church out of the ashes."
After seeing where and how the people lived, Asedillo said she was touched by the pastor's devotion to the people living among the tombs.
"Clearly he cared for them; he wanted them to know Christ and experience his grace," said Asedillo. "Besides their spiritual needs, he was eager to provide the people access to resources that the church is able to provide like making it possible for some of the children to attend the church's day care/nursery/kindergarten school."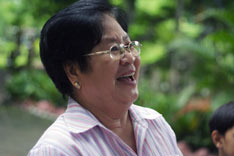 A balm for children
The Gilead Center is a calm, clean green space outside the city. Children play on swing sets and eat at long tables inside a warm, tasty-smelling dining room. The center is surrounded by mango and citrus trees.
Priscilla R. Atuel, a United Methodist deaconess and director of the center, explains the name Gilead comes from Jeremiah 8:22: "Is there no balm in Gilead? Is there no physician there? Why then has the health of the daughter of my people not been restored?"
The Gilead Center is a place for healing for children living in especially difficult circumstances, said Atuel.
"The pastor [Casuco] asked if he could bring us some children from the cemetery," said Atuel. "Can you imagine children living in a cemetery?"
Most of the children in the center came from North Manila Cemetery or from Rizal Park, a large public park inhabited by many homeless people.
Local United Methodist churches and the Board of Global Ministries send money to support the children.
Currently, 11 girls and 16 boys live in two dormitories. Bright pink walls, bunk beds and bed coverings make the Ethel Lou D. Talbert Shelter for girls a cheerful place to live. The shelter is named for the former wife of retired Bishop Melvin G. Talbert, who wanted to establish a safe haven for girls living on the streets.
The blue walls and bunk beds of the Kapatiran Shelter are just as inviting to boys.
Atuel proudly talks about Jennifer Gamutia, a former shelter resident who received a nursing assistant certificate from Asian College for Science and Technology last March. "It's a dream come true for me," Gamutia said. "Now I can look forward to a better future for me and my mother."
"Jennifer stayed in Gilead Center for Children and Youth Welfare for three years where she finished her secondary education," Atuel said. "It is truly wonderful when we are given glimpses into the fruits of our labor after these years."
The center takes in children ages 7 to 13 until they are ready to be transferred to high schools. Parents visit their children as often as possible, and the church also helps parents develop skills that can provide sustainable incomes.
Atuel said graduates of the center are working toward high school diplomas, higher education degrees or certifications.
"Isn't it wonderful what the church can do?" she asks.
*Gilbert is a United Methodist News Service news writer based in Nashville, Tenn. She compiled this report based on her visit to the Philippines in July 2007.
News media contact: Kathy L. Gilbert, Nashville, Tenn., (615) 742-5470 or [email protected].
Resources:
United Methodist Board of Global Ministries
United Methodist Committee on Relief
---
Like what you're reading? Support the ministry of UM News! Your support ensures the latest denominational news, dynamic stories and informative articles will continue to connect our global community. Make a tax-deductible donation at ResourceUMC.org/GiveUMCom.