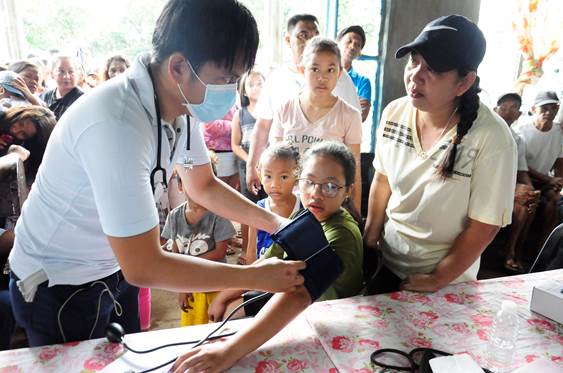 In celebration of National Indigenous Peoples Day in the Philippines, United Methodists reached out to more than 100 Aetas with much-needed medical attention.

The Aetas are indigenous peoples who live in isolated mountainous parts of Luzon.

Knox United Methodist Church's Aug. 12 outreach mission is the result of visits and conversations with the Aetas and pastors and lay leaders in the area, including the Rev. Raquel de la Cruz, pastor of Bangkal United Methodist Church, and the Rev. Roger Soria of Bayan-Bayanan United Methodist Church.

The Rev. Maritez C. Cruz, associate pastor of Knox United Methodist Church, said the health of the Aetas is a critical concern.

"Medical, optical and dental services and medicines were given to the sick, elderly, children and pregnant members of the community," she said.

National Indigenous Peoples Day is observed Aug. 9 in the Philippines. The working holiday was established to ensure indigenous peoples' health and well-being. The mandate provides that it will be "a policy of the government to advance the rights and collective well-being of indigenous peoples through the annual observance."

Cruz said the outreach was more than a medical mission.

"It was not a one-time visit of providing medical service and dispensing medicines to the indigenous peoples. It included the purchase of a water pipe to connect water from the source to the church parsonage," she said.

Five Aeta young people who were struggling to get to school due to financial issues also had their transportation expenses paid for three months. Children received slippers, toys, books and school supplies. Others were given haircuts, clothing, coffee and seedlings.

"This outreach mission to two areas in Bataan was prayed for, well-planned and seriously executed in partnership with the Monday family Bible study group," said Emil Dyangco, head coordinator of indigenous mission at Knox United Methodist Church.

"The significance of doing this sacred mission is very clear and simple. The Aetas are also human beings, creation of God and part of the beauty of the earth," he said. "We have experienced God's love and this love includes the Aetas. If we are serious, difficulties and sacrifices for them concretize loving our neighbor."

Cruz, spiritual nurturer of the Monday Bible study group, said church members are committed to continuing to help indigenous communities in whatever ways they can.

"The cycle of poverty among the indigenous peoples has to be broken by exploring the ways they can improve their economic status. The outreach group will go into a deeper study of what sustainable livelihood programs can be offered to them.

"We've only just begun. The task is daunting, but I believe that our Lord can meet all our needs."

Mangiduyos is a communicator from the Philippines. News media contact: Vicki Brown, news editor, [email protected] or 615-742-5470. To read more United Methodist news, subscribe to the free Daily or Weekly Digests.