Pray, then contact your member of Congress, said Jim Winkler, top executive of the United Methodist Church's social action agency.
Those two actions are the most important things people of faith can do to get the U.S. budget crisis resolved without hurting the most vulnerable around the world, he said.
Speaking on the morning after he was arrested with 10 other faith leaders, Winkler said, "We felt that we needed to do something dramatic to illustrate that people of faith want this crisis resolved."
Several faith leaders, including Winkler, have been in conversation for the past several months as they saw the budget crisis looming and recognized it could mean cuts to many programs that assist the poor.
The group wrote a document, Circle of Protection, outlining why there is a need to protect programs for the poor. The group's members have also written letters and met with the president and members of Congress, Winkler said, but were feeling increasingly frustrated that those needs were not being heard.
"What brought us together was a realization that this impending crisis over the debt limit was largely a manufactured crisis," he said. Trying to make cuts to programs that assist the poor, elderly, inner-city youth and others was unacceptable to the faith leaders.
"Some people were saying everything needs to be on the table. We said 'No, that is not the case at all.' Tax cuts for the wealthy need to be on the table, reduction in bloated military apparatus needs to be on the table, but we don't need to put programs that assist those in need on the table."
Even if all the money is cut from programs that assist the poor, there still would not be enough money to resolve the crisis, Winkler said.
President Obama has said the $14.3 trillion debt ceiling must be raised by Aug. 2 for the country to pay its bills on time. The President urged Americans to call and email lawmakers to demand compromise.
Call, email, write
That is something Winkler also recommends. Members of Congress pay attention to the phone calls, email and letters they get every day, he said. "They are scared to death of running into a firestorm or an uprising from people back home. They count on people back home not particularly caring or paying attention or for feeling like they are helpless."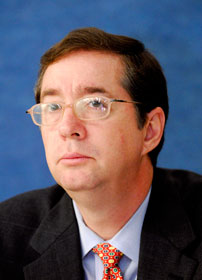 All religious traditions talk about the marks of good government and all religious traditions also place the needs of the poor and widows and children at the center of their concerns, he said.
"All the members of Congress are themselves part of our religious traditions. Congress is filled with Christians, Jews and Muslims, and there are times when their own faith leaders need to speak to them," Winkler continued. "I think that is kind of a trite argument and an obsolete argument that people of faith have no place in the political arena."
Many elected leaders also need prayers for wisdom and courage, he said. They are "trapped in party politics" trying to figure out how to score political points against the other party.
The staff of the Board of Church and Society will continue working with other faith groups as they watch what happens in the next few days. Since July 11, the front lawn of The United Methodist Building in Washington, D.C., has been the site for daily prayer vigils focused on a "faithful budget."
Attention growing
Winkler said the vigils are gaining media attention and drawing larger crowds.
"We are really right there in the center of this as a denomination; we are extremely visible being across the street from the Capitol," he said. "We are going to keep the pressure on, and we are going to keep the prayer vigils going, and we are going to keep calling attention to our members of Congress for the importance of dealing with this problem."
Winkler was one of two United Methodists in the group of 11 arrested July 28 in the U.S. Capitol as they refused to stop the public prayers asking the Obama administration and Congress not to balance the budget on the backs of the poor.
The Rev. Bob Edgar, a United Methodist elder and president of Common Cause, a national advocacy group, also was arrested during the "faithful act of civil disobedience." Edgar, who served as a Pennsylvania congressman from 1975-87, organized the protest and invited leaders in the faith and civil rights community to join him in a rally and prayers inside the rotunda. The arrests were made around 1 p.m., and the group was freed by approximately 7:30 p.m.
*Gilbert is a multimedia reporter for the young adult content team at United Methodist Communications, Nashville, Tenn.
News media contact: Kathy Gilbert, Nashville, Tenn., 615-742-5470 or [email protected].
Related Articles
Two UM church leaders arrested in protest
Religious leaders arrested at Capitol for budget protest
Faith leaders arrested in US Capitol during protest
D.C. vigils call for 'faithful budget'
Budget battle: Don't forget the poor
Faith leaders look at budget's 'moral' impact
Resources
United Methodist Board of Church and Society
---
Like what you're reading? Support the ministry of UM News! Your support ensures the latest denominational news, dynamic stories and informative articles will continue to connect our global community. Make a tax-deductible donation at ResourceUMC.org/GiveUMCom.