This month the world is awash in pink - reminders that October is National Breast Cancer Awareness month are everywhere.
But if you are a woman who knows she needs a mammogram and has no insurance and no way of paying for one, those pink reminders are painful. It is especially difficult for African-American women who are twice as likely to die from breast cancer as white women.
In Memphis, where 54 percent of the population is African-American, many are underinsured or uninsured. That translates into the death of one African-American woman per week from breast cancer in this large, sprawling U.S. city, according to a recent study by the Sinai Urban Health Institute in Chicago.
Carole Y. Dickens uses Scripture to describe the task: "The harvest is plentiful, but the laborers are few."
Dickens is one of 10 navigators in the Congregational Health Network for Methodist Le Bonheur Healthcare, a unique partnership of faith and health. Navigators from each of the seven hospital systems in Methodist partner with liaisons in the 476 congregations who have signed covenants with the hospital to make sure people don't fall between the cracks.
And Dickens is just what the doctor ordered. A retired nurse with plenty of compassion and understanding of health systems, she is a bridge between people who need care and people who give care.
"A warm, kind person of faith reaching out, educating people about prevention is trust by proxy," said Teresa Cutts, director of research for the hospital's Center of Excellence in Faith and Health.
"It is a human model, not high-tech but high-touch."
Plenty of soul
Valerie Murphy (right) and the Rev. Sheilah Easterling-Smith visit with Helen Harris (right) during a community health fair at Friendship United Methodist Church in Millington, Tenn., in November 2011. A UMNS file photo by Mike DuBose.
Memphis is a city of churches - more than 2,000. More than 70 percent of the people admitted into the hospital say they have attended a place of worship at least once in the last month, and the population is 85 percent Christian.
Pastors and hospital leaders saw the connection as a place to start to battle the "outrageous" health disparities, Cutts said.
In addition to the high number of breast cancer patients, the average infant mortality incidence is the same as that in Zimbabwe, Africa: 14 per 100,000 live births. African-American males between the ages of 18 to 54 have a 13 times higher likelihood of dying from homicide or suicide than their Caucasian counterparts.
Cutts also pointed out Memphis is the "limb amputee capital of the Southeast" as a result of pandemic diseases of cardiovascular, diabetes and obesity that affect African-Americans the most.
"Many of these disparities can be traced to a legacy of racism and elitism, stemming from the rural Delta economy and culture," Cutts said. "Memphis is the urban hub of concentrated Delta poverty from four areas: north Mississippi, east Arkansas, west Tennessee and the Missouri Bootheel," she said. "It is also the fourth-largest center for medicine in the country."
That legacy, plus a distrust of the health-care system dating back to the infamous Tuskegee (Ala.) Syphilis Study, means people are not seeking medical treatment until they are in the last stages of a disease.
Many people see the hospital as the place to go to die, Cutts said.
Grants from the Avon Foundation and the Susan G. Komen Foundation and a partnership with the West Clinic, a well-known oncology clinic in Memphis, are helping to break down barriers.
Navigating tough waters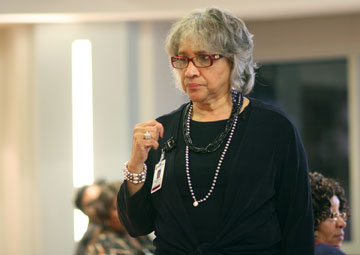 Carole Y. Dickens, specialty navigator in Congregational Health Network, holds a class on hypertension in the Methodist Le Bonheur Healthcare's Center of Excellence in Faith and Health in Memphis, Tenn. A UMNS photo by Kathy L. Gilbert.
Dickens administers the Komen grant to provide educational seminars and arranges for low-income women to get mammograms and further testing and treatment, if needed.
When Dickens spoke at her church - Mount Zion Taska Missionary Baptist Church, Lisa Todd heard she might be eligible for a free mammogram.
Until recently, Todd had insurance through the company for whom she worked. Now she is self-employed and uninsured. She first found a lump in her breast when she was 35 and knows yearly examinations are crucial to her health.
Until she heard Dickens speak in her church, she didn't know she had any options.
Dickens said many women will ignore problems or routine checkups, thinking nothing can be done.
"They say 'I would rather not know. What is going to happen to me if it is cancer? I don't have insurance or money,'" Dickens said.
The key to living through breast cancer is early diagnosis, she added.
"I am here to hold their hand and give them hope," she said. "We let them know we will be here for the entire journey."
Rafael Miranda is another specialty navigator who works with an underserved community - the undocumented.
He collaborated with Dickens to help an undocumented woman get the treatment she needed.
"This lady didn't think she needed to be tested. She didn't have a family history of breast cancer, and she was healthy," Miranda said. But he managed to convince a group of 28 women from one church to get mammograms through the Komen grants. Of the 28, six needed further testing and the skeptical woman, indeed, had breast cancer and needed treatment and surgery right away.
"She called me crying and saying, 'I don't have any money,'" Miranda recalled.
"She had to have a mastectomy, radiation and chemotherapy," Dickens said. "She was treated just like someone who had cash money; there was no difference. She is just as special as someone with endless money," Dickens said.
Now that woman is an advocate and wants to tell every woman to get tested, Miranda said.
Making health a priority
More about the Center of Excellence in Faith and Health
Through the Congregational Health Network, each hospital has one or more navigators, people hired by the hospital to connect with the community through congregations. The navigators work with liaisons chosen by their pastors to be the link that connects the church with the hospital.
The current 476 congregations in the network include United Methodist, African Methodist Episcopal, Catholic, Church of God in Christ, Lutheran, Assembly of God, United Congregational Church, Presbyterian, Episcopal and Baptist (American, Southern, National, Progressive).
The pastors who sign a covenant with the hospitals pledge to be role models of good health, to encourage healthy living from their pulpits and to evaluate the effectiveness of the Congregational Healthcare Network strategies.
The Rev. Sheilah Easterling-Smith, a navigator for more than five years at North Hospital, works with 30 churches. She stays busy planning health fairs, teaching classes and other events to keep her congregations informed about what is available for them.
First United Methodist Church, Covington, Tenn., is one of her most active congregations. The church of 850 has 110 members signed up in the congregational health network. Whenever a member is admitted to the hospital, Bill Face, minister of congregational care and the network liaison at the church, is informed. He makes sure patients are visited, prayed for and listened to. When they return home, the caring continues with regular checkups from church members.
Easterling-Smith has helped the church start offering health classes as a regular part of their Wednesday evening options.
She provides the resources and teaches many of the classes.
"Our congregation is a lot of older people," Face said. "Health has really been brought to the attention of our congregation; we have had people pass out while at church."
Face wants to increase the number of members signed up for the network to 200 or 300 by the end of the year. The church is also training first responders who will be in each worship service in case of any health emergencies.
"We want people to know that they need to bring health issues to our attention. There is nothing to be ashamed of because we want to help," said Face, who is a certified lay minister and leader of the Stephen Ministry, a group of trained lay people who act as caregivers.
"So many people know something is wrong, but they don't pursue it," Easterling-Smith said. "The free diagnosis for breast cancer and the advanced care through the West Clinic is awesome. People don't have to fall through the cracks; there are options."
* Gilbert is a multimedia reporter for the young adult content team at United Methodist Communications, Nashville, Tenn.
News media contact: Kathy L. Gilbert, Nashville, Tenn., (615) 742-5470 or [email protected].
---
Like what you're reading? Support the ministry of UM News! Your support ensures the latest denominational news, dynamic stories and informative articles will continue to connect our global community. Make a tax-deductible donation at ResourceUMC.org/GiveUMCom.