Abdul Saboor's journey as a refugee to the United States began "when I saw my own community on fire."
In that community in Afghanistan, homes were destroyed and people targeted "because they believed in freedom of expression."
He ran out of hope. "I did what every one of us would do — I chose between survival and death," he said. "I chose between history and future."
Five years after he applied for refugee status, Saboor was placed under the care of Episcopal Migrant Ministries and settled in Syracuse, New York. He now works for an interfaith agency and studies at Syracuse University.
Changing U.S. policy
The attempts at executive orders calling for travel bans and a changing U.S. policy that lowers the annual number of refugees to be resettled by half has met with interfaith opposition and had a major effect on at least some of the faith-based agencies leading that effort.
On March 28, Church World Service announced it was reducing its staff by 547 members, the majority in Kenya at the Resettlement Support Center Africa, significantly downsizing its infrastructure for refugee resettlement. A partner of The United Methodist Church, the ecumenical agency has helped more than 850,000 migrants resettle in the U.S. since 1946.
The Rev. John McCullough, the United Methodist pastor who leads the agency, directly attributes the cuts to executive orders from the Trump Administration, "which sabotage our ability to offer vital services, support and counsel to families seeking to rebuild their lives in  safety."
In early April, Episcopal Migrant Ministries announced that it would reduce the size of its 31-member affiliate network by six. Its national core staff already had been cut by 22 percent due to funding reductions.
"We are disappointed that we need to take these steps, but the current situation leaves us no choice," said the Rev. Canon E. Mark Stevenson, director of the program.
He is one of many who have received new hope and new life. Through a network of affiliate partners spread across 22 states, Episcopal Migrant Ministries assisted 5,762 of the 85,000 refugees resettled in the U.S. in 2016.
One of nine federally recognized refugee resettlement organizations, their job is "welcoming those new to America, giving them access to proper health care, job training, language instruction and cultural orientation," said the Rev. Canon E. Mark Stevenson, agency director. Another of the nine organizations is Church World Service, a partner of The United Methodist Church.
Saboor and Stevenson were among participants in an April 13 panel discussion at U.N. headquarters on the role of faith-based organizations in refugee assistance and resettlement work.
The discussion was part of the Focus on Faith series of the U.N.'s Department of Public Information — non-governmental organizations, and organized in partnership with LDS Charities of the Church of Jesus Christ of Latter-day Saints.
Felipe Queipo, an associate public information officer for the department, noted in his introduction that bridges built by faith groups "are far more important and stronger than any differences among people."
As the president of the U.S. Fund for UNICEF, Caryl Stern, the panel's moderator, knows about the need. She has visited the Zaatari refugee camp in Jordan, the largest camp of Syrian refugees in the world.
She also knows from personal experience how "one person can truly make a difference" when it comes to assuring refugees of a safe place to live. As a Jewish child, her mother was sent from Germany to safety in America in 1939, accompanied by a woman whose name her family does not know.
Mormons were once refugees, too, including her own great-great grandparents, said Jean Bingham, general president of the Relief Society, the LDS women's organization. "Severe religious persecution drove its early members from one location to another," she explained.
As a result, Mormons often feel strongly about those who are outcast or in need, she said. They assisted in Europe after World War II and after natural disasters anywhere and formalized this work in 1985 with the creation of LDS Charities.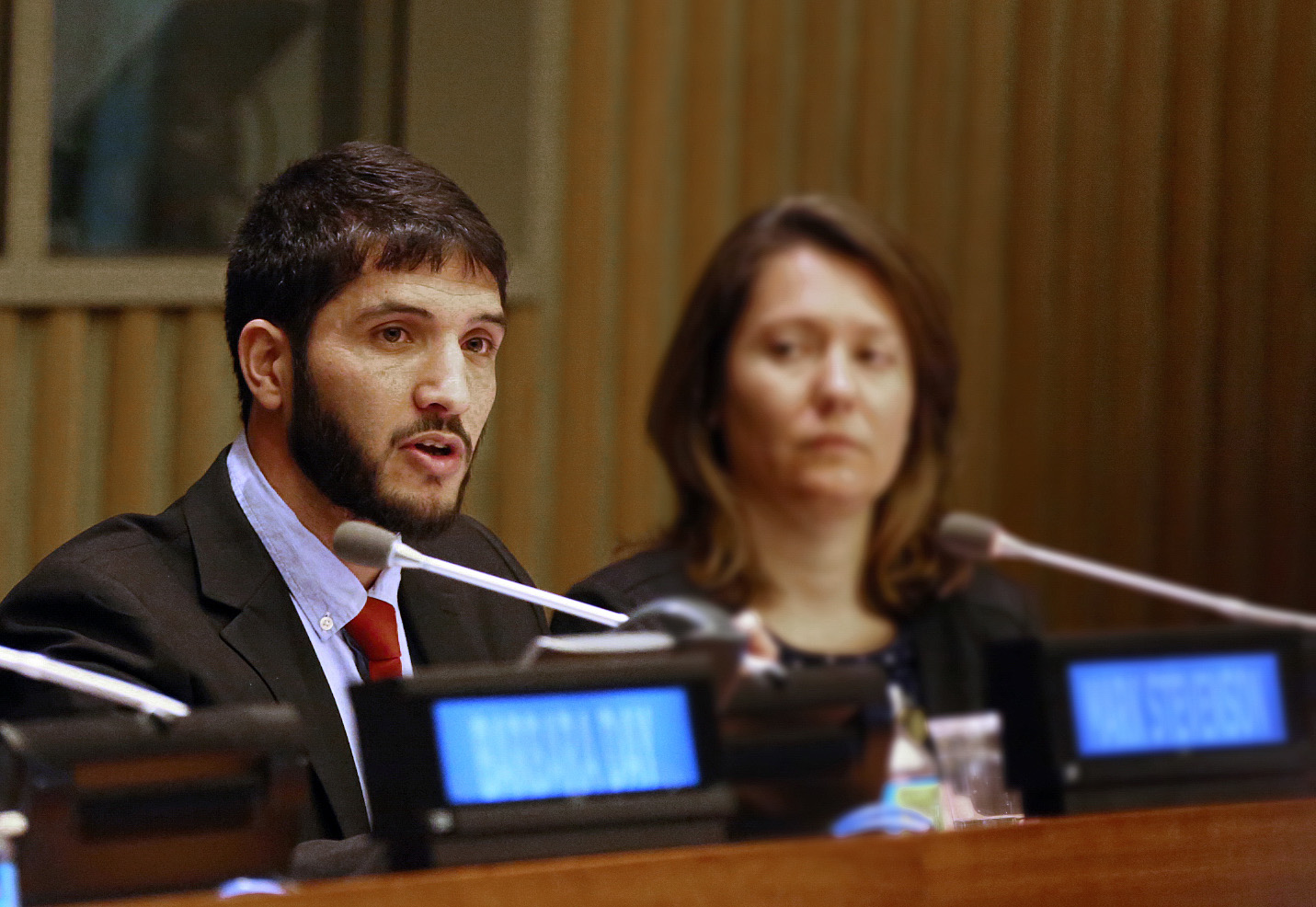 "Six weeks ago, I traveled to Uganda with UNICEF representatives to a refugee camp to observe a multi-party effort to address the needs of people from South Sudan and neighboring countries," she said. She said LDS Charities is collaborating with UNICEF to provide immunizations and educational services in Uganda.
Islamic Relief USA has had a long interfaith partnership with LDS Charities, said Anwar Khan, the organization's top executive. The agency also coordinates with many other faith-based groups, including the United Methodist Committee on Relief.
Its "Day of Dignity" program was started to help the homeless in America and later extended to assist the working poor as well.
"Now, we have Syrian refugees volunteering to help homeless U.S. Army veterans," Khan noted. "That is not the narrative you see on TV."
Born in Pakistan, Khan was the child of refugees who had fled ethnic cleansing in India. He grew up in England before moving to the U.S. in 1994.
He acknowledged that growing anti-Muslim sentiment has had an impact on Islamic Relief USA. "It's difficult when people are threatening to burn your office down," Khan said. Still, he added, "we have never seen so much love from our friends of other faiths as we have experienced this year."
The modern movement for refugee resettlement in the U.S. began in 1975 when 15 million people were welcomed in after the Vietnam War, said Barbara Day of the U.S. Department of State.
"TOGETHER" with refugees
Started on Sept. 19, 2016, during the U.N. Summit for Refugees and Migrants, TOGETHER "is a global initiative that promotes respect, safety and dignity for everyone forced to flee their homes in search of a better life."
The campaign brings together various organizations and member countries of the U.N., along with the private sector, civil society, academic institutions and individual citizens, in a global partnership to "support of diversity, non-discrimination and acceptance of refugees and migrants."
Day's primary job is to work with the nine official refugee resettlement organizations that are part of a public-private partnership established in 1980. Six of the agencies — Church World Service, Episcopal Migrant Ministries, Hebrew Immigrant Aid Society, Lutheran Immigration and Refugee Service, the U.S. Conference of Catholic Bishops and World Relief — are faith-based.
Any refugee receives the same basic goods and services "regardless of who is assisting them," Day explained. "Of course, faith-based agencies are famous for hands-on help. I would say the greatest gift is the gift of friendship."
Saboor said he realized the value of that gift of friendship after he and his family tried to start their lives anew and people repeatedly offered assistance. He wasn't aware of their congregations or faith groups, "but what I did learn by meeting this passionate group of people was that the community is willing to help people in need, and now I take pride in calling them my friends."
Inspired by the "exceptional and amazing" volunteerism in America, Saboor started volunteering himself for Interfaith Works of Central New York, which "affirms the dignity of each person and every faith community and works to create relationships and understanding" through education, service and dialogue. He is now employed as a match grant coordinator with the agency.
Bloom is the assistant news editor for United Methodist News Service and is based in New York. Follow her at https://twitter.com/umcscribe or contact her at 615-742-5470 or [email protected]. To read more United Methodist news, subscribe to the free Daily or Weekly Digests. 
---
Like what you're reading? Support the ministry of UM News! Your support ensures the latest denominational news, dynamic stories and informative articles will continue to connect our global community. Make a tax-deductible donation at ResourceUMC.org/GiveUMCom.