Edie Sunday of Saginaw, Texas, recalled being a teenager visiting Lake Junaluska Assembly in North Carolina after the 1968 merger that created The United Methodist Church and seeing black youth and white youth from the same hometown worshipping together for the first time.
"The tragedy of that era was that they were all Methodists but because of this stupid segregation thing, they had never even met." said Sunday.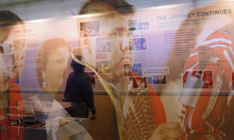 A walk through the Journey to Inclusiveness of The United Methodist Church exhibit at the 2008 General Conference sparked Sunday's memories of being a young Methodist in Kentucky, working with black youth in the area to prepare for the merger of the racially segregated units of the denomination.
"I remember we were in this meeting before the merger, and a white pastor stood up and said that it was against God's law," she said. She also remembers how the young people believed passionately in uniting and kept pressing on toward inclusiveness.
Seeing the exhibit, which tells the story of racial and gender exclusion and inclusion in the denomination, made Sunday happy to discover all the denomination had accomplished since the merger.
"I know it's not perfect, but I also know that we are going to get there by the grace of God," said Sunday.
Narrating the story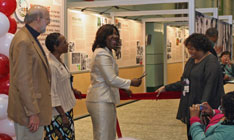 The Journey to Inclusiveness exhibit is co-sponsored by the United Methodist Commission on Religion and Race, the United Methodist Commission on the Status and Role of Women and the United Methodist Commission on Christian Unity and Interreligious Concerns. More than 100 photographs, video and audio clips narrate the story of the Methodist journey toward racial-ethnic and gender inclusion.  
"This exhibit is an exciting part of our overall contribution to the 2008 General Conference, along with our monitoring efforts and our 40th anniversary celebration," said Erin Hawkins, chief executive for the Commission on Religion and Race.
The multimedia exhibit is designed to imitate going through a tunnel. It begins with stories of Methodism in the 1700s and concludes with present-day images that reflect how inclusiveness relates to the denomination's four focal areas of ministry.
Visitors to the exhibit see images that show the struggle of women to find leadership in the denomination as early as the 1800s, when Anna Howard Shaw was the first female ordained in the Methodist Protestant Church and Jarena Lee was the first female preacher in the African Methodist Episcopal Church.
"I was most impacted by how far back we've had black and white women working together for equal rights, and as a Methodist, I like that," said Sunday.
The journey also captures the stories of Asians, Pacific Islanders, African Americans, Hispanics and Native Americans as they fought for years to find a place in the life and leadership of the denomination.
It particularly highlights the ups and downs of the 40 years since the creation of the denomination in 1968, when The Evangelical United Brethren merged with The Methodist Church including its racially segregated Central Jurisdiction to form The United Methodist Church.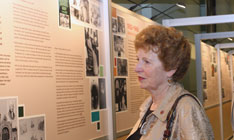 "I'm always struck by how much pain people have felt and how they've resisted despair and continued to work toward change. It takes such strength and reliance on God," said Harriet Bryan of Clarksville, Tenn., who went through the exhibit with a friend.
'The image of God'
Visitors can watch video clips of racial-ethnic and female members sharing their hopes and struggles. They can also listen to audio clips of sermons, reflections and significant events in the life of the denomination, such as the moment the 1968 General Conference voted on the merger. Enclosed cases contain books, brochures, magazines and other materials focusing on women and minorities in the denomination.
At the end of the exhibit, visitors are invited to enter one of two "human race machines" a computer morphing booth where visitors see what their facial characteristics might look like if they were of a different race.
"Looking at my face on the screen, I find that there's nothing really that divides us as Asian, black, Middle Eastern or any race," said Hyang Sook-Choi, a student at Garrett Evangelical Seminary in Chicago.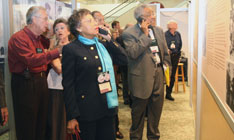 The exhibit creators hoped the race machines would help visitors "appreciate that there is very little that separates us biologically as people of different races and ethnicities, but there is much that unites us as followers of Jesus Christ and as the people called Methodist," according to one of the exhibit panels.  
"It was a reminder of how united we are. We are all made in the image of God," said Bryan.
'Nothing happens overnight'
The exhibit helped some visitors reflect on changes they hope United Methodists will continue making. David Wiggs of Enid, Okla., saw the exhibit and thought about how his church and community are still segregated even though they are making strides toward inclusivity.
"I would hope (members of General Conference) will take this back to their local churches and make efforts to cross barriers in their local communities," Wiggs said.
Skyler Nimmons of Columbia, S.C., said the exhibit was "eye-opening," helping him to learn a lot about "where the church has been and reflect on where the church is going."
"I was intrigued to see the leaps and bounds we have made to overcome," Nimmons said. "Especially in light of recent events at this General Conference, it makes me think about how far we still have to come and who we're closing the doors to still."
Nimmons said the exhibit gives him hope and reminds him that "nothing happens overnight."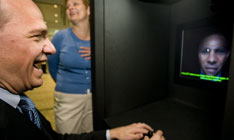 "The words, images and voices here ignite and inform our memories of trials, tragedies and triumphs throughout the history of this denomination. But they also speak to our faith, nurtured by that history, and to our church's hopes for a vital future that will be possible only if we continue faithfully to move forward on the journey to inclusiveness," said Bishop Linda Lee, president of the Commission on Religion and Race.
The sponsoring commissions intended for Journey to Inclusiveness to be a one-time exhibit opened throughout the duration of General Conference, but Hawkins said the Commission on Religion and Race is exploring the possibility of the exhibit being available to move through the denomination's upcoming annual conference sessions.
"I see this as not just encouraging but empowering because we know we've made some progress," said Sunday as she pointed toward the exhibit. "When we say (the General Conference theme) 'a future with hope,' this shows we have it."
*Rouse is a freelance writer in Nashville, Tenn.
News media contact: Ciona D. Rouse, e-mail: [email protected].
Phone calls can be made to the General Conference Newsroom in Fort Worth, Texas, at (817) 698-4405 until May 3. Afterward, call United Methodist News Service in Nashville, Tenn., at (615) 742-5470.
Video Story
Related Articles
Church celebrates 40-year journey toward inclusivity
Bishop Fisher preaches against 'sin of racism'
Resources
---
Like what you're reading? United Methodist Communications is celebrating 80 years of ministry! Your support ensures the latest denominational news, dynamic stories and informative articles will continue to connect our global community. Make a tax-deductible donation at ResourceUMC.org/GiveUMCom.