The pleas were heartrending, made by frightened people stranded by Hurricane Harvey, as rising floodwaters ravaged the Houston and Beaumont area.
"Elderly taking in water rapidly. Waist deep. Please assist." – 77-year-old man.
"Please help me and my 4-month-old, are in the attic." – 24-year-old man.
"Dialysis patient. Last dialyzed last Wednesday." – 85-year-old woman.
But help was on the way, thanks to the efforts of three young men, two of them lifelong members of Chapelwood United Methodist Church in Houston.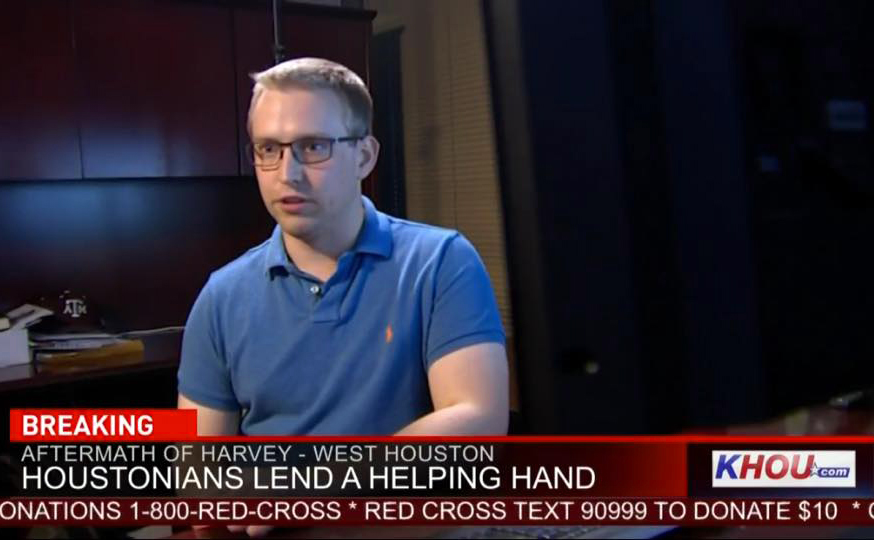 When flooding began on Saturday night, Aug. 26, Matthew Marchetti witnessed the chaos and confusion as he helped with rescue efforts. Houston's 911 system was completely overwhelmed; volunteer rescuers were arriving but had no way to quickly locate victims.
So Marchetti enlisted fellow Chapelwood member Oliver Carter. The two men share office space; Marchetti owns a tech business and Carter, a real estate business. Despite intermittent power and water leaks in the office, they quickly came up with a design for a web app, HoustonHarveyRescue.com. Nate Larson, a friend in Dallas, tackled the coding.
HoustonHarveyRescue.com works like Uber for disaster victims — locating people who needed rescue on a map, and connecting them with volunteer rescuers.
Flood victims entered their information — location, phone, the number of people in the home and their ages, pets and medical needs. Those reported as being in imminent danger appeared as red pins on the map. Once rescued, they were marked as "safe."
At the bottom of the site's home page, there's a passage from Psalms: "Rescue me from the floods, do not let me sink; deliver me from those who harm me, from the deep waters. Do not let the floodwaters engulf me or the depths swallow me up … answer me quickly, for I am in trouble."
By 6 a.m. the next day, HoustonHarveyRescue.com was up and running. A few hours later, the Cajun Navy, an informal network of boat owners volunteering with rescue efforts, posted the site on its Facebook page.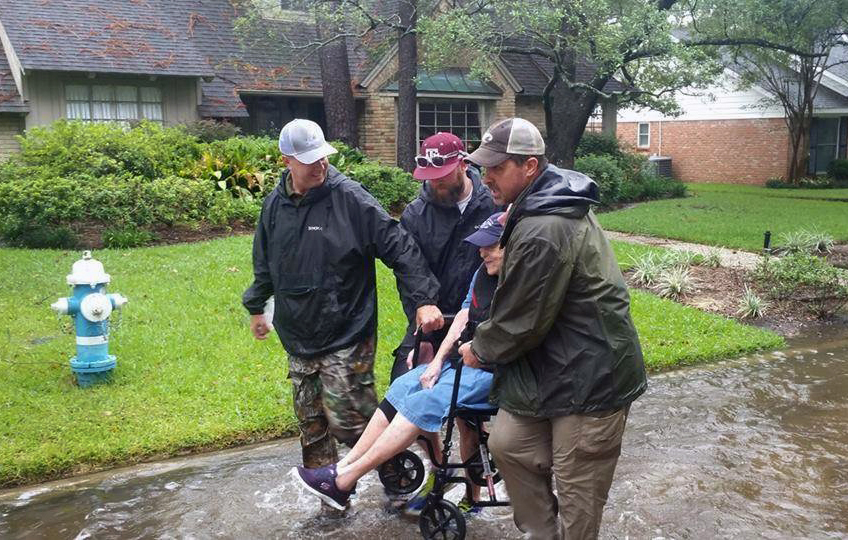 "That's when the site blew up," Carter said.
"I just lost it," said Marchetti. "I just cried for five minutes … I realized we're actually going to save some people with this."
Carter and Marchetti worked round the clock to keep the site up and running and to help dispatch rescuers.  Friends and other church members pitched in by bringing food to keep them going and calling residents listed on the site to update their statuses. By Wednesday night, Aug. 30, the site had more than 1 million hits. 
In addition to Cajun Navy, Marchetti and Carter also dispatched another fleet — affectionately dubbed the "Chapelwood Navy."
Although Chapelwood United Methodist sustained little damage, the building is located in one of Houston's hardest-hit neighborhoods. On Monday morning, Aug. 28, floodwaters stranded one of the church's families in their home.  First responders were too overwhelmed to respond, so the Rev. John Stephens, Chapelwood's senior pastor, and a few other church members took a boat out to retrieve the family.
"People started coming out of the woodwork," he said.  "We took about 25 people out that first morning. We'd go into a neighborhood to rescue one person, and end up running across multiple families needing help, so we'd go back to get them, too."  
More members and more boats joined the boat ministry — by Wednesday, Aug. 30, some 30-40 men and five boats were deployed. The rescue operation proved tricky and unpredictable. Many of those rescued were elderly, unable to walk, or reluctant to leave, even though in clear danger. In some places, the water was too shallow and boats would bottom out; in others, it was up to Stephens' shoulders. He's 6-foot-3.
"We knew it was going to be bad," Stephens said. "Well, it's worse." 
By Thursday night, Aug. 31, the waters began to recede. Chapelwood United Methodist is making plans for the recovery phase: collecting donated supplies, assembling flood buckets and forming work crews. Marchetti and Oliver — who'd slept only about seven hours since Saturday — could finally break for showers and a meal. All told, the site had handled 7,802 rescue requests.
"I have this constant, overwhelming feeling of gratitude for how much people have been coming together," Marchetti said.
The two men expect the information collected on the site can serve as a database of people affected by the flooding that will help with recovery and remediation. And they're already thinking about how the site might help other cities affected by disasters.
"We are going to try to come up with an open source solution, so that the next city that gets hit can deploy something like this," said Carter. "We have a lot of plans for this in the future."
Jacobs is a freelance writer living in Plano, Texas.
News media contact: Linda Bloom, (615) 742-5470 or [email protected]. To get more United Methodist news, subscribe to the free Daily or Weekly Digests.
---
Like what you're reading? Support the ministry of UM News! Your support ensures the latest denominational news, dynamic stories and informative articles will continue to connect our global community. Make a tax-deductible donation at ResourceUMC.org/GiveUMCom.