Key Points:
Camp Innabah in rural Pennsylvania, run by the Eastern Pennsylvania Conference of The United Methodist Church, is a mecca for adults with developmental disabilities and a break for their guardians.
Campers spend a week in the summer having the traditional camp experience, but tailored to their abilities.
Many of the Innabah counselors say they may get more out of the experience than the campers they serve.
---
Eric and Paige like the pool. Kelly enjoys singing "Fill My Cup" on karaoke night, while Rob likes his music more aggressive, preferring "I Love Rock 'n' Roll" by Joan Jett. Ryan looks forward to lazy time in a hammock."It's just getting away from the house and real world stuff," Ryan, 27, explains. In his daily life, he works for Walmart, delivering groceries to online shoppers waiting in the parking lot. "I like just to relax," he says with an impish smile. "Just to relax."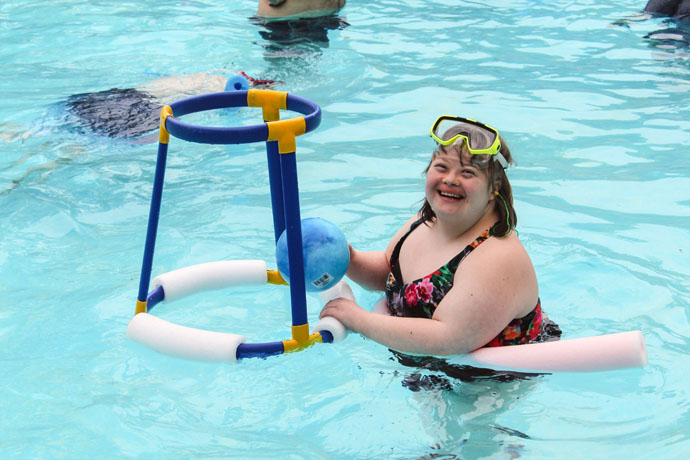 This Innabah Camp and Retreat Center in rural Pennsylvania, run by the Eastern Pennsylvania Conference of The United Methodist Church. Each summer the nearly century-old, 50-acre property offers eight Challenge Camps among its more conventional offerings.
It provides a structured vacation for adults with intellectual and developmental disabilities who are 18 and older, and also a break for their guardians at home. The campers run an obstacle course, do arts and crafts, have Bible lessons, canoeing and even archery.
"It feel like a kindness bubble," said Macy Lake, a college student and volunteer counselor. "There's only support, only support."
Another counselor, Joe Ward, said Challenge Camp is the favorite week of the year for many of the campers."We have campers that have been coming here for 40 years," Ward said. "This is usually a vacation week for parents. You feel really good about it, like you're doing something bigger than yourself."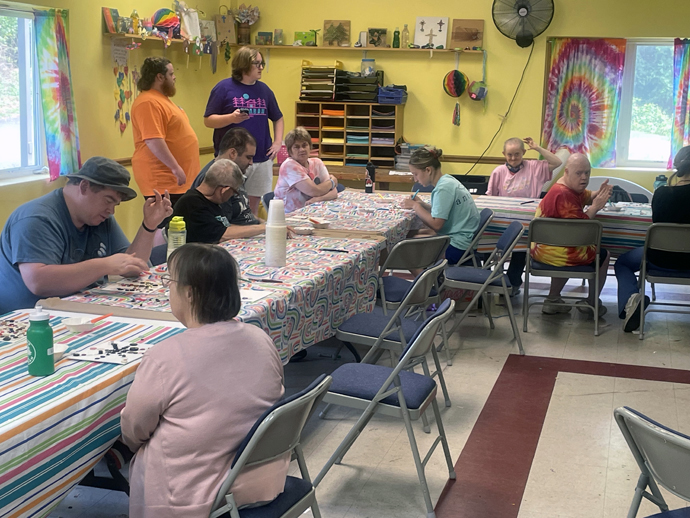 The Challenge Camps have been a fixture at Innabah for many years.
"We run eight different weeks of summer camp," says Samantha "Sammy" Charles, the assistant director at the camp. "They're all tailored to different types of physical ability."
About 6.5 million people in the United States have an intellectual disability, according to a 2019 study by the Centers for Disease Control and Prevention. A study by the University of Minnesota released the same year set the intellectual and developmental disability population at 7.39 million.
On a recent sunny day, the campers tried to navigate one feature of the obstacle course, walking the length of a long log without losing their balance. For Challenge Camp, the other campers line up on both sides of the log to help the walker make it through.
"Don't forget to breathe," one camper encourages a walker.
"I'm good, I'm good," the walker declares. Then he says, "Actually, I'm not" as he decides not to continue.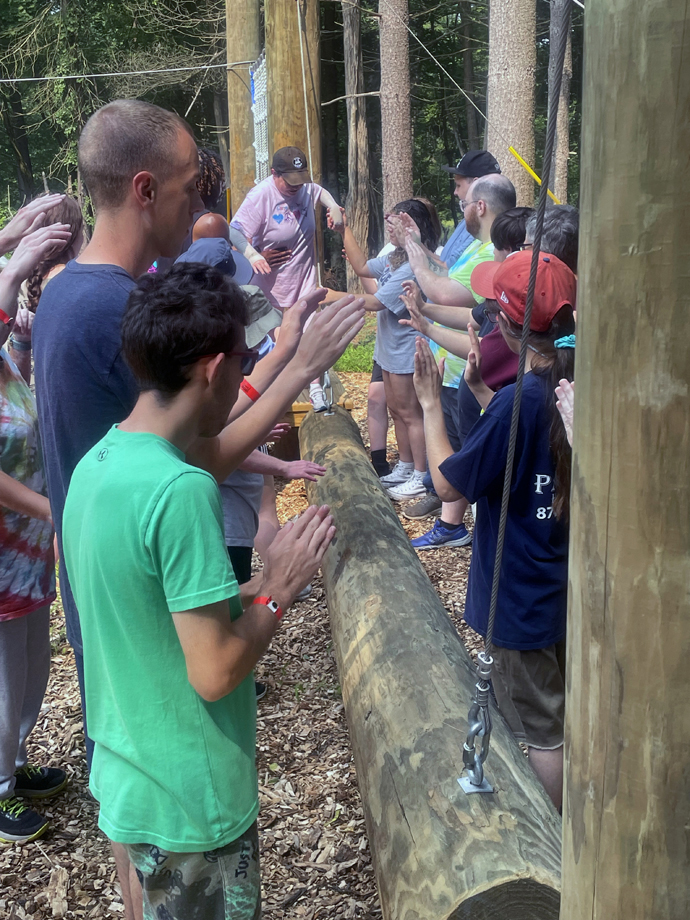 But there's no such thing as failure at Challenge Camp. The failed walker earns a round of applause and praise for a good try.
Many of Innabah's staff and volunteers are related by blood or friendship with Wendy Schroeder, who manages the kitchen in the offseason and volunteers as a program director in the summer. Schroeder started volunteering there as a teenager in 1984 after her pastor's wife suggested it.
"I was … going down the wrong path, but I was also really shy," she said. "That's probably why I had the wrong type of friends. I came here to this camp and I realized that these campers, they didn't care what I looked like, what I talked about or how shy I was.
"They just accepted me for me. I get more from them than they do from me."
Ward started out a recent camp day cleaning a bathroom.
"Yeah, this is not glamorous work," he deadpans. "The name of the game is patience. Sometimes you'll have to give a direction five times, sometimes 20 times."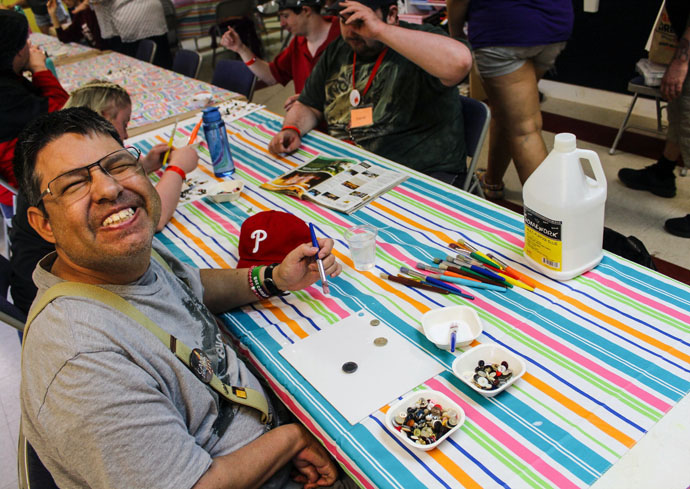 Some of the campers function well enough to have a job and live in a group home; some need more assistance.
"So it just depends," says Ward, a big bear of a man who, like most who work or volunteer at Innabah, consider it a life-changing experience. He was raised Catholic, but says now he is "a Methodist by osmosis" because of Innabah.
The Downingtown, Pennsylvania, native began working at the camp in 2006. Now he volunteers during the summer.
"I worked here for a bunch of years," he says. "Then I got a job at a school called CADES in Delaware County using exclusively my experience working here."
Ward comes back each summer because he "feels really good about it."
"It's fun for me," he says. "I get something out of it myself, so it's not totally selfless."
Subscribe to our
e-newsletter
Like what you're reading and want to see more? Sign up for our free daily and weekly digests of important news and events in the life of The United Methodist Church.
Adds Charles, "The campers see the joy in all the little things. It just makes you so happy, and you want to be around them. I've always just felt so happy and comfortable and inspired around them, and that's why I went into autistic support after college."
Lake, who is studying music education, gets to practice music therapy with the campers.
"I would do worship night," she says. "I played the ukulele. … They love learning tactile things, so I could hold down chords and they would strum — they love it."
Occasionally a camper is sent home if they misbehave or aren't coping well, but that happens rarely.
"That does happen," Ward said. "But we are extremely lenient, and we usually give them a chance. They would have to be pretty extreme for us to not give them a chance."
Tuition ranges from $200 to more than $500, depending on the camp and abilities of the camper.
"We hold different fundraisers throughout the year to fund scholarships," Schroeder says. "We don't ever want the lack of money (to prevent) them coming to camp. … A lot of the campers, their (government) agencies pay for them. A lot of them get assistance from outside of camp."
The campers can be honest to a fault.
Kelly, 36, is enthusiastic about camp activities like karaoke night, canoeing and campfires. But what about the Bible studies?
"Oh, I don't think so," she says. "Sorry."
Patterson is a UM News reporter in Nashville, Tennessee. Contact him at 615-742-5470 or [email protected]. To read more United Methodist news, subscribe to the free Daily or Weekly Digests.
---
Like what you're reading? Support the ministry of UM News! Your support ensures the latest denominational news, dynamic stories and informative articles will continue to connect our global community. Make a tax-deductible donation at ResourceUMC.org/GiveUMCom.