United Methodists celebrated new relationships with the Moravian Church and the Uniting Church in Sweden as they marked Ecumenical Day on May 17 at General Conference 2016.
The denomination also hosted numerous ecumenical guests, bestowed three ecumenical awards and received an award from Church World Service.
United Methodists have approved a "full communion" agreement with the northern and southern provinces of the Moravian Church in North America that recognizes each other's ministries and encourages witness and mission work together.
That decision came after the two denomination engaged in an official dialogue. "You find out many things about yourself as well when you talk with a dialogue partner," explained Glen Messer, a staff executive with the Council of Bishops' Office of Christian Unity and Interreligious Relationships, during a press conference. "You find out a lot about your similarities and your differences and have a real opportunity to grow in relationship with one another."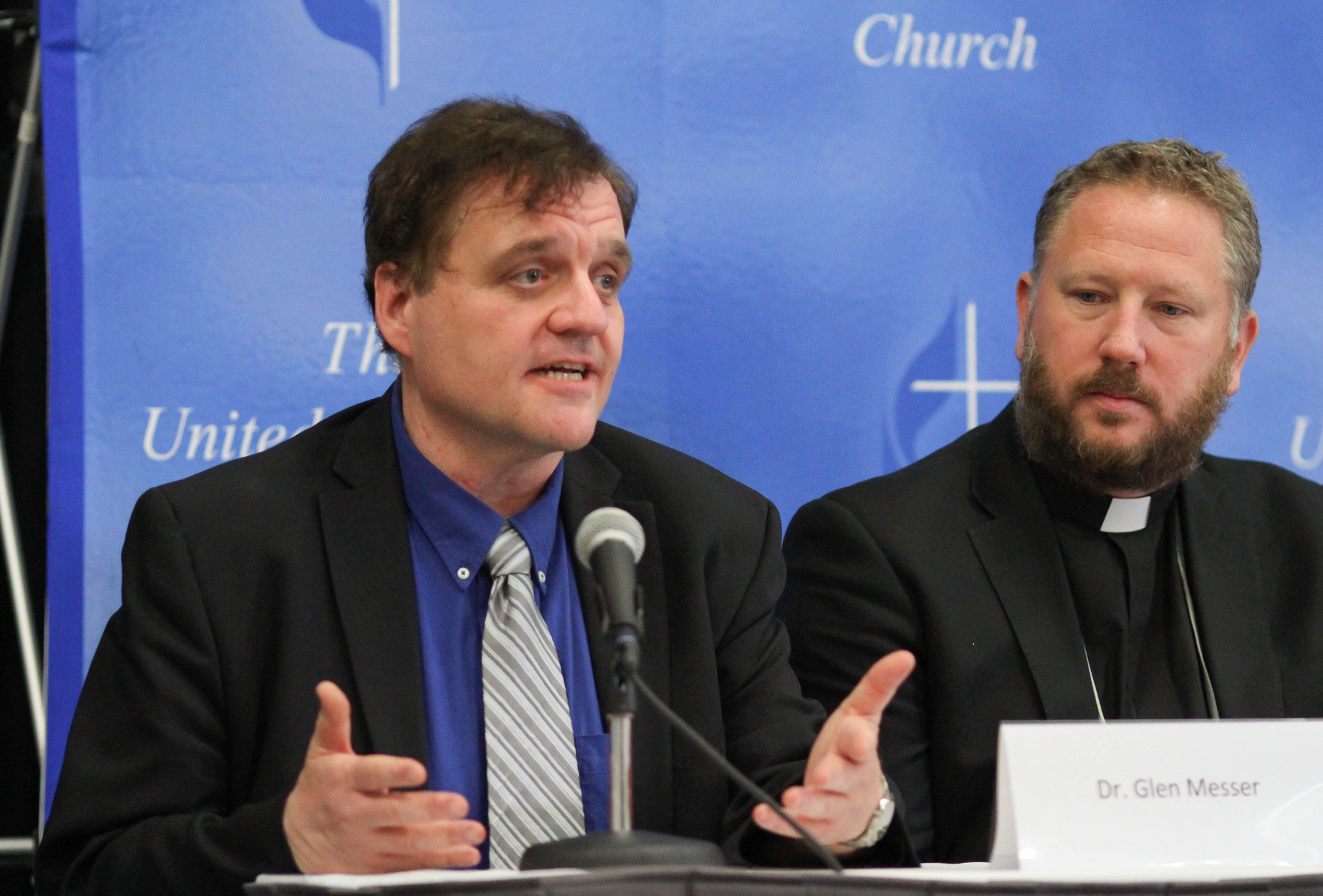 The Rev. J. Christian Giesler, who serves as both a bishop and pastor in the Moravian Church, noted the strong relationship that already exists between the two denominations. "This just makes official what's really been reality for going on 200 some years."
New England Area Bishop Sudarshana Devadhar, who was co-chair of the Moravian dialogue, also lauded the long-time connection between the two churches. "The Wesley brothers had a lot to learn from the Moravian brothers and sisters and I hope and pray that we will rekindle that spirit as we go forward," he said.
The Moravian synods will vote on the agreement in 2018, but Giesler said he had no doubt it would be approved unanimously.
United Methodists also have a full communion relationship with the Uniting Church in Sweden, which is a 5-year-old merger of The United Methodist Church, Baptist Union Church of Sweden and Mission Covenant Church of Sweden.
The 2012 General Conference approved the request from Swedish United Methodists to leave the denomination and form a new one, Nordic and Baltic Area Bishop Christian Alsted explained.
There was a time of grief saying goodbye to dear friends, Alsted said. But the move was supported by the Northern Europe and Eurasian Central Conference, which welcomes the new covenant. "Sweden is a half hour away from where I live," he added. "So that relationship is extremely important to us."
The Rev. Lasse Svensson, president of the Uniting Church in Sweden, also is pleased about the relationship since he formerly was a United Methodist pastor. The uniting church has 750 congregations with about 65,000 members.
Ecumenical Awards
During the morning plenary, three United Methodists were presented with the Council of Bishops' Ecumenical Award by Bishop Mary Ann Swenson, the council's ecumenical officer.
Diana Eck, professor of Comparative Religion and Indian Studies and Frederic Wertham professor of Law and Psychiatry in Society at Harvard University, was recognized for her academic work. It addresses the challenges of religious pluralism in a multi-religious society, and her contributions to ecumenical and interfaith understanding.
The Rev. Thom White Wolf Fassett, a citizen of the Seneca Nation and former top executive of the United Methodist Board of Church and Society, was honored "for his work to combat racism and build unity with indigenous people." White Wolf Fassett led an advisory council for the General Conference 2012 Act of Repentance, "Healing Relationships with Indigenous People."
Bishop Mortimer Arias, the first bishop of the Bolivian Methodist Church until forced into political exile in 1980, was recognized for his social justice ministry and his evangelistic vision of giving "the whole gospel, for the whole person, for the whole society, for the whole world," the council said.
During the Council of Bishops luncheon that followed, a response to the award was read from the 92-year-old Arias, who was unable to travel from his home in Uruguay.
"Everything I am, everything I have and receive is due to God's grace," he wrote. "May you go on announcing the Reign of God to a world in need of justice, peace and love."
Eck encouraged everyone present to build connections, even unlikely ones. "We do not have to begin with unity, we have to begin … with differences, with diversity, and move from there."
Fassett agreed that ecumenical cooperation remains imperative. "In the day that we find ourselves defining differences between our faith practices, I am encouraged to see we are continuing to identify our diversity as our strength, which no single faith can accomplish," he said.
CWS honors United Methodists
The Rev. D. Earl Trent Jr., chairman of the Church World Service board of directors and a member of both the Alliance of Baptists and the Progressive National Baptist Convention, presented the CWS Ecumenical Award to the Council of Bishops on behalf of the ecumenical relief organization.
Joining the presentation were two United Methodist staff leaders with CWS — the Rev. John McCullough, chief executive officer and a member of the United Methodist New England Conference, and the Rev. Russell Pierce, senior director of funds development and a member of the Western North Carolina Conference.
The award recognized the Council of Bishops and its Office of Christian Unity and Interreligious Relationships, Boards of Global Ministries and Church and Society, United Methodist Committee on Relief, United Methodist Women and the denomination's congregations and members for its support of mission work to:
Eradicate hunger and poverty, especially through CROP walks and other CWS initiatives;
Create rights-based development work centered on food and water security;
Assist children in their educational pursuit and their parents in achieving sustainable livelihoods;
Collect material resources and distribute kits worldwide;
Collaborate on domestic disaster long-term recovery training and partnerships in international disaster response.
Bloom is a United Methodist News Service multimedia reporter based in New York. Follow her at https://twitter.com/umcscribe or contact her at (615)742-5470 or [email protected]. Gladys Mangiduyos contributed to this report.
---
Like what you're reading? Support the ministry of UM News! Your support ensures the latest denominational news, dynamic stories and informative articles will continue to connect our global community. Make a tax-deductible donation at ResourceUMC.org/GiveUMCom.