Well before Ebola began ravaging their country, elderly Liberians were feeling vulnerable because of changing family structures.
"Our people used to live together – mother, father, children and grandchildren. But the cost of living, combined with the demands on professional schedules, has changed all of this," said  Moses B. Kiadii, a member of the Coalition of Caregivers and Advocates for the Elderly (COCAEL) in Liberia.
Kiadii added: "Then came Ebola. It wiped out entire families, but in some cases, it carried away the primary bread winners, leaving many vulnerable persons, primarily orphans and the elderly, who struggle to find a single meal for the day."
The United Methodist Church in Liberia has a long record of responding to the needs of the elderly, having started a Ministry to the Aging program in 2005.
The Rev. Anna S. Kpaan, who heads the program, said her grandmother's love instilled in her an appreciation for older people.
"My grandmother raised me.  Although my mother was also living with us, the protection, nurturing and upbringing was from my grandmother," Kpaan said. "As a result, whenever I am with an elderly person, I feel that I am their daughter.  There is so much blessing and wisdom [to be gathered] from caring for the elderly."
HOw to give
To support the Ministry to the Aging, please contact the Rev. Anna S. Kpaan [email protected] and the Rev. Jerry N. Kandea [email protected].
In addition, support can be sent through the Advance No. 3020646 at the United Methodist Board of Global Ministries, noted as specifically for the Ministry to the Aging.
Donations to the project can also be made online through the Advance. 
Loaves and fishes
When I joined Kpaan and her staff and volunteers for a food distribution, I learned that, like Jesus, she frequently has to make meager rations feed multitudes. They had 10 bags of rice, 50 pounds each, to distribute to a crowd of about 130 persons – the majority of whom were old. The crowd also included people with disabilities. Instead of the blessing of five loaves and two fish, I watched as Kpaan and her team provided Ebola education to the crowd seated on the bare hot pavement outside the conference office. She and her volunteers divided the rice to provide about five cups for each person in the crowd, which seemed to keep growing.
One recipient, 80-year-old Pa Ben Daway, said this rice ration helps sustain him, particularly as Ebola has made economic times tougher. Pa is the abbreviation of Papa – a title and term of endearment used for all elder males in this society.
Unlike many elderly who have lost children or been abandoned by family, Daway lives with his three daughters, but none of them has been able to find formal or consistent employment. So when the Ministry to the Aging is distributing food, he leaves home by 5 a.m. to walk about three miles to the conference office, usually arriving right before food distribution begins around 9 a.m.
"With these 5 cups [of rice], I can eat it small-small [little by little] to stretch it out over nearly a week," he said. "At my age, I cannot work and no one would hire me. If we [the elderly] cannot access these services, it would mean severe suffering and sometimes death from hunger by some of our friends." 
A few other private faith-based initiatives normally would give out food to the elderly and persons with disabilities, but most suspended operations during the height of the Ebola crisis.  The United Methodist Church is one of the few organizations – if not the only one – providing services for the elderly within the Sinkor area of Monrovia.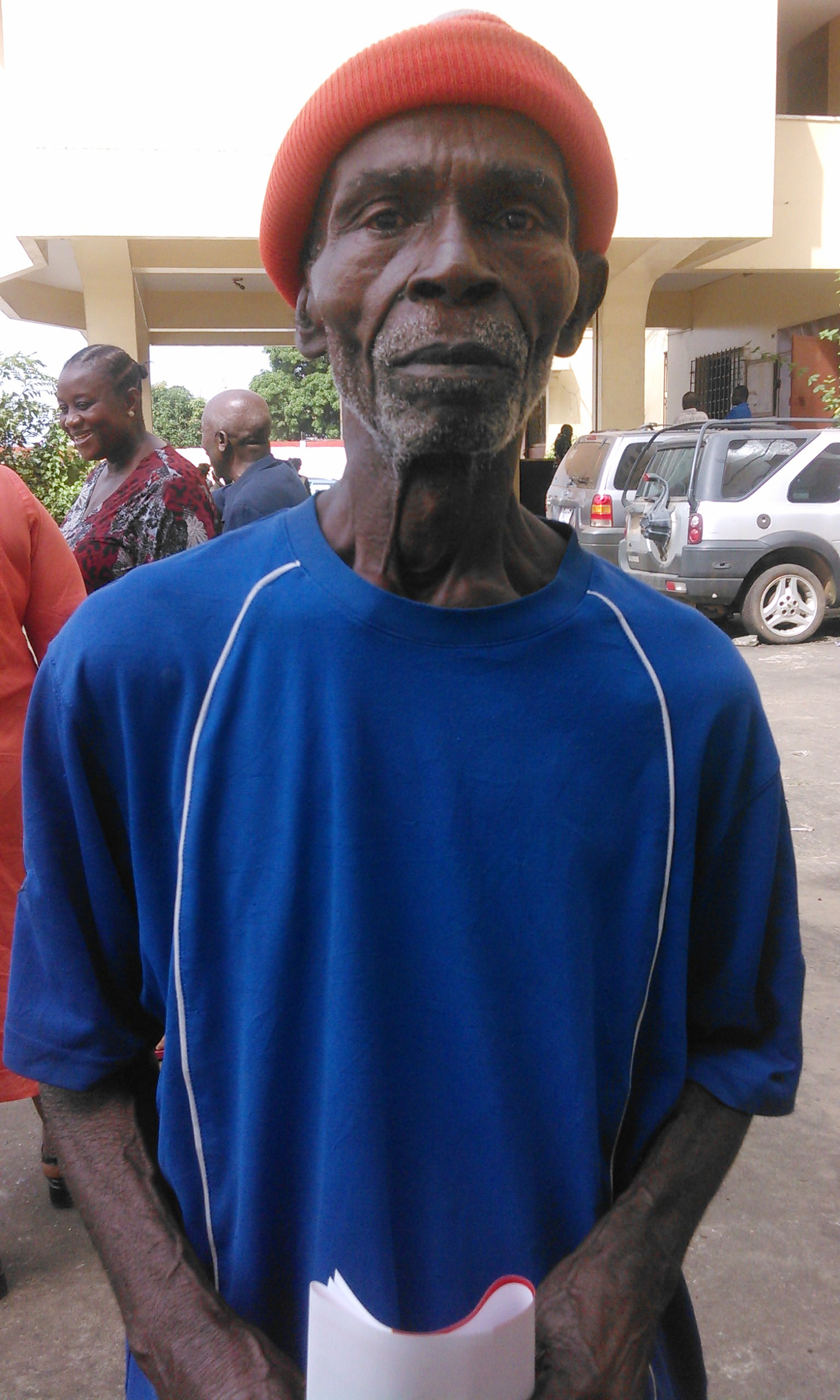 Ebola's impact on ministry
Kpaan and her associate, the Rev. Jerry Kandea, report that the Ebola crisis had had an even greater effect on a program sustained primarily through private donations.
"The National Task Force established by the government for Ebola does not address any geriatric or elderly concerns," saids Kandea.
Help from Operation Classroom in Indiana and the Holston Conference in the United States, local donations through the nonprofit group Christian Aid Mission, and private and church donations through the Advance have kept this program going.
But Kpaan knows the program needs to do more, in part because government can't be expected to meet all the needs.
Liberia is only now seriously trying to implement a social security policy, but the vast majority of the aged will not get it. And there are no health care coverage systems in place, like Medicare or Medicaid.
Thus Kpaan has joined forces with a few other religious based-civil society groups and churches to form COCAEL, with the goal of addressing the needs of the elderly and the marginalized.
Challenge and blessing
COCAEL's primary objectives are joint advocacy and lobbying with government entities and private society to introduce the concerns for the aging population within national plans and budgets. The organization also hopes to expand its reach in services to provide counseling for elderly who have been abandoned or lack family and to place them within homes with host families who would be able to care for them, with ongoing support from COCAEL and supporting partners.
The group would also like to establish livelihood programs for elderly who can still work. That would let them generate income to support themselves, as well as provide funds for the feeding program. For now, it remains a daily challenge and a blessing – as I am reminded by Kpaan – to be able to serve those perceived as the least within our society.
Dunbar, founder of Sankofa Inc. Agribusiness and former program manager in Africa for United Methodist Committee on Relief, is based in Liberia.
News media contact: Vicki Brown, news editor, [email protected] or 615-742-5469.
---
Like what you're reading? Support the ministry of UM News! Your support ensures the latest denominational news, dynamic stories and informative articles will continue to connect our global community. Make a tax-deductible donation at ResourceUMC.org/GiveUMCom.