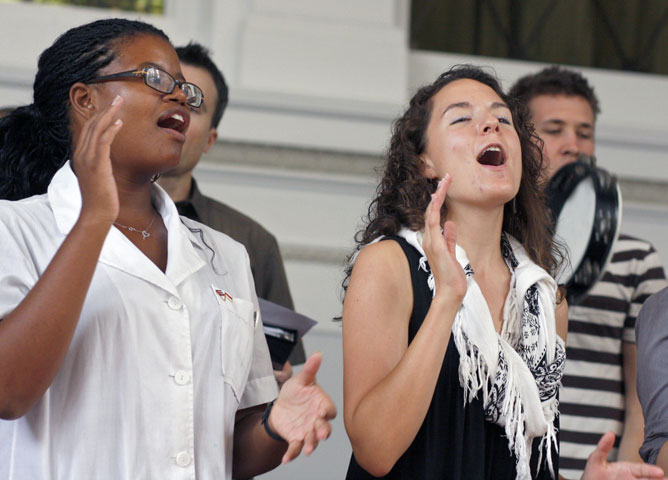 As people started coming back to New Orleans, decisions were made to merge, close or recreate congregations. the Rev. Shawn Anglim was starting to see the possibilities in combining First and Grace.
Some thought the bishop was trying to force mergers, Anglim said, but he was creating a space for something new.
"Eventually, it was just clear to me the door was being opened," said Anglim, now pastor of First Grace.
He polled members of both First and Grace churches and posed the question: "Do you think we can do more for our city as one body of Christ than we will ever be able to do as two bodies, one mile apart?"
There were a lot of tears, but everyone knew the right answer, he said.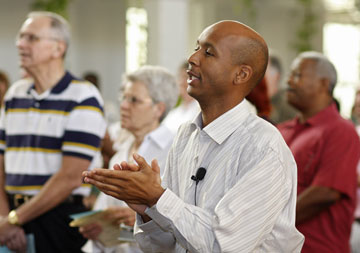 Ronald Southall sings during worship.
Grace
One of the first people Anglim approached with the merger idea was Margaret Ferguson Washington, who had been a member of Grace for 32 years and was a strong lay leader.
"I wanted something more stable. When Pastor Shawn approached us with the idea of a merger because we had two small churches less than a mile apart, I thought that was a very good idea," she said.
Merdes Troullier, who joined Grace in 1965, said after Katrina membership dropped to about 30.
The idea of merging was hard at first. "But I got an open mind. It has been the best thing that ever happened to us," Troullier said.
Attendance since the merger has steadily increased from about 47 to more than 200. On a recent Sunday, the church welcomed nine new members.
"It has grown by leaps and bounds. I think it is a reflection of New Orleans," Washington said.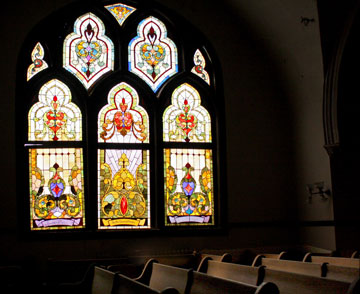 Light shining through stained-glass windows casts shadows on the empty pews inside Grace United Methodist Church.
First
At 184 years old, First United Methodist Church is even older than Grace.
Marilyn Osborn, the secretary for First Grace, joined First in 1946 at age 17.
When she evacuated the area for Katrina, Osborn was sure church would only be canceled for one Sunday and she and her husband would be back within three days.
"We took off on Aug. 28 and came back on Oct. 3," she said. "This church had 5 feet of water over the entire first floor; we lost everything."
After the storm, attendance at First fell from around 100 to a dozen.
It is the "new" people who were not at First or Grace before the storm that have given First Grace its joy, members said.
First Grace
One of the most enthusiastic new members is Stephanie K. Martin, who is the official greeter.
"I believe when a person comes through those doors we want them to feel welcomed and we want them to feel loved. I strive to do that every Sunday. It is not fake. It is for real."
Martin credits First Grace with the peace she has in her life.
She did not live in New Orleans before or during Katrina. She and her sons were on a streetcar passing First Grace one Sunday when they saw the gathering outside the church.
"My son saw a mixed group of people and he wanted to try it. I, of course, said that is an all-white church, and we can't go there. I'm not going to expose you to that." But he insisted.
As a single mother, Martin said the church has been a blessing to her son, providing him with an extended family of aunties and male role models.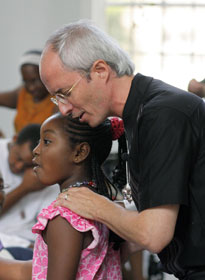 The Rev. Shawn Moses Anglim blesses Raven Firmin.
Striking the right note
"When we get together and talk about Shawn behind his back we all say he pushes you but he doesn't push you to do anything you can't do," Martin said. "That's trust. It doesn't make sense, we don't make sense, this city has so much racial disharmony it is ridiculous. So we are not logical."
Maybe not. But the congregation is joyful.
"You'll always get that joy on Sunday," Anglim said. "But your faith journey will have to become a real journey at First Grace because the diversity is real."
What happened to New Orleans was horrific, Anglim said. People lost everything. Yet what you feel now is there is so much possibility.
"We've been baptized by Katrina," he said.
"The name represents the church. It is what it is ... nothing but a bunch of grace, nothing but a bunch of love, nothing but acceptance to be who you are," said Martin with a smile.
*Gilbert is a multimedia reporter of 18-34 content at United Methodist Communications, Nashville, Tenn.
News media contact: Kathy L. Gilbert, Nashville, Tenn., (615) 742-5470 or [email protected].
Video
UMTV: New Church After Katrina
Multimedia
Related Video
Resources
---
Like what you're reading? Support the ministry of UM News! Your support ensures the latest denominational news, dynamic stories and informative articles will continue to connect our global community. Make a tax-deductible donation at ResourceUMC.org/GiveUMCom.