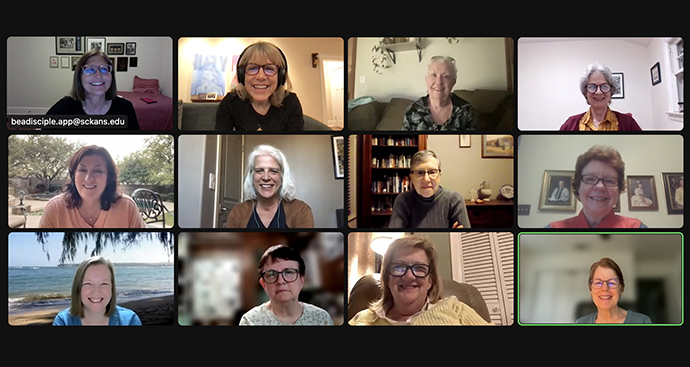 Key points:
Since its launch in 1987, Disciple Bible Study has drawn more than 3 million participants.
Once limited to in-person gatherings, Disciple now invites and encourages people to complete daily readings on their smartphones, tablets and computers and attend weekly meetings from anywhere in the world.
Digital versions include Disciple Fast Track I, a 24-week sweep of the entire Bible, and Disciple Fast Track II, a 24-week study of Genesis, Exodus, Luke and the Book of Acts.
---
For years, Beth Ludlum wanted to join a Disciple Bible Study group, but couldn't make it work because she travels frequently for her job as vice president of strategic initiatives at Wesley Theological Seminary.
She found a solution: the new BeADisciple Study App. Not only could Ludlum complete all the daily readings on her smartphone — without lugging around a manual and a Bible when she traveled — she also could attend weekly meetings from the road.
"Because it was on an app, and I could do it literally from anywhere in the world, that made it possible for me to engage in Disciple," she said.
Ludlum was an alpha tester (first adopter) for the next generation of the popular Disciple Bible Study. Disciple has drawn more than 3 million participants since its initial release in 1987.

Beta testing of the app begins Aug. 1, with a full rollout scheduled for 2024. The app was created by the Richard and Julia Wilke Institute for Discipleship to be a digital marketplace for small-group curriculum. To launch the app, the nonprofit institute partnered with the United Methodist Publishing House to create digital versions of two UMPH studies: Disciple Fast Track I, a 24-week sweep of the entire Bible, and Disciple Fast Track II, a 24-week study of Genesis, Exodus, Luke and the Book of Acts. Many more studies of various lengths and subject matter will eventually be available on the app.
Test the new app
Beginning Aug. 1, a beta version will be available on the App Store or the Google Play Store for download via smartphone, tablet or computer. The app is free, but participants must purchase their selected course(s). As early adopters, users of the beta version will be surveyed two to four times during the course for feedback, enabling developers to continue to refine the app. The institute hopes to recruit at least 500 groups for fall classes. To learn more, visit BeADiscipleApp.com.
Following Disciple's traditional format, participants join small groups of eight to 16 people for Bible reading, commentary and video presentations from scholars, as well as shared reflection and prayer. With the app, however, participants can now access the materials — lessons, commentary, video presentations and the Scripture reading — from their smartphones, tablets or computers.
Users read the commentary and Scripture on the app via text or audio, allowing them to complete daily assignments while exercising or driving, and answer study questions via text or voice-to-text options. The entire text of the Common English Bible is embedded in the app.
Groups meet once a week for 24 weeks via an embedded Zoom feature, which eliminates the need to create a Zoom link or find a passcode to join the Zoom. Groups may also opt to meet in person, with participants using the app to complete their homework during the week.
During the week, group members stay in constant connection by sharing ideas, photos and videos via the app's private message board, as well as prayers via a private prayer-request board.
The prayer feature was especially meaningful for Patricia Tristan, another alpha tester and a student at Garrett-Evangelical Theological Seminary in Evanston, Illinois. When she traveled in September to visit her mother in Puerto Rico shortly after Hurricane Fiona, she asked her group members for prayers. Immediately, they jumped in with words of support.
"It was good to know that people were getting my request right away," she said. "You just click on the prayer feature to add a prayer request or to see what other people are asking for prayers. Scriptures come alive when you're sharing life together, when you're sharing struggles and joys."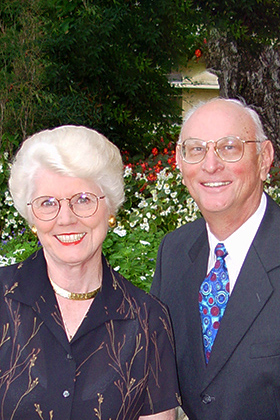 Bishop Richard Wilke, now 92, and the late Julia Wilke, are the original authors of Disciple Bible Study, which has drawn more than 3 million participants since its initial release in 1987. Photo courtesy of the Richard and Julia Wilke Institute for Discipleship.
The prayer thread has been a big hit with the alpha test groups, added Susan Wilke Fuquay, digital curriculum developer for the app and the daughter of Disciple's original authors, Bishop Richard Wilke, now 92, and the late Julia Wilke.
Before the app, "You might've prayed in your group for someone who had a job interview, or whose mother was dying, but unless you remembered to call or had an email thread, you didn't get an update until the next week," Fuquay said. Now, participants can post prayer requests and respond to others' requests 24/7.
That worked well for members of Ludlum's group, who were in Kansas, Illinois, North Carolina and Arizona. Over the course of the study, she joined meetings from wherever she was: from her home and office in the Washington, D.C., area; from hotel rooms in Indianapolis and North Carolina when she traveled for work; and from her parents' home in Kansas.
"I was surprised at how quickly we got to know each other …, even though we were all coming from different places and different time zones," Ludlum said. "You really got to know people's faith lives, their prayer journeys, the things they were struggling with or the things they were excited about."
Additionally, the option of virtual meetings means that people who might otherwise drift from a congregation — snowbirds, new parents, those who are homebound or who move to another city — can participate.
"Here's a wonderful chance for people in different locations to stay connected," said retired Bishop John Hopkins. "You may have a daughter in college who'd love to be in the church's Disciple Bible Study, and now she can be."
One aspect that made the original Disciple program so revolutionary in 1987 was its use of video — at the time, viewed on VHS videotapes. Each class meeting began with a brief video presentation, with a recognized theologian providing accessible commentary on the week's reading.
"For the app," Fuquay said, "we wanted a more global feel, so we created all-new video presentations by 24 scholars from literally all over the world."
In addition, the app features 120 people from around the world reading each daily Psalm in their own languages, a reminder to participants that they are joining Christians globally in study and prayer.
Curriculum writers, editors and scholars also have updated, expanded and revised the material to incorporate more inclusive language and to reflect recent scholarship.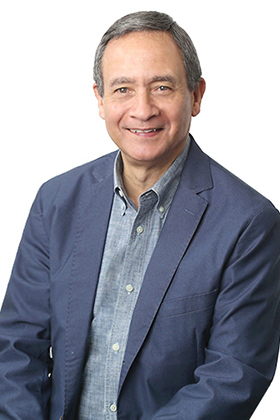 Neil Alexander, chief financial officer of the United Methodist Publishing House. Photo courtesy of the Richard and Julia Wilke Institute for Discipleship.
Over the years, Disciple has transformed congregations, according to Neil Alexander, former publisher and current chief financial officer of the United Methodist Publishing House.
"There's nothing in my 34 years in the publishing house that has had as sweeping and pronounced an impact on congregations and their sense of purpose than Disciple," he said. "In many congregations, Disciple created a common base of experience for conversation about the theological character of the congregation. That empowered many laypeople."
Disciple occupied a unique niche among Bible studies because it gave participants access to scholarship of top theologians, providing a fuller and more complete context of the Scripture.
"By studying the entire Bible, this big, mysterious book became approachable and comprehensible," Alexander said. "Participants could see the sweep and scope of the narrative."
Anecdotally, he added, many people who completed Disciple were called to ministry, inspired to attend seminary or otherwise led to expand their involvement in mission.
Sarah Wilke, director of global relations for the institute, hopes the BeADisciple Study App will ignite yet another surge of interest and participation. Churches are struggling after the pandemic and in the wake of disaffiliation, she said. The app can help churches to rebuild and reconnect.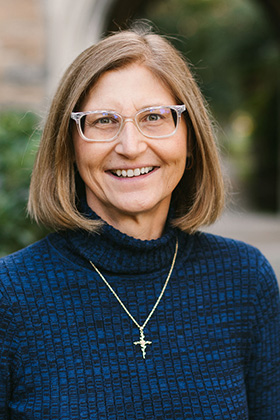 Sarah Wilke, director of global relations for the Richard and Julia Wilke Institute for Discipleship. Photo courtesy of the institute.
"What brings people back to the pew is community," said Wilke, who is also a daughter of Bishop Richard and Julia Wilke. "If you're seeking to connect to a community of faith and grow in your understanding of Scripture, the BeADisciple App is a place for you."
Wilke also hopes that Disciple's approach to Bible study might offer common ground at a time when many people are polarized.
"Disciple has never tried to tell you what to think," she said. "Instead, it helps you learn different perspectives on how to think. We're not changing that."
Hopkins agreed.
"One of my hopes is that this app will help us overcome the divisions and the crazy boxes we put around one another that say, 'If you believe this, you're right, and if you believe that, you're wrong,'" he said. "Disciple Bible Study shows that it's OK to have different opinions about the Scripture, but it's not OK to not love and serve in the name of Christ."
Ludlum also sees the app's potential for renewal.
"Faith formation doesn't happen in one hour on Sunday morning," she said. "It happens when we journey as a community throughout the week. The more people can have connection with one another and to Scripture, the more the church's ministry is strengthened and people are mobilized to do good in the world."
Jacobs is a freelance writer based in Plano, Texas. News media contact: Julie Dwyer, news editor, [email protected] or 615-742-5469. To read more United Methodist news subscribe to free Daily or Weekly Digests.
---
Like what you're reading? Support the ministry of UM News! Your support ensures the latest denominational news, dynamic stories and informative articles will continue to connect our global community. Make a tax-deductible donation at ResourceUMC.org/GiveUMCom.