Responders who rushed to the mass shootings in Newtown, Conn., will be the first to receive a new daily devotional designed specifically for first responders but patterned after a manual that has given comfort to countless U.S. military since World War II.
United Methodist Men will present the first copies of Strength for Service to God and Community to 250 first responders to the mass shootings at Sandy Hook Elementary School where 20 children and six adults were killed Dec. 14, 2012.
About Strength for Service
A new nondenominational nonprofit organization started by United Methodist Men will be responsible for distributing the Strength for Service devotionals for U.S. military and first responders.
Local United Methodist Men groups are urged to facilitate the circulation of the first responder devotional by getting local churches and business to underwrite the cost.
The executive committee of the National Association of Conference Presidents of United Methodist Men allocated $1,500 to pay for the books to go to Newtown, Conn., first responders during a meeting Feb. 28.
A benefactor has given $10,000 to provide copies of the devotional guide to 1,700 first responders in the Nashville area.
Strength for Service to God and Community contains 365 one-page devotionals written specifically for firefighters, police officers, emergency medical technicians and others who respond to everyday tragedies. It is a ministry of the Commission on United Methodist Men, an agency of The United Methodist Church.
First responders in Connecticut still are hurting and Strength for Service can help them deal with the tragedies of Sandy Hook, said Daniel B. Ramsey, a 30-year retired veteran of the Houston Police Department, who heads the National Association of Conference Presidents of United Methodist Men.
"This is real life. It's not pretty sometimes. It's not pretty a lot. But it's the reality of what happens in our communities. It's the realities of what we see that happens throughout this country and throughout the world," Ramsey said. "This book will make the greatest impact in helping to heal old wounds that these first responders have received. I know that it will be in my pocket for a long time."
Each day's reading, which includes a Bible verse and prayer, describes incidents that are familiar to emergency personnel who respond to tragic events.
What the devotionals say
As an example of what the book contains, here is the devotional for August 19:
Makes us both stronger

Pleasant words are like a honeycomb, sweetness to the soul and health to the body. - Proverbs 16:24

Sheriff's Officer Troy Ugrich in Minnesota said his big sister, Darlene Troumbly, is his hero. She is a corrections officer. "I work to keep the streets safe as a Road Deputy and arrest the bad guys and she books them in for me," Troy said.

One morning she had to check on an inmate with a history of drug abuse and mental illness. "From the moment I opened that door, the look in his eyes was like no other. I've never seen that before," Darlene said.

The inmate lunged at her. First, she used verbal commands, but the prisoner didn't stop. Next, she fired her Taser. "Everybody drops, but he kept coming," she said.

A group of deputies ran to the cell. "He threw me against the shelf quite a few times. Tried to get me down on the ground," she explained.

Another officer fired a Taser. When he finally fell, Darlene remembers, "He mouthed to me that he was going to kill me."

She and her brother talk frequently about that day. "You just fight, fight, fight until you win, and that's what she did. But when things turn ugly, determination is paramount with one thought: 'This isn't going to happen to me.'

"Her training and my training and us talking about the situation makes us both stronger," Troy said.

Being able to talk about the realities of public service is crucial to emotional survival. In your own service, be sure you are talking and processing what happens to you and how you feel. It's what family is for and can keep you healthy.

HEAVENLY FATHER, help me to know when I need to open up and share and also when to listen to others, but help me remember to tell You everything.
Newtown served first responders day of shooting
Newtown United Methodist Church at Sandy Hook, which is within walking distance of the elementary school, served as a respite center for first responders and others.
The Rev Jane Sibley, the congregation's visitation minister, offered a prayer for the first responders during the interfaith service at Newtown High School on the Sunday after the Friday shootings. She asked God "to walk with them in the days ahead" and provide them with "people to listen to their stories."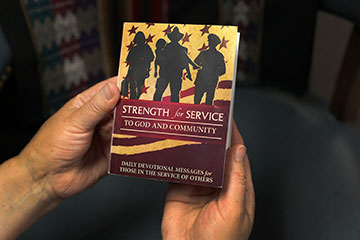 A revised edition of the "Strength for Service to God and Community" devotional guide will be presented to first responders. A UMNS photo by Kathleen Barry.
The Strength for Service for God and Community books are expected to be presented to the Connecticut first responders this spring, said L.W. Smith of Columbia, S.C., who serves as task force chair for the project. Local United Methodist men's groups will make copies available for distribution to other emergency personnel around the United States.
The original devotional book, called Strength for Service to God and Country, was published in 1942, by what is now the United Methodist Publishing House and was distributed to soldiers in World War II and later the Korean conflict.
A 15-year-old Boy Scout from California, who had seen his grandfather's copy of Strength for Service to God and Country, worked to get an updated version of the book published as his Eagle project, which was completed just before the terrorist attacks on Sept. 11, 2001.
The Commission on United Methodist Men, the church agency responsible for scouting, helped Eagle Scout Evan Hunsberger raise money to provide copies for soldiers fighting in Iraq and Afghanistan. An additional 40 devotions by contemporary religious and civic leaders were added, and, to date, more than 460,000 copies have been distributed to military personnel fighting against terrorism.
For more than 12 years, Strength for Service to God and Country has been an integral ministry of United Methodist Men. United Methodist congregations have contributed about $1.9 million toward the distribution of the books to soldiers fighting the war against terror.
*Tom Gillem is a freelance writer and photographer in Brentwood, Tenn.
News media contact: Maggie Hillery, Nashville, Tenn. (615) 742-5470 or [email protected]
---
Like what you're reading? Support the ministry of UM News! Your support ensures the latest denominational news, dynamic stories and informative articles will continue to connect our global community. Make a tax-deductible donation at ResourceUMC.org/GiveUMCom.