When the Rev. James "Jim" Konsor and his wife, Kathy, arrived in Watford City, North Dakota, about seven years ago, it was to take advantage of the oil boom there with a well-paying job as a truck driver.
Reflecting after his retirement last June, Konsor is amazed and thankful for all that's been accomplished.
Not as a truck driver, though.
The Konsors leave behind a legacy of helping the multitudes that arrived to work in the Bakken Oil Fields only to find that the local economy fell short when it came to basic services.
"It was kind of like gold-rush days, only with pickup trucks and semi-trucks," said Jim Konsor. "It was noisy and loud and chaotic and overrun."
The Konsors are among the notable winners of the Harry Denman Evangelism Award in 2019.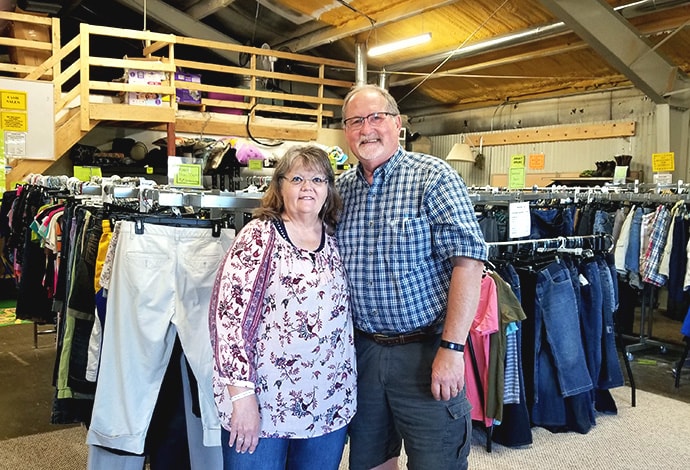 Walking for exercise through Watford City after work, Konsor noticed churches with "Everybody is welcome here," signs, but there didn't seem to be anything happening.
"It was like, 'Come to us,' you know? That bothered me," he said.
"I'm an out-of-the-box thinker anyway. When someone says, 'We've always done it this way,' I'm just instantly irritated. It's just the way I roll."
Who was Harry Denman?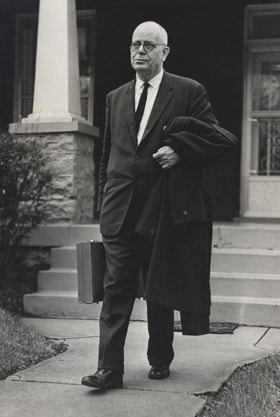 Photo: The Foundation for Evangelism
Harry Denman, namesake of the Harry Denman Evangelism Award, supposedly owned but one rumpled suit. He usually had just one pair of shoes and didn't wear a watch because it's easy to start a conversation with, "Do you have the time?"
Denman (1893-1976), a Methodist lay leader and evangelist, frustrated family and friends by continually giving away his winter coats to people who needed them more, according to the Foundation for Evangelism.
Denman — who was against materialism and prejudice and tried to live his life modeled on Jesus and the Sermon on the Mount — helped found The Foundation for Evangelism in 1949.
Each year, annual conferences of The United Methodist Church and The Foundation for Evangelism recognize one youth, one clergy and one lay person in each conference for their achievements.
Konsor — who had once helped plant a church and had a long career singing in gospel quartets with his wife — met with the Rev. Keith Nelson, then a United Methodist district superintendent in North Dakota. It was agreed that Konsor would meet with city leaders in Watford City to find out the greatest needs of the area, which turned out to be a thrift store and ways to feed people.
"We needed to help these new families coming to town," he explained. "That was the seed of it."
A miracle offering was taken by the Northwest District of the Dakotas Conference. The hope was to raise $100,000. The actual take was $270,000.
Real estate prices had skyrocketed, so they worked with what they could get, said the Rev. Kermit Culver, Northwest District superintendent of the Dakotas Conference, in his nomination of the Konsors for the Denman Award.
With a converted camper trailer and three storage units, the community-wide ministry has provided thousands of people with warm clothing, household items, furniture and other assistance, Culver said.
The camper was set up near an existing food pantry "so when people came for food, they could come for clothing," Konsor said.
"We went on a rampage to get stuff to stock it with, and so it grew from that kind of beginning."
At one point the ministry was running out of money, so they began charging nominal amounts for the clothing — along the lines of two or three dollars for jeans and shirts. No one complained. If a family can't afford even that, they usually can get what they need for free.
Comedy Café — an annual fundraiser featuring the performance of a comedian — usually raises $35,000 to $40,000 for the ministry, Konsor said. The annual Christmas celebration to give presents to needy children generates donations as well.
Today, the Bakken Oil Rush Ministry is a self-supporting, self-funded, 501(c)(3) ministry operation set on a 1.3-acre site owned by the ministry. They have expanded into offering furniture.
Jim and Kathy Konsor have retired and a new director, the Rev. Dwayne Keener, took over on July 1. He recently retired as an Air Force chaplain at Minot Air Force Base in Minot, North Dakota, and holds credentials with the Wesleyan Church.
"I'm 67," Konsor said. "I started this when I was 60. I drug my wife into it and it was just a do-whatever-it-takes life. It was all-consuming to make something from nothing, but the real key is God gave us great grace to be able to put in the kinds of hours do the things we did."
The Denman Awards from the Dakotas Conference were not expected, he said. Jim Konsor won in the clergy category, while Kathy Konsor won in the laity category.
"It was a surprise," Jim Konsor said. "You're trying to help people and honor God, and to have others in the conference recognize it is very humbling, actually."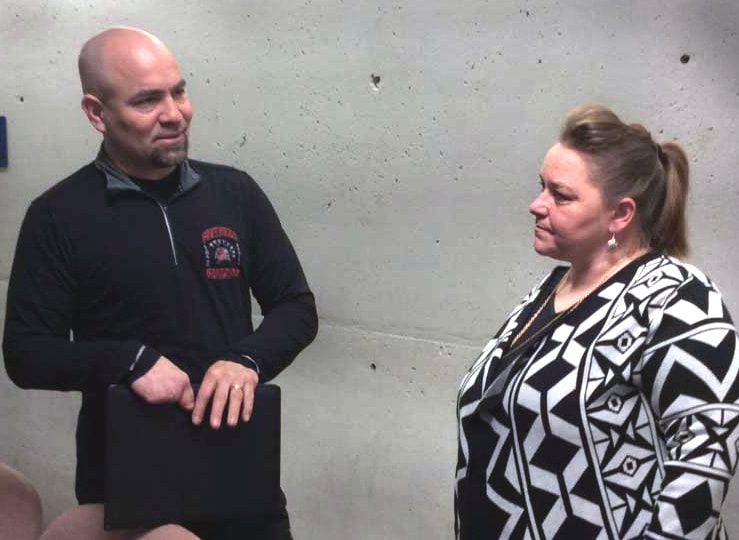 For Jessie Roark, another Denman Award recipient, it has been a long journey from her previous life as a homeless woman with two children and an addiction to drugs to her current position as director of St. Mark's Resource Center in Lima, Ohio.
The resource center serves about 2,600 people a month with free clothing, food, personal hygiene and household items, internet access and referrals to other community resources. It is a ministry of St. Mark's United Methodist Church in the conference's Northwest Plains District.
Roark said she felt "blessed and grateful" to be chosen for the Denman Award. "I could not have (won the award) without the great workers (at the resource center) and God by my side," she said. "So I felt like there could have been so many other names added to that (award)."
In an article on the West Ohio Conference website, the Rev. Ted Bible of St. Mark's said that Roark has created an atmosphere at the resource center where "each person is greeted with a warm smile, encouragement, honesty, an eagerness to help, and if God prompts, a prayer and hug."
Her experiences allow her to empathize with her clients, Roark said.
"Most of the people I work with don't trust anybody," she said. "A lot of people have told them they're going to help them and it never came to fruition."
People who are hurting don't usually volunteer the reasons why they need help at first, Roark said.
"So we try to go above and beyond just being a food pantry. … You just have to build a relationship with them. And eventually, it comes out. They'll tell you."
Those relationships are helped by Roark's openness about the pain in her past.
"Jessie Roark: Faith in Action," video courtesy of West Ohio Conference.
Early on, Roark said that she and her husband "were living the American dream." They had two healthy children, a home and two cars. They both worked.
But when she was 27, a new baby daughter died of meningitis at 7 days old. "I did not know how to deal with that," she recalled. "I grew up hearing that God was a punishing God. I didn't know what God was punishing me for."
Roark turned to drugs, lost her home to the bank and her husband to prison in short order.
She accepted help from the first man who pledged to get her and her children off the streets. He turned out to be an addict and a batterer, and she ended up homeless again.
"There was a (United Methodist pastor) who reached out to me only because she knew there were issues because she did after-school programming at the school my children went to," Roark said.
In November of that year (2012), Roark had a hysterectomy that went bad and necessitated another surgery to clear up an infection. She had trouble sleeping during the recovery. She felt like God was trying to tell her something.
"I don't know if it's the first time that I've actually slowed down enough to listen to Him or if it was His way of slowing me down to listen to Him, but He kept telling me that I had to give back what was given to me," Roark said.
She took her idea of "a food pantry that's so much more than just a food pantry" to her pastor, the Rev. Barbara Dafler.
"That's where our resource center started," Roark said. "In our first month, we had 11 clients."
Knowing the feeling of standing in a food line with her children, Roark is dedicated "to not allowing anyone to feel like that."
"We want everyone to feel welcome and not to feel bad for their situation," Roark said. "We're really supposed to be there just helping each other."
Coming Thursday, Aug. 29: Successful evangelism includes trusting the call
Patterson is a UM News reporter in Nashville, Tennessee. Contact him at 615-742-5470 or [email protected]. To read more United Methodist news, subscribe to the free Daily or Weekly Digests.
---
Like what you're reading? Support the ministry of UM News! Your support ensures the latest denominational news, dynamic stories and informative articles will continue to connect our global community. Make a tax-deductible donation at ResourceUMC.org/GiveUMCom.