The United Methodist Church will receive a $5 million grant to fight malaria and other diseases of poverty. The grant comes from the United Nations Foundation with help from the Bill and Melinda Gates Foundation.

Announcement of the grant came on World Malaria Day, April 25, the third day of the 2008 General Conference. The conference, meeting April 23-May 2, is the legislative arm of the 11.5 million-member United Methodist Church.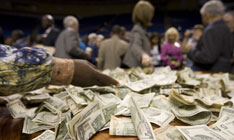 In making the announcement, Bishop Thomas Bickerton said the church needs to have a "posture of expectation." Bickerton's roles include serving as a spokesperson for the Nothing But Nets campaign, which provides mosquito nets to protect African families from malaria-carrying insects.

"I want to live to see a time when my grandchild will someday come to me and say, 'Grandpappy, what is malaria?'" Bickerton told a press conference after the announcement. "I hope to tell her that malaria was a disease that was prevalent before a group of United Methodists got together and decided to do something about it." The bishop, who presides over the church's Pittsburgh Area, hastened to add that he is not yet a grandfather.

Bickerton, who also serves as president of the United Methodist Commission on Communication, said the goal is to raise $100 million. Each net costs $10, and the effort has raised more than $20 million since it began in 2006.

The bishop placed a $10 bill for the campaign on the Communion table in the center of the arena. Delegates followed his lead and placed a total of $13,530 next to his bill.
Morning worship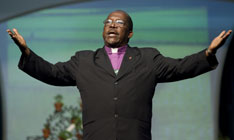 The day began with a sermon by Bishop João Somane Machado of the Mozambique Annual (regional) Conference.

Machado told the story of a pastor sent to a new appointment at a church with the reputation of looking inward, and not "out at the world." The pastor's opening sermon was very well received, but in the following weeks he delivered the same message. "Why are you repeating the same sermon?" asked the church's administrative council. "Until you show me that you can put into action the words I am preaching, I'm not going to change my sermon," the preacher responded.

Machado noted that The United Methodist Church is blessed with gifted men and women, but it is deeds, not words, that are the keys to making true disciples who can transform the world just as much of Africa has been transformed by decades of work by followers of Christ. "We need to do what we say it's action we are missing."
The bishop opened with greetings in several languages, calling them "all the languages spoken in heaven." He gave the rest of the sermon in his native Portuguese.
Delegates introduced
Delegates from affiliated autonomous Methodist churches, affiliated united churches and concordat churches were introduced to the body during the morning session.

Latin American/Caribbean delegates came from Puerto Rico, Ecuador, Costa Rica, Argentina, Dominican Republic, Bolivia, Panama, Brazil, Cuba, Uruguay, Chile, Peru and Mexico.

Other countries sending delegates included the Philippines, Korea, India, Indonesia, Singapore, Myanmar, Hong Kong, the Republic of China (Taiwan) and Japan.
Legislative committees
During their 10-day assembly in the Fort Worth Convention Center, delegates will amend the Book of Discipline, the United Methodist book of law, and the Book of Resolutions, a book of statements on social justice issues. That process begins in legislative committees. The 1,500 petitions sent to General Conference are divided by disciplinary paragraph or subject area and assigned to one of 13 legislative committees.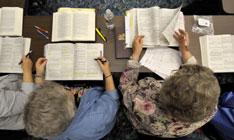 The committees elected officers April 24, and most of the groups divided into subcommittees to tackle specific proposals from individuals, churches, annual conferences, agencies and caucuses. Subcommittee recommendations will be considered by the full legislative committee before they are brought to the 992-member General Conference for action.

If a proposal that has no financial implications and does not seek a change in the constitution receives fewer than 10 negative votes, it is placed on a "consent calendar." That item may be removed from the consent calendar by 20 delegates. If it is not removed, it is voted on with other noncontroversial items as a time-saving mechanism.
Immigration press conference
The United Methodist Task Force on Immigration sponsored a press conference at a Disciples of Christ church across the street from the Fort Worth Convention Center, where General Conference is being held. The Rev. David Farley, pastor of Echo Park (Los Angeles) United Methodist Church, said the plight of immigrants is a "humanitarian crisis, a moral outrage and an affront to God." He told some 175 people attending the conference that more than 800,000 people are displaced annually.

The task force is supporting two resolutions before General Conference.

Bishop Felton May, interim top executive of the Board of Global Ministries, wondered if anyone would step forward during this General Conference session and confront the issue. "What would it look like if United Methodists said to Bushy, 'Tear down this wall?'" he asked.
Other events
In other news:
The Judicial Council announced that six petitions that would require places for ethnic minority persons, young people, young adults or central conference representation on general agencies or as delegates to General Conference would be declared unconstitutional if they were passed by the legislative body. The assembly can recommend such representation, but it cannot require it.
Outside the plenary sessions, delegates and church officials reacted to word that a coalition of renewal groups had provided free cell phones to more than 150 African and Filipino delegates to use during General Conference. Some expressed concern that the coalition was trying to sway the votes of the delegates. A letter from the coalition announced the cell phone give-away as a service that might be helpful to overseas delegates, while also suggesting the delegates consider a particular slate of members for Judicial Council. A coalition member said the phones were provided to give the delegates the same access to communications and materials as U.S. delegates.
Tim Bruster, pastor of First United Methodist Church in Fort Worth, brought greetings on behalf of Fort Worth Mayor Mike Moncrief, a member of First Church. Texas Gov. Rick Perry also sent greetings through the Daily Christian Advocate, the official publication of the conference. "Occasions such as this inevitably lead to moments of introspection, renewal and new beginnings," he said.
Fort Worth Area Bishop Benjamin Chamness thanked other conferences in the South Central Jurisdiction for providing funds for the gathering.
Delegates, bishops, general agency staffers and visitors helped load 40,000 pounds of sweet potatoes into trucks and other vehicles for distribution to area social service agencies that feed the hungry. The "potato drop" was sponsored by the Society of St. Andrew, a national hunger-relief agency based in Virginia, and the Task Force on Hunger of the Central Texas Conference of The United Methodist Church. The potatoes were provided by Texas Sweet Potato Distributing Inc., a division of W. E. Bailey Produce of North Carolina.
*Peck is a retired United Methodist clergyman and four-time editor of the Daily Christian Advocate now serving as an editor for United Methodist News Service during General Conference.
News media contact: Tim Tanton or Kathy Noble, e-mail: [email protected].
Phone calls can be made to the General Conference Newsroom in Fort Worth, Texas, at (817) 698-4405
(817) 698-4405 until May 3. Afterward, United Methodist News Service in Nashville, Tenn., at (615) 742-5470
(615) 742-5470.
Today's Video Comment
The Rev.Kate Ndalamba Kasongo

"We can work together and support one another."
Related Article
Resource
---
Like what you're reading? Support the ministry of UM News! Your support ensures the latest denominational news, dynamic stories and informative articles will continue to connect our global community. Make a tax-deductible donation at ResourceUMC.org/GiveUMCom.