"We cut trees from our forests every day for domestic use; it is good to think of replacing them in order to protect our environment against global warming." — East Congo Episcopal Area Bishop Gabriel Yemba Unda.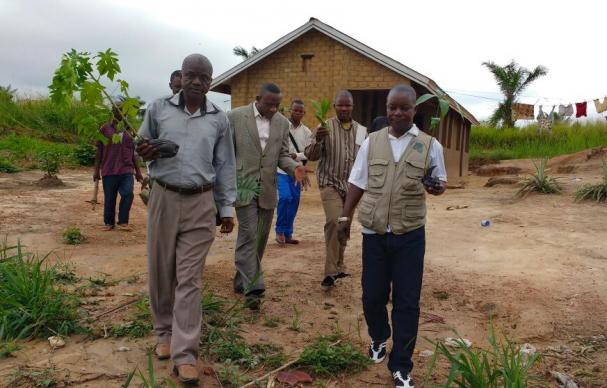 Pastor donates 500 trees for reforestation
KINDU, Democratic Republic of Congo (UMNS) — The United Methodist Church in East Congo is doing its part to protect the environment through reforestation efforts. Judith Yanga reports. 
Read story  
Climate accord pullout dismays church leaders
WASHINGTON (UMNS) — United Methodist bishops and other Christian leaders objected to President Donald Trump's decision to withdraw the United States from the Paris accord on climate change. The bishops urged Trump and other U.S. leaders to reconsider the decision, while also calling on Christians to prioritize climate justice. Heather Hahn reports.
Read story
Ferrum president released from contract
FERRUM, Va. — Less than a year after Joseph "Jody" Spooner became president of United Methodist-related Ferrum College, the school announced June 1 that Spooner has been released from his contract. Amy Friedenberger reports for The Roanoke Times. 
Read story   
Book examines Wesley's works in light of diversity
NASHVILLE, Tenn. — A new book examines three of John Wesley's key sermons and his interpretation of holiness in terms of Methodist identity and diversity — especially as it relates to human sexuality. "Bid Our Jarring Conflicts Cease: A Wesleyan Theology and Praxis of Church Unity" is by David N. Field, a research associate at the Research Institute for Theology and Religion at the University of South Africa and academic coordinator for the Methodist e-Academy. 
Read press release   
3 Women of Color scholars graduate
NASHVILLE, Tenn. — Three Women of Color scholars completed their doctorates in May, according to the Office of Loans and Scholarships at the United Methodist Board of Higher Education and Ministry. Mary Wong Cheng, Michele Watkins and Catherine E. Williams graduated last month. The Women of Color Scholars program provides financial, intellectual and personal support to United Methodist women of color pursuing doctorates in religious studies. 
Read press release   
Great reads for United Methodists
NASHVILLE, Tenn. (UMC.org) — Looking for summer reading? Staff at the United Methodist Publishing House and Abingdon Press offer some suggestions for books that feed your faith. The Rev. Joe Iovino reports. 
Read story   
LOOKING AHEAD
Here are some of the activities ahead for United Methodists across the connection. If you have a United Methodist event to share, you can add it to the calendar with this submission form.
Thursday, June 8-Sunday, June 11
Northeast Luzon Philippines Annual Conference — San Mateo United Methodist Church, San Mateo, Isabela, Philippines. This annual conference session is part of the Baguio Episcopal Area. Details
Thursday, June 8-Saturday, June 10 
Illinois Great Rivers Annual Conference — Peoria Civic Center, 201 SW Jefferson St., Peoria, Illinois. The theme for the annual conference is "Let's Get Fired Up! ... for Kids." Members of the annual conference will kick off a $2.5 million campaign to endow spiritual life programs at the five conference agencies that minister to children and youth. Details