"Do these look like happy chickens? They should; they are about to go to heaven." — Larry Kies, missionary and farm instructor, on the Africa University farm.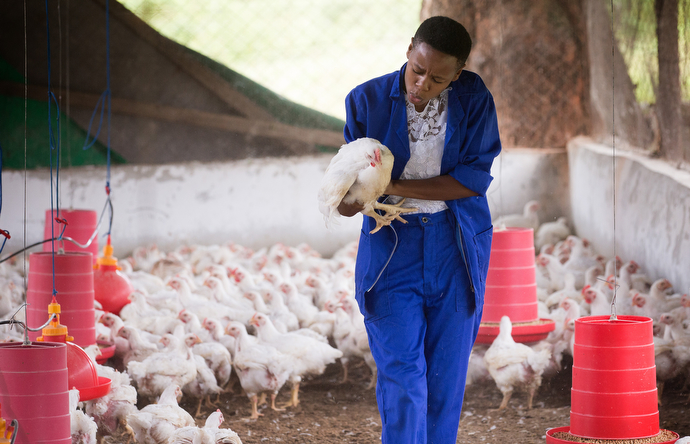 Africa University farm feeds multitudes
MUTARE, Zimbabwe (UMNS) — Happy animals, abundant crops on the Africa University farm help make the United Methodist university self-sustaining. The agricultural department was one of the first two faculties established in 1992. Kathy L. Gilbert and Mike DuBose have the story and photos. 
Read story
United Methodists still assisting Sandy families
BRIGANTINE, N.J. — For four generations, the Giles family lived on the island of Brigantine until Superstorm Sandy threatened to end their legacy. Nearly five years after the storm, A Future With Hope and three other recovery groups remain with the resources and funding to help the estimated 3,000 homeowners like Giles. Josh Kinney reports for the Greater New Jersey Conference.
Read story
Musical devotion: 'Christ the Lord is Risen Today'
NASHVILLE, Tenn. (UMC.org) — Many churches of all denominations begin worship on Easter Sunday by singing "Christ the Lord is Risen Today." Charles Wesley's lyrics wonderfully celebrate how Jesus' resurrection is God's victory over death, and call us to tell the world, the Rev. Joe Iovino writes. 
Read story
Resources for Native American Ministries Sunday
NASHVILLE, Tenn. (UMNS) — Native American Ministries Sunday is observed on April 30 this year. The offering from this Special Sunday supports Native American outreach within annual conferences, provides seminary scholarships for Native Americans and strengthens, develops and equips Native American rural, urban and reservation congregations, ministries and communities. 
Get resources
What is an alternative name for Holy Week? 
NASHVILLE, Tenn. (UMC.org) — What is an alternative name for Holy Week? Test your knowledge with this and other questions about the seasons of Lent and Easter. The quiz has a new question each weekday.
Take the quiz
Commentary link correction
The Good News website experienced some technical problems on April 10, so the link to a commentary by the Rev. Walter Fenton did not work for some Daily Digest readers. 
Here is the correct link
LOOKING AHEAD
Here are some of the activities ahead for United Methodists across the connection. If you have a United Methodist event to share, you can add it to the calendar with this submission form.
Saturday, April 22
The United Methodist Academy of Scouting — 8:30 a.m. to 3:30 p.m. Eastern. Grace Fellowship Hall at Peachtree Road United Methodist Church, 3180 Peachtree Road, Atlanta, Georgia. The academy is an adult training conference for Boy Scout & Girl Scout leaders interested in building the Duty-to-God component of their Scout programs. It is also designed for clergy interested in starting a Scout program (Boy Scout and Girl Scout) or a Big Brothers Big Sisters program at their church. Details