Editor's Note: This story is updated from a version that ran initially on Feb. 14, 2013.
Matthew Oates and Jennifer Dobbs were born a few months apart in the same hospital. They grew up a few miles apart in southern Indiana; they even went to the same orthodontist.
But they never met.
They both attended Purdue University from 1996 to 2000, and while there, were involved in various United Methodist ministries.
But they never met.
It was only after Oates had been a member for seven years of Trinity United Methodist Church in Lafayette, Ind., that one day Dobbs showed up as a visitor in his Sunday school class.
That's when they met. The two wed at Trinity on May 31, 2009, and they still are very involved at the church. The couple calls it "Methodist Destiny."
People meet their future spouses in all sorts of ways - at school, at work, at parties and even online. Still, sometimes a match made in heaven begins with matching up in church.
Oates was among more than 45 people who shared how he met his spouse after the United Methodist News Service Facebook page last year asked about couples who met through United Methodist ministries. He and others who spoke to UMNS attested to the positive influence of the church, not only on their personal lives, but also on their marriages.
Both Oates and his wife, who now uses the name Dobbs-Oates, are lifelong United Methodists.
Meeting at church "gives you a foundation and a sense of shared values that's extremely important in a marriage," Dobbs-Oates said. "And I think for us, in the early days, it gave us a way to get to know each other even faster."
Oates added that during their courtship and even now, the church has given the couple plenty of opportunities for shared activities and a shared ministry. It was "a no-brainer," he said, that the couple would volunteer to help at the church's vacation Bible school or serve as lay readers at worship.
As many couples have discovered, a church potluck or Christmas pageant can make for a great date night.
United Methodist resources on marriage
Easing into marriage
The United Methodist Church teaches that God's blessing rests upon marriages that are "expressed in love, mutual support, personal commitment, and shared fidelity between a man and a woman."
An early church connection can help ease a couple's transition into married life, said the Rev. Linda Horrell, a United Methodist elder and clinical director at the Center for Counseling and Pastoral Care in Manchester, Mo.
"As a pastoral counselor, many people of a variety of situations come to meto discuss areas of conflict such as money, power and sexuality," said Horrell, who has provided both premarital and marital counseling. "Issues of faith are also often a source of tension, too. Yet, those who are from the same faith tradition and especially the same congregation have an advantage of having common relationships and a common language about faith."
No matter how a couple meets, she said, The United Methodist Church offers resources to help marriages grow.
"In fact, the advantage of having couples work together in a church is that each can find help in a group, or meet new friends, as well as discuss the deeper meaning in life when the need arises," she said.
Variety of meeting opportunities
The United Methodist Church also offers singles a variety of ministries where they might discover their future sweethearts.
Among those who responded to the UMNS Facebook question were people who met their spouses at United Methodist youth gatherings, campus ministries, seminaries and even annual (regional) conference sessions.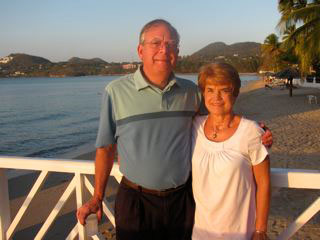 Susan Ramer and Lloyd Ramer met at a United Methodist camp and have been married for 43 years.
A web-only photo courtesy the Ramers.
The Rev. Anna Crews Camphouse, pastor of Walnut United Methodist Church in Walnut, Calif., met her husband, David, at a California-Pacific Annual Conference session. The two were young, single clergy who initially bonded over shared Alabama roots.
"We then ended up going to date nights during the rest of annual conference — sorry Bishop — but the loss of time in sessions was made up for in our own special time of 'holy conferencing,'" she said. "Before the next annual conference, we were married."
The two, both still United Methodist pastors, have been married 10 years and have a 5-year-old daughter and 1-year-old identical twin sons.
Susan Ramer was among seven responding who had met their beloveds at church camp.
She and Lloyd Ramer got to know each other at Lakeshore Methodist Camp in Eva, Tenn., when they were in 10th grade. They later reconnected at the Junaluska Jurisdictional Assembly in North Carolina.
"Our shared values were greatly influenced by small-group sessions and worship experiences at these camps," Susan Ramer said. "We were happy to find ourselves together again at Lambuth University our freshman year. We were married after graduation by Lloyd's father — yep, a Methodist minister."
Lambuth University, a United Methodist-related school in Jackson, Tenn., sadly has since graduated its last class. But, the Ramers' marriage thrives.
Advice after 70 years of marriage
Acworth (Ga.) United Methodist Church on Feb. 17, 2013, honored longtime United Methodists Bill and Jacque Dean, for 70 years of marriage.
The couple shared their advice with Acworth members Gary and Lisa Morris, who are a national executive lay couple with Worldwide Marriage Encounter United Methodist.
"There is no doubt that commitment has been very important in our marriage," Bill Dean said. "Sure, we have had bumps in the road and there were times when things went wrong — because no two people ever see everything exactly the same. But, when your marriage and your family are at stake, your commitment makes the difference. Even when things go wrong or problems come, because they do come to all of us, being constantly exposed to Christian teaching and trusting in God strengthens us in keeping our commitments and carries us through the storms and back into the sunshine where we grow in love and find happiness."
The two, both educators, raised two sons and recently celebrated the blessing of two grandsons adopted from Ethiopia. They also continue to be active in First United Methodist Church in Dyersburg, Tenn.
"We were strengthened throughout our 44 years of marriage by our shared worship in The UMC," Susan Ramer said.
The Rev. William H. Lovelace Jr. attests "that good things can come out of committees." He met his wife, Helen Byholt Lovelace, in 1993, when they served on a church board aimed at combating drug and alcohol abuse in northern Europe.
She was the United Methodist Board of Church and Society's top executive in Norway. He was a United Methodist Board of Global Ministries missionary assigned to Russia. They met in Tallinn, Estonia.
Today, they are both United Methodist missionaries serving in Lithuania, where the Rev. Lovelace is district superintendent for the Estonia Annual Conference. "We have been married for 17 years, marrying at age 40 for Helen, 41 for me — both first-time marriages — so hope for long-suffering singles out there!" he said.
"The early church connection absolutely has benefited our marriage, as a common faith and denominational history has helped bind us together and bring perseverance and understanding to a cross-cultural marriage, which can suffer because of cultural misunderstandings."
Ready-made community
Another advantage of meeting at church, couples mention, is the community of support both during the early days of romance and into matrimony.
Emily Walter met her future husband, Jeremy, 14 years ago on the front steps of First United Methodist Church in Conway, Ark.
They were introduced by a mutual friend who had invited Jeremy to church. Emily knew that friend through the Ozark Mission Project, a United Methodist ministry in Arkansas that connects church youth groups with short-term mission projects.
The two, both college students at the time, got to know each other as volunteers with the Conway church's youth group. "We felt it was really important to set an example for the youth," she said. "We showed them they didn't have to date 1,000 people and sleep around, that it was OK to wait."
Eleven years ago, the youth showed their support, taking a church van to attend the couple's wedding, a two-hour drive away. The youth later threw the couple a baby shower and served as some of their first babysitters for their now 8-year-old daughter.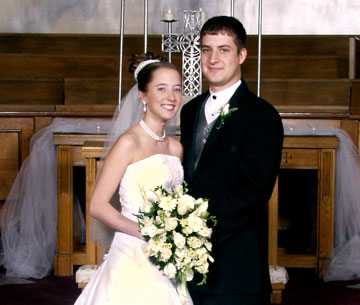 Emily and Jeremy Walter met as youth ministry volunteers at First United Methodist Church in Conway, Ark.
A web-only photo courtesy of the Walters.
Oates of Indiana got the United Methodist community involved in his marriage proposal. "I wanted to honor our heritage and our faith," he said.
While students at Purdue, he was very active in the campus Wesley Foundation while his future wife was active at First United Methodist Church in West Lafayette, Ind.
One summer night in 2008, he took his love to dinner at a restaurant built on the former site of her college church. He then took her to the Purdue Wesley Foundation, where he was still on the board. He told her they were needed at an emergency trustees meeting.
When they arrived, Wesley students unfurled a banner they had painted that asked, "Jen, will you marry me?" She said, "Yes."
Altogether, some 20 United Methodists had a hand in helping him ask for his wife's hand, Oates said. The couple proclaimed their happy news to friends and loved ones on a mockup Oates had done of the conference newspaper.The couple invited the entire congregation of Trinity United Methodist Church to the wedding.
"A lot of people have a lot of fun proposal stories," Dobbs-Oates said. "But I always think mine's the best."
The couple celebrated the baptism of their first child, Austin, in May last year at Trinity. Their son is now 15-months-old.
At their church, Oates said, the couple has found "one very large extended family."
*Hahn is a multimedia news reporter for United Methodist News Service. She met her husband of five years in their Presbyterian church choir.
News media contact: Heather Hahn, Nashville, Tenn., (615) 742-5470 or [email protected]
---
Like what you're reading? Support the ministry of UM News! Your support ensures the latest denominational news, dynamic stories and informative articles will continue to connect our global community. Make a tax-deductible donation at ResourceUMC.org/GiveUMCom.