Pastors, priests, rabbis and imams are joining hands with government and health care officials to beat Ebola back from the doors of Côte d'Ivoire.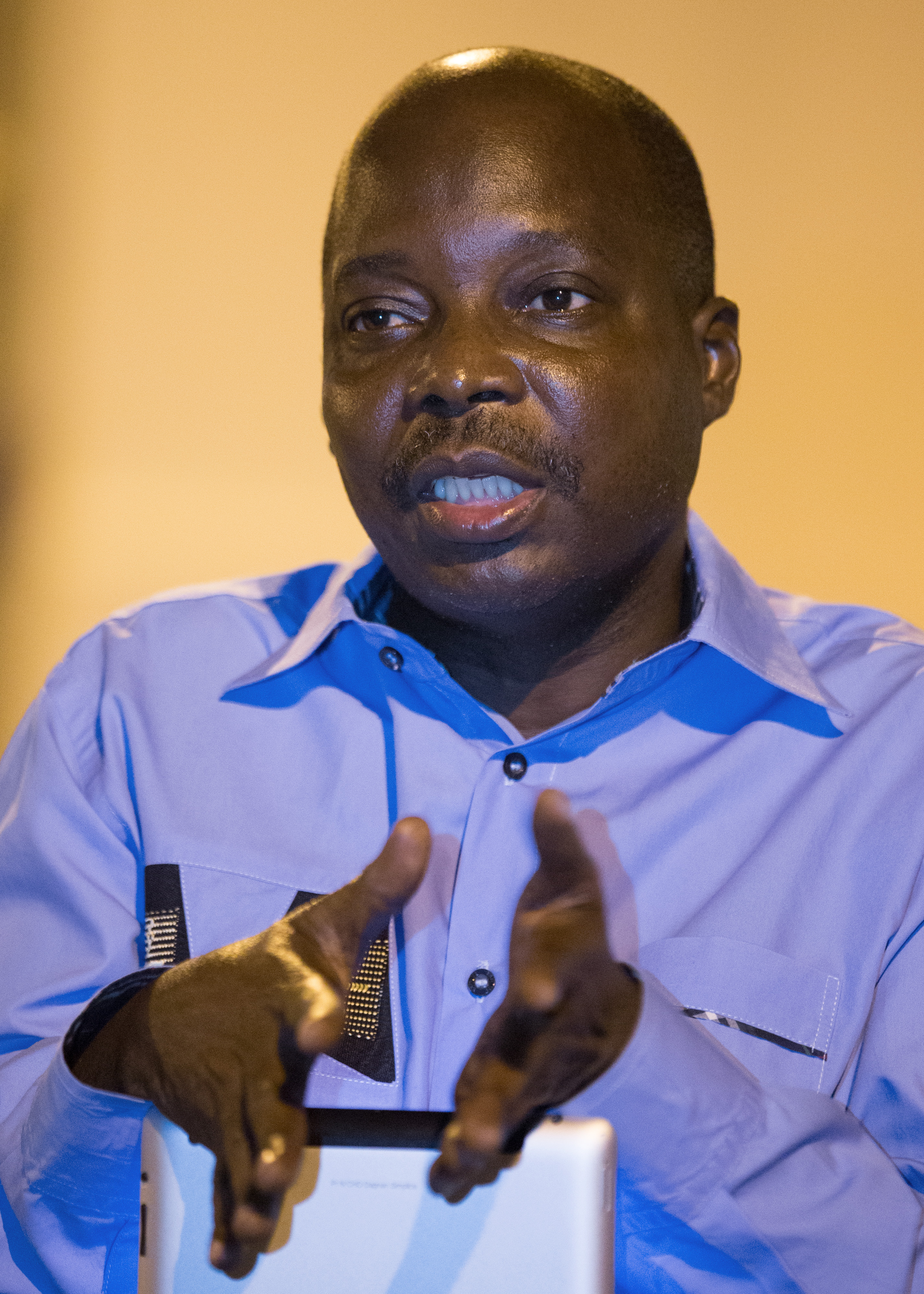 "God has protected us," says Dr. Simplice Dagnan, director of National Institute of Public Hygiene and a United Methodist.
"Even if there is only a rumor, we still go (investigate)," he said in an evening briefing with United Methodist health officials and conference leaders in late January.
"We have tested 100 people for Ebola and the total is still zero," he said.
His department of public hygiene has been monitoring birds and animals in addition to the movement of people. The message about how to prevent Ebola is simple, he said. Community leaders — religious and traditional leaders — are important in efforts to reach the most remote areas.
"We have been training communities — village to village — about the cycle of Ebola from forest to man to hospital and dead bodies.
"Last August, we had a report of someone from Guinea who had some symptoms," Dagnan recalled. "Within the hour, I had that information on my cell phone. Any stranger is quarantined."
The first case of Ebola in West Africa was in March 2014. As of Feb. 27, 9660 deaths have been reported and nearly 24,000 cases have been reported in six countries: Liberia, Guinea, Sierra Leone, Nigeria, the U.S. and Mali.
Preaching about Ebola
Hyacinthe Bessé, a member of the health board for The United Methodist Church in Côte d'Ivoire, was in Sierra Leone when the first case of Ebola was discovered.
Bessé wasn't too worried about the first cases. He said he thought the disease had been contained and would not become a health threat. However, he added that he can understand why it became an epidemic since neither Sierra Leone nor Liberia has the health care resources they need.
He was there for a mass distribution of bed nets as part of Imagine No Malaria, The United Methodist Church's effort to end malaria in Africa. United Methodist health boards are groups of medical professionals and community leaders who supervise the church's health initiatives in their conference or region.
"Sierra Leone and Liberia are still emerging from long and brutal conflict and they don't have the means or the ability to respond quickly to Ebola," Bessé explained, referring to civil wars in the two countries. Liberia's 14-year civil war ended in 2003 and the conflict in Sierra Leone lasted from 1991 to 2003.
At first, Ivoirians did not take Ebola seriously and that was a concern, he said.
The conference has been preaching Ebola warnings. A pastor from Guinea came to Abidjan and spoke at churches, sharing his first-hand knowledge of the destruction caused by Ebola, Bessé said.
People on the border are well informed, he said. They worry more about Ebola reaching large populations such as Abidjan. "That would be the real danger."
Organizing the faithful
More than 80 percent of the people in Côte d'Ivoire attend worship, said Gustave Pere Adou, a Catholic priest and member of an ecumenical faith organization that includes The United Methodist Church.
READ FULL EBOLA COVERAGE
Read full Ebola coverage and learn how to donate to the fight against the deadly virus at www.umc.org/ebola.
Adou, along with Joachim Oura and the Rev. Julien Yapi, a United Methodist, were also part of the late night briefing. They are members of ARSIP, the Alliance des Religieux contre le Sida et les autres pandémies (Religious Alliance against AIDS and other pandemics).
"We amplify what the government has said," Adou said. "We are an important voice. It is not a joy — it is a blessing (to be part of this organization)."
Formed in 2006 to help combat HIV/AIDs, the ecumenical group includes a network of 30 Christian non-governmental organizations as well as religious denominations.
Adou said it important for the government to include religious leaders who can help explain doctrine that might conflict with measures the government mandates — such as burial practices.
Faithful foot soldiers
The hour was late for a Wednesday night church meeting, but bright lights and soaring voices spilled out of the church doors. Men in suits and ties, little girls in dresses and bows, people dressed in their Sunday best met visitors clapping, singing and chanting "Metho (United Methodist) for Christ! Metho forever!"
The spirit of those who had been waiting for hours showed no signs of fatigue or frustration.
A team of United Methodist leaders from the Ivory Coast conference and the U.S. brought words of hope and encouragement to Sassandra United Methodist Church as part of a consultation and news reporting team in the country from Jan. 24 to Feb. 3.
The group brought the video "Ebola: A Poem for the Living," to share. Chocolate Moose Media and mobile-health-education innovator iHeed created the video in collaboration with United Methodist Communications. It is now available in 17 languages.
Using a laptop, the Rev. Neelley Hicks, director with United Methodist Communications, projected the Ebola animation on the white church wall behind the pulpit. The animation features a young boy with Ebola speaking to his family, asking them to stay away so they would not become sick.
A hush descended over the crowd when the lights were dimmed. Children and adults sat quietly watching as the story unfolded before their eyes.
Camara Anaya Grace, 22, a university student and member of Sassandra United Methodist Church, was sitting on the front pew with several other young girls.
"I love it. I didn't know Ebola was so serious. The video gives information on what to do to avoid it," she says. "Children love animation and it is short and informative."
Critical stage
Hicks preached at Temple Emmanuel United Methodist Church in Man on Feb. 1. She also presented a gift of 25 hand-washing stations.
Bessé blessed the gift and again took the opportunity to discuss the importance of proper hygiene in the prevention of Ebola.
Washing hands, being thoughtful about touching people who might be sick and improved health care facilities are all good things to come from the Ebola crisis, Bessé said.
"The role of the church is to keep people informed, the church has to keep up the pressure so the people remain vigilant."
"There is a lot of hope but it (Ebola) is not finished," Dagnan warned. "This is the most difficult period. People must be vigilant and continue with the messages. We know it will come back; we just don't know how or where."
Gilbert is a multimedia news reporter for United Methodist News Service. Contact her at (615) 742-5470 or [email protected]. 
---
Like what you're reading? Support the ministry of UM News! Your support ensures the latest denominational news, dynamic stories and informative articles will continue to connect our global community. Make a tax-deductible donation at ResourceUMC.org/GiveUMCom.