It all started with vanity, I suppose.
I was married in 1999 and gained 20 pounds as quickly as I gained a husband. Instead of looking at my food portions, I decided to do something drastic-at least according to my husband: I became a vegetarian.
Being a vegetarian led me to study the meat industry, and introduced me to a world I did not know about and one I did not like. It became less about losing weight and more about the treatment of animals and the environment. I could not help but feel this is not what God intended in giving humans dominion over creation.
When my clergy husband was moved to a different church, I encountered an environmentally active couple who gave me positive reinforcement. I stopped talking about recycling and finally set up the tubs to hold our recyclables. We immediately cut our trash to less than a bag a week. Some friends taught us to compost food scraps, and we reduced our trash even more!
Our Sunday school class considered the environment as a Bible study. I had read a newspaper article about Matthew Sleeth, who wrote a book about the environment and its relationship to followers of Christ, and recommended his book, "Serve God, Save the Planet," to the class. It teaches how caring for the environment is part of our duty as Christians.
Even more energized, Ryan and I recycled, composted, gardened, used eco-friendly products and installed a rain barrel. I collected the water from our air conditioner to water the garden.
Now it wasn't just our family. Our whole class was doing something more eco-friendly at home and at church. The church saved $1,500 a year by not purchasing disposable dinnerware for Wednesday nights; a group volunteered to wash dishes instead. Thermostats were programmed and light bulbs changed.
During our "environmental awakening," we began the process to adopt a baby. In our culture, "baby" and "eco-friendly" are two words that seldom go together. I was determined to reduce our baby's environmental impact as much as possible, so I began researching green baby products.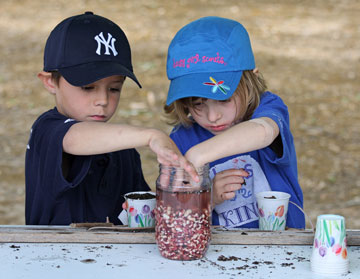 Two kids plant seeds at the Children's Pow Wow in Houston in 2009. A UMNS photo by Ronny Perry.
Cloth diapers are so easy! We found a brand that grows with your baby so we won't need to buy three different sizes. You don't need origami lessons because there is no folding. No diaper pins either. I suspect we'll save close to $2,000 during his diaper years. There is debate on whether cloth diapers are better for the environment than disposables, but I figure human waste is better going to a treatment facility than leaching into our water systems and filling our landfills.
After doing so much research and fretting over the color and style of our son's furniture and accessories, I realized how simple it was to use what others had. Some friends from church let us borrow a crib, mattress, mobile, rug and high chair. Our nursery is filled with not only our love, but also the love of others.
Using hand-me-downs saved us money and reduced the need for resources to produce new items for us to purchase. We use the top of a bookcase as a changing table. We bought the changing pad at a consignment sale, and it folds for traveling. Old baskets hold diapers, toys and books. An old college shower caddy holds bath items. Friends gave us boxes of their son's baby clothes. Considering how fast our son grows, I was glad we didn't spend money on clothes.
Eight months later, we make our own baby food (cheaper and healthier), and we are still reaping the benefits of what was a relatively stress-free, eco-friendly event. I did not have the luxury of time to research. I did not have time to decorate a perfect nursery; yet it is perfect in its own way. I feel great about how everything came together and how it reflects our eco-friendly lifestyle.
As our son grows up with parents who recycle, reuse items and reduce what we buy, my hope is this lifestyle will become his "normal." We'll teach him our stewardship comes from a respect of what God has given us to enjoy and care for.
*Bennett is project coordinator for online marketing, United Methodist Communications, Nashville, Tenn. She writes a blog at www.blessedearth.org.
News media contact: Joey Butler, Nashville, Tenn., (615) 742-5105 or [email protected]
Resources
---
Like what you're reading? Support the ministry of UM News! Your support ensures the latest denominational news, dynamic stories and informative articles will continue to connect our global community. Make a tax-deductible donation at ResourceUMC.org/GiveUMCom.